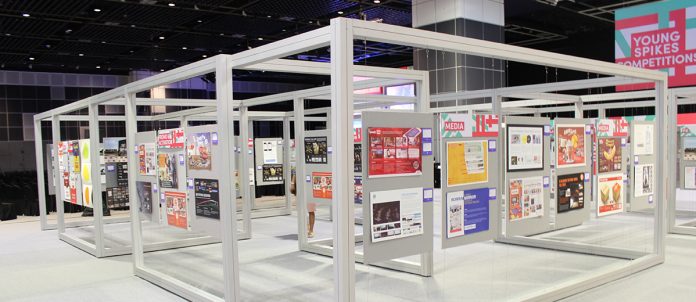 By Fasiha Hamid
Spikes Asia Creative Festival is Asia Pacific's biggest annual festival on creativity, organized jointly every year by Cannes Lions and the Haymarket Media Group and held at the globally recognized Suntec Convention & Exhibition Centre in Singapore. It is an event where trend setters and some of the most inspiring global figures of the communication industry come together to invigorate participants and enlighten them about creative market-winning strategies.
As a marketing student, it has always been a dream to interact with the most influential marketers, and Spikes Asia did it for me. Getting selected to represent Pakistan at the Spikes Asia Creative Academy 2014 clearly ranks as one of the biggest milestones of my scholastic life. It was a valuable opportunity for me to witness how outstanding creative ideas can be turned into powerful actions and to witness truly exceptional standards of digital crafting.
Spikes Asia invited 15 students from the Asia Pacific region to undergo live training sessions from 23rd-26th September based on their academic and personal credentials to learn from acknowledged leaders in creative communications. The "academy" included workshops, seminars, tech-talks and regular classroom sessions. Every session was designed to help develop our creative skills and understanding of the communications business.
A fascinating aspect of the Festival was the opportunity for participants to try out the latest innovations introduced by the likes of Google, Samsung, Apple and Android; the most incredible of them being Google Glass and Google Video Cube. Google Glass is a wearable accessory that has the potential to be the future of smartphones, eliminating the need for them altogether. It can be used while walking and driving easily. The Glass has a touchpad located at the side that allows users to control the device by swiping through a timeline-like interface that displays phone calls, pictures, text messages, videos and weather updates on the screen. It also has Google applications such as Google Maps, Google+ and Gmail; and can take pictures and record videos by following the user's voice commands. However, the Google Video Cube is an in-browser 3D box that has a different video and audio track on each of its face. We can change the sides of the cube by dragging them to form a combination of audio or videos that we want to hear and watch. These gadgets were very fascinating and fun to use.
More importantly, I got the opportunity to see the best works on creative communications from across Asia Pacific and beyond. I also felt extremely proud to see BBDO Pakistan's work on such a great platform. Speaker after speaker highlighted the need for clients and agencies to believe in working together, hand in hand, to ensure the delivery of the optimal marketing solutions for clients.
Simply put, agencies must become "design doctors" for brand companies and understand their business – that way they would never disappoint their clients. Exclusive seminars and tutorial sessions run by industry leaders made me realize the need for technology, innovation and graphic designing as essential contributors to the communications industry.
It became clear to me that the world today is shifting more towards virtual displays and online exchange of goods and services, making it imperative for advertising to evolve at the speed of change, and be able to generate ideas that cut across borders and national boundaries. I further realized that today advertising must aim at creating excitement every moment as companies like Twitter and Facebook create special moments for their customers.
I discovered that the key requirement for working in the creative space is to unlock hidden patterns of human behavior. Ten different and surprisingly simple human patterns of activation were added to the knowledge of the participants at the Festival. These included fun, game, gains and losses, choice, interaction, knowledge, perception, personalization, social and emotion.
My curiosity for understanding advertising was further enhanced when I learnt that while metaphors are often used in advertising to bring about change in mindsets, activation serves as a more effective trigger to provoke behavioral change. These triggers are creative ideas that make people act.
Creativity today is about connecting with people's hearts and minds in new places, spaces, ways and moments. Advertising is no longer about media and channels available – it is about utilizing the right media. Time is precious for people now – they have very little tolerance to engage in the pointless "push to buy" style of advertising. Marketing, therefore, needs to be purposeful and it should add value to people's lives. The secret is to replace time with "life" in everything and suddenly the opportunity to connect with people becomes much greater.
We all believe that big ideas lead to success but that has become part of history. Besides, numerous big ideas have met with failure. Shaping big ideas into solid communication plans and implementing them well is what succeeds today. Creative gurus attach a great deal of importance to emotion today, as emotion breathes soul into communication.
Another point that was stressed is that brands should remain socially connected with their target audience, and every brand's communication must fight for "its cause". The cause may be real or virtual, controversial or consensual, humorous or serious – depending on the insight, the target market and the brand's core idea. In short, they should translate into meaningful experiences for customers.
To develop an impactful communication idea, "Sabotage/Removal" technique was discussed in which the brand had to destroy or remove one of the existing components of the product, or brand, or company or medium or the world of consumers, in order to be able to attract attention and convey the core brand idea. An example of positive "Sabotage" is the "happiness vending machine" idea from Coca-Cola.
Coke found out that the laborers of the South Asian region like from India, Pakistan and Bangladesh working in UAE didn't have enough money to be able to talk to their families as much as they would want to. Therefore, the brand created a special phone booth that accepted Coca-Cola bottle caps instead of coins for a free three minutes international phone call, using a part of its brand as currency hence "sabotaging it positively".
The approach towards great work is now shifting from "big to small ideas", from "executive creative director curates" to "community curates", from "social media" to "socially connected ideas", from "focus on what you do" to "how you do it" and if "content is the king", then "context is the emperor". 98% of the success of a commercial lies in "how it ends". Therefore greater focus should be given to the "punch line" and living up to it.
Students of marketing must keep themselves informed about the latest trends in technology, innovation and ongoing marketing campaigns. To compete in the marketing field one has to be on their toes all the time. For students of the "creative arts" it is imperative that they should be able to present their own portfolios. It is simply not enough to write about their work in their resumes. This will tell people who they are, what they have done, and potentially where they are headed.
The learning sessions at the Festival were generally followed by social networking events, where I met some of the most outstanding leaders of the creative world. Among them were Ted Royer, Stefan Sagmeister, Yonathan Dominitz, Marc Landsberg to name just a few. In short, the Spikes Asia Festival provided me with a fantastic networking experience, where I met diversified people from around the globe, experienced multiple cultures, tried different cuisines that surely broadened my horizon.
By following some of the techniques presented at the Festival, I believe one can change their approach to how advertising is carried out in Pakistan, including more innovation and technology in the communications mix. I know I will definitely try to apply some, if not all of the techniques I have learned from my amazing experience.
The closing session took the aura of a formal graduation ceremony, where outstanding students received certificates from Nalla Chan, Managing Director of Cheil Worldwide, Singapore. As a closing gesture, I would surely like to record my appreciation and thanks to my university, the Institute of Business Management, my sponsor Cheil Worldwide, and Spikes Asia for providing me this brilliant and unforgettable opportunity.
Fasiha was one of 15 students selected by the Spikes Asia Academy to participate in their annual festival in Singapore, in September 2014. A final year student at IoBM, she is pursuing her Business Administration degree and is passionate about marketing and advertising.