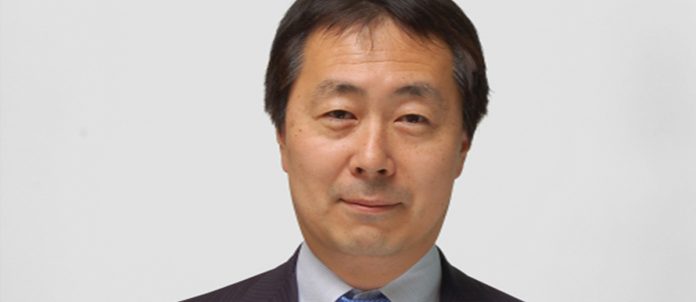 An interview with Koji Watanabe, Managing Director, Dentsu Middle East & Africa
Koji Watanabe recently paid his first visit to Karachi, Pakistan to take the relationship between Dentsu Aegis Network and Synergy Group to the next level. The visit was another development in the rounds of discussion that took place earlier this year during the visit by Michael Nederlof, Regional CEO, Dentsu Aegis Network. Synergy Group and Dentsu Aegis Network partnership started off 2 years ago when Synergy Group's media buying house Synchronize got affiliated with Carat, the media buying specialist of Dentsu Aegis Network. During the last visit, Dentsu Aegis Network decided to gradually launch its various business units in Pakistan in partnership with Synergy Group. This particular visit by Watanabe further cemented this ambition by discussing opportunities in creative and digital services.
Synergyzer had the good fortune of meeting the man himself, Koji Watanabe, and hear in his own words what he thinks about Pakistani market and what future prospects he is considering in partnership with Synergy Group. But first things first, let's look into his professional background:
Koji Watanabe is the recently appointed Managing Director of the advertising agency, Dentsu Middle East & Africa. In his new role, Watanabe will take charge of account and product management for Dentsu's clients in all of the 54 MEA markets including Pakistan and look to employ the global network's synergies within the region.
Watanabe has been with the network for over 20 years and joins Dentsu Aegis Network MENA from his native Japan, having previously spent extensive time in Dentsu Alpha in Vietnam as well as in the Philippines.
As Managing Director, Watanabe will look to expand and build Dentsu MEA's client base, especially with Japanese clients looking to expand into the Middle East and Africa region (Pakistan is a part of this region), as well as local brands in the region.
"Firstly, I'm thankful to Synergy Group for giving us such a warm welcome and wonderful treatment throughout our stay in Karachi. My first visit to Pakistan has been exciting and memorable to say the least. I was accompanied by my two other Japanese colleagues to discuss with Synergy Group's management how we can expand our services in the Pakistan market in terms of creative and digital.
As far as the global industry is concerned, it has progressed in terms of both technology and creativity. Globally, advertising is moving from the traditional model to a digital model predominantly because the number of consumers using digital media is increasing every day.
The Pakistan market is also changing rapidly and there's high potential in it. From what I've heard, both 3G and 4G is now available in Pakistan which is great news and this is likely to contribute to the economic progress of the nation. With the latest technology at their disposal, brands would like to make better use of digital services and eventually integrated communications in the form of one-window solutions. The introduction of 3G and 4G reflects that the market is ready for innovative solutions in terms of integrated communications.
In terms of work culture, there are many similarlities in Pakistani and Japanese culture. From what I've observed, Pakistanis take their work very seriously and they have a high level of professionalism.
Ever since Dentsu's partnership with Aegis, both companies have learned a lot from each other and have created cultural synergies. Our work culture has become more vibrant than ever. There's a greater exchange of cross-cultural ideas and in terms of innovation, we're in a better position to adapt globalization – meaning that we can provide localized solutions backed by global experience. A multi-cultural organization gives you a chance to play on each team member's strength. Extending our partnership with Synergy Group will also lead to an exchange of culture and ideas allowing both organizations to learn from each other.
At Dentsu, we strongly believe in continuous improvement. It reflects our current business direction. We don't believe in complacency, we're always looking for new opportunities and with a passion for greater success. This really sums up our attitude towards work.
Now that we're in the 2nd phase of collaboration with Synergy Group to expand into digital and creative, I'm sure this will lead to good results in the near future. Following this, we'll consider introduction of other marketing services as well.
We have already introduced our philosophy of Good Innovation in Pakistan through our existing affiliation with Synergy Group's media agency Synchronize. Together, we have achieved exceptional milestones as a direct result of this partnership. We want to expand our scope of services in Pakistan to offer more holistic solutions to the clients. It's about combining all the services together and presenting it to the client as a bundle with a streamlined communications message that is well aligned with the client's objectives. The idea is to add value to the solutions we're presenting to the clients in Pakistan by building upon our global practices combined with Synergy Group's local expertise.
Our relationship with Synergy Group has culminated into combined synergies and both parties realized that with our convergence of creative ideas and resources, we can achieve better results in Pakistan. Pakistan presents high opportunity for us with the presence of both local and global brands, specifically Japanese brands. It is a highly competitive industry. It's not easy to earn the top agency spot in Pakistan but I'm confident that our combined efforts will give us an edge over other agencies in Pakistan.
While Synergy Group has local insights, we have contemporary ideas so I think our collaboration will compliment both groups. The Synergy Group team that we've been working with comprises of some very energetic and talented people. It has been a great learning experience so far for both of us. We have a common work culture and shared values making further collaboration easier. We have a similar business approach and a great pool of resources that we want to capitalize upon.
Initially, we'll be exchanging ideas and best practices and later on we may also conduct trainings to keep the Synergy team updated with global advertising trends. In terms of digital and creative, we have a lot of unique approaches not only from Japan but all over the world. Dentsu has received several awards at global advertising festivals for its work and we believe that Pakistan market is ready for the implementation of such ideas. We can also modify and create new approaches towards creativity for improvement. I'm sure that the learning between Dentsu Aegis Network and Synergy Group will be two-way and will allow both agencies to take advantage of new market opportunities.
I have plans to visit Karachi soon again to take more concrete steps and offer next level creative and digital solutions in Pakistan with Synergy Group."