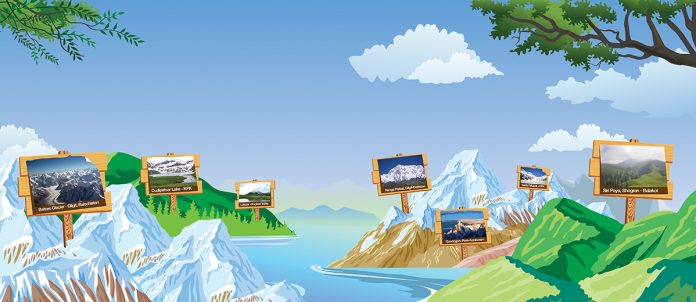 by Aamir Abbasi
Fourteen years back, when I planned my honeymoon, it was not in my wildest imagination that the most beautiful event of my life will also be an interaction with a mini-heaven on Earth. I celebrated my honeymoon in Swat, Kalam and Malam Jabbah; and working for a PR agency back then, what amazed me more was the unrealized marketing potential of this country and its sights. The first evening, having tea on my hotel balcony with a beautiful raging river flowing in front of me was a sight beyond my imagination that I can never forget. Fourteen years later I again went for a similar trip, this time with my better half as well as three kids for Naran and Kaghan, and the experience was even better. Going further up, seeing nature in its full glory at destinations like Siri Paya, Jheel Saif-ul-Mulook, Lulsur Jheel and Lalazar added to the amazed amusement of my family and while all of us were totally engrossed in this, several questions kept popping in my mind being a communications professional. How much efforts have we made to promote tourism in our country? Are we making the most of these scenic locations? Have we marketed ourselves to improve our tainted image in the world?
For image marketing, Pakistan has got an effective and functional tool in the form of the most picturesque sights in the world, yet all we hear about is the presence of militants and their growing control, but never have I heard of necessary security being provided to make our tourism inflows grow.
Quite interestingly, Pakistan is not just a tourism destination for sightseers, but has carved its niche amongst mountaineers, skiers and explorers who come here to scale and explore the highest and the most difficult mountain summits. Pakistan has the virtue of being home to three of the mightiest mountain ranges of the world; Karakoram, Himalaya and Hindukush. The country boasts of five mountain peaks that are over 8000 meters – 26,247 feet – high; twenty nine peaks over 7,500 meters (24,607 ft.) and one-hundred & eight mountain peaks over 7,000 meters (22,966 ft.) above sea level. The number of peaks lying between the height of 4,000 meters (13,124 ft.) and 7,000 meters is countless. Included in this grand list are summits like K-2 also known as Mount Godwin-Austen, Nanga Parbat ranked eighth in the world; the Gasherbrum group of peaks located along the Karakorum range in the Gilgit-Baltistan region and bordering Shaksgam Valley of China with peaks ranked eleventh, twelfth, thirteenth and seventeenth highest; Rakaposhi, a peak that is seen surrounded by mist most of the time, ranked twenty seventh and is one of the most beautiful as well as tallest mountains in the world; and Tirich Mir, the highest mountain of the Hindukush range located in the Khyber-Paktunkhwa region and ranked thirtieth in the world. In addition to this, we are among those countries in the world with one of the most interesting ancient civilizations, diverse cultures and history. The ancient settlements of Mehrgarh, located in the foothills of the Bolan Pass and the earliest known farming settlement in South Asia; the archeological site at Kot Diji, Sindh, which was around before any of the Indus Valley civilizations of Harappa, Moenjodaro and Taxila; as well as the Gandhara civilization that indicates rich cultural history present in the Northern areas of Pakistan along with the Kalash Valley and Baltit, now called Karimabad and home to the Altit and Baltit Forts in the Hunza district of Gilgit-Baltistan; provide some insight into the rich cultural heritage that this country encapsulates.
Yet, all this grandeur remains largely underrated.
I still remember the time from my days at the PR agency when I was handling the account for TDAP – Trade Development Authority of Pakistan, which was EPB or Export Promotion Bureau back then. One fine morning, my boss got a call from Tahir Ikram, the then Chairman of EPB. He informed us that Laou Kapozi, the owner of Harrods, the world's biggest departmental store, located in London, UK, was hiking at the Rakaposhi summit in the Gilgit-Baltistan region, the northernmost region of Pakistan. Mr. Ikram expressed his desire of wanting to organize an exhibition for him with our support. After quite some efforts we were able to locate Mr. Kapozi and he was courteous enough to visit the exhibition solely organized for him. I will never forget the interest he showed when he visited that exhibition, which was generated due to one person's sincere efforts that resulted in the right kind of exposure for the country. The million dollar question is; can there be more of such efforts?
Although one may say that we are going through a very difficult lean patch and any efforts to highlight what Pakistan has to offer the world will not bear any fruit, the fact remains that if and when we do come out of our present situation, our sightseeing destinations will be our biggest asset to catalyze this effort. The image building and marketing efforts for this country have to start somewhere and our sites for tourism will provide that starting point for the new marathon that we should and hopefully engage in soon.
The biggest question to ask is; who is responsible for this task? From my experience with the communication industry infrastructure, it is the responsibility of the Ministry of Information to come up with a strategy and work at implementing it. Yet, if I am to keep in mind the importance and magnanimity of the task at hand while suggesting the solution, the formation of a new ministry may be the most beneficial. But do we have the modern day professionals to carry out this task is a question to be asked and answered.
Social media has revolutionized communication dynamics. It has proven that if you are smart enough you can achieve any uphill task without incurring much to the exchequer. What I mean here is that in the future this responsibility should lie with the youngsters of this country who have a command on social media platforms and can use them innovatively to promote any entity or even a country for that matter. With enough number of destinations located all across Pakistan, offering a variety of visual stimuli to prospective tourists, it should not be a difficult task provided there is enough will to do so.
An experienced Corporate Communications, Brand Management, Advertising, Media Management and Event Management professional; Aamir Abbasi is currently the spokesperson for Export Processing Zones Authority. Having worked for a number of blue chip companies, he is also on the faculties of College of Business Management and Iqra University.
Aamir can be reached at abbasi_aamir@hotmail.com