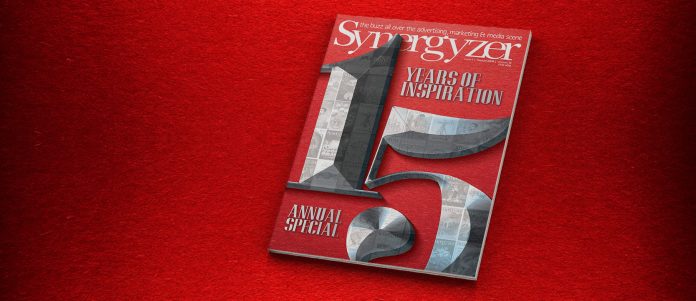 What do you do when you realize that it's right about time that more than 5 decades of Pakistani advertising finally needs an echoing voice to help it step into a brighter future; to become the spark that will light the torch for the advertisers and marketers of Pakistan?…Well if you are committed to an idea and goals like these, you just might end up with something like Synergyzer in your own hands.
I still remember when first gazed upon a copy of Synergyzer back in the early 2015; it was something that clearly stood out for someone who already read a lot of magazines and literature. It was different; a compilation of wonderfully vibrant and relevant content that made me go through and across each page with great interest and detail. That first issue I received was an inspiration for me to join the team and so I did…
After spending about three years with Synergyzer, witnessing an overwhelming response to a magazine I can call my own and seeing the impact it made in the industry professionals and students alike over the course of 1.5 decades; I present to you the 15 Years Annual Special. We have worked around the clock to concoct a masterpiece comprising of insights, comments and views of some of the golden personalities and organizations that certainly put their mark across the Pakistani advertising and corporate landscape.
And without further a due…let me present to you some of the featured must read articles and interviews of the latest Synergyzer.
STRIKING A CREATIVE BALANCE
Sanna Malik, our Editor, gathers opinions of gurus, maestros and veterans of the advertising and corporate world to analyze what tipped the scales of insights and concepts for advertising in Pakistan and how we could again achieve balance between the two forces of creativity.
FOLLOWING THE THINKING, UNDERSTANDING, ANALYZING LEGACY
Here we sit down with Adnan Syed, the Chief Innovations Officer at AdCom LeoBurnett, to talk about the nuances of developing an integrated business model within the creative industry and creating thought leaders out of the plethora of young blood among the workforce.
BULLS EYE BIOGRAPHY: THE 15 YEAR STORY
Come sit around an allegorical campfire as we hand the mic to Shoaib Qureshy to tell the 15 year chronological story of how Bulls Eye rose from just an idea into a nationally recognized 360 degree agency.
JINGLES NOT ALL THE WAY
From the era when evergreen jingles dominated the transmitted commercials down to a drastically decaying quality of the genre, join Omair Alavi as he tracks the moments and missteps on a vividly nostalgic journey.
AD PRODUCTION EVOLUTION
Emaad Ishak talks from his professional experience 15 years within the advertising and ad film production industry and how it has evolved over the years; along with its limitations and possibilities for now and the future.
IN SEARCH OF CREDIBILITY TO OUR CREATIVITY
Join Musharaf Raza Shah as he talks to creatives Saqib Malik, Atiya Zaidi, Yawar Iqbal and Taimur Tajik to find the answer to a question that every so often buzzes across our professional collective consciousness… "Who should be held responsible for flaws that we see in our advertising today?"
VOICING IT OUT: MOVING FORWARD
In 2017, we gathered opinions from leading people in the radio industry about the challenges being faced by the industry and the importance of setting up a yardstick mechanism to gauge real time listenership. So a year later, today, we go back to them to find out how the radio industry fared and how they moved ahead.
HUMAYUN SAEED: BORN TO BE A STAR
Talking about evolutionary journeys, it would be a shame not to include the awe inspiring climb of Humayun Saeed from a commercial model to one of today's leading actors and producers. So we sit down with him as he tells his brilliant tale.
HOW TO PUT A DENT IN THE UNIVERSE
Owing to the nostalgia we come wandering back to our roots; to reminisce and relearn our core lessons. We sit down with Ahmed Kapadia a.k.a. AK, the founder and Managing Director of Synergy Group to ask how he feels the industry has performed.
And this isn't all… So grab a copy of Synergyzer 15 Year Annual Special and read on!