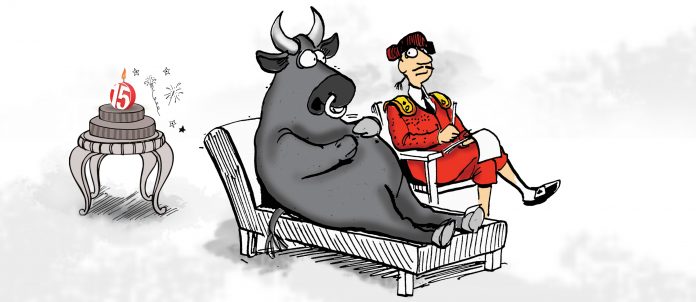 As originally published in Synergyzer Annual 2018
As I write the Bulls Eye story, I find it important to mention everything that made me get to where I am today, right from where I started. Read on and I hope it gets you inspired. 
THE MAKING OF THE ENTREPRENEUR
My parents are both doctors and would have liked that I was born with a medical itch.  Also, with no interest in engineering, the other 'viable' option back then, I opted for IBA, having no idea of what it would lead me to. But it attracted me as it was different from the usual opportunities of education available. Though an average student, I excelled in marketing and human behavior subjects and extra-curricular activities; winning sportsman of the year awards, IBA logo design competitions as well as other creative or art competitions regularly.
In the last semester, I got called for a meet up by Proctor and Gamble, a company that I had read a lot about in my academics. I passed all the tests, which were quite rigorous as well as interviews and was amongst the three people hired from our class of 1994. Sabir Sami, who was to be my first boss, told me that it was the strong extra-curricular part of my CV that they liked and believed that I could be a great future leader.
I fully immersed myself into my brand management job, learning and absorbing as much as I could while working on soaps, shampoos, and detergent categories. In my second year at the company, I was sent to attend a P&G college advertising course by Peter Tabori – and that proved to be life changing: There I was, listening to P&G's advertising guru; loving what he did and was talking about. I knew that I  wanted to be a part of his team. Of course, I came back and discussed this with my boss, but was told that I can opt for that option after 12 years, not any earlier. To me, this sounded as if somebody just reaffirmed that heaven lies after this worldly life! I was definitely not willing to wait the P&G way. 
FINDING MY WAY INTO ADVERTISING: THE STRATEGY
I found happiness in my daily interactions with my ad agency, Manhattan Pakistan, and learned from Tehmina Siddiqui and Adeeba Khan, who taught me my first lessons in advertising. I also made the effort to embark upon this self-initiated request for meetings with many top advertising agency CEO's to explore possibilities. But it was only Taher A. Khan whom I believed in for the biggest gamble I was about to put my professional life up against after almost 4 years at P&G.
Taher sahab was a genuine advertising man. In an industry which was being run mostly by businessmen who had advertising as their family business, he was a man on a mission; and I needed someone just like him at this stage of my career.
I joined Interflow Communications at the end of 1998 to set up a Strategic Planning division. This was a new offering alongside the long-standing client services and creative functions, which became an industry-wide phenomenon after I established it there.
Taher sahab allowed me to explore and create a whole new world within the already existing world of advertising. The Strategy function brought new business wins, creating an envied record. The strategic value additions that we created for clients like Pepsi, Nestle, Unilever, British American Tobacco etc. also helped me make my initial mark in these multinationals with their key talent. (In fact, when I recently met Shazia Sayed, the current Unilever chairperson, she remembered my strategy stint at Interflow; while I also recalled presenting the Pond Consumer Understanding to her when she headed the Skincare category back then.) In short, my name really got synonymous with strategy in the ad agency business and this really helped me later on. It was then that I realized the value of the P&G badge, which was paying me dividends as a strategist.
Then, there were also some once in a lifetime experiences like leading and winning the Mindshare pitch for Interflow Group, setting up the inaugural office and team etc. I was even offered the position of being the first CEO of Mindshare Pakistan, but I didn't take the job, as I found happiness in strategic and creative brand work. The time I spent at Interflow was really like a doctorate degree in advertising. While P&G gave me the depth of experience, Interflow gave me the breadth of it to prepare me fully for the challenges ahead.
HITTING THE BULL'S EYE
At the end of 2002, I decided that the time has finally come to take the plunge into forming my own agency. I was COO of Interflow Communications at that time and I knew that for eternal happiness to be mine, I had to carve out a space that would reflect my own signature style.
At that time, activation was the new buzzword and brands were exploring creative ways to look beyond TV and print advertising. Being a strategy person, I knew that the Pakistani market didn't need another ad agency. But it definitely needed a new kind of agency that offered something different. So, while the world spoke of us as an activation agency when we started out, my vision was to create a hybrid brand-consultancy driven creative agency model that looked beyond the traditional TV and print solutions. And it was this different positioning that made all the difference.
Activation was my license to do every new marketing thing I wanted.
My first client was Unilever Pakistan, which is my biggest and most favorite client even today! They have been the ones to give me and my team the variety of challenges that have helped us grow and develop as an agency. Our first project was a Lifebuoy re-launch sales conference that had to communicate the change in Lifebuoy from a red carbolic soap to a white soap. We creatively executed this conference on the Prince Lifebuoy theme with a scripted theatrical play, and no brand presentations whatsoever to communicate the message! This was a sales conference like no other before it. Here, I would like to mention two people, Rizwan Jameel, and Syed Mohammad Ali, who gave us our first break as an agency.
We got our second key break with National Foods. Abrar Hasan gave me a branding project for which we did extensive research to help carve out a brand philosophy for National Foods' management board. I will always be grateful to him for believing in me since that one project helped establish brand consultancy as our key offering which differentiated us from others and hence, I went on to do consultancy for many other brands.
The third important break that really drove my campaign and mission for Bulls Eye came through Hameed Haroon. He got me to moderate a high profile APNS event which was held to help bridge the gap between newspaper owners, at one end, and top advertisers, at the other. Hameed Haroon believed in me much before others did. He made me express and share my vision and views with the marketing world, which helped me create a higher ground for myself within the industry, alongside peers who were mostly shy of writing or speaking at top forums.
RISING TO THE CHALLENGES
More challenges followed, and the one client that kept giving us all sorts of dares was Unilever Pakistan, who deserve a special mention in the Bulls Eye Biography.
I can never forget Ali Mustansir's request to come up with a concept in 24 hours for Lifebuoy's Dil Se song video sung by Fakhir, which went on to become a part of our national archive. We got briefs that were stranger than this. I still remember one of Amir Paracha's calls, who was Marketing Manager – Sunsilk back then. He showed us content made for television, called Sunsilk 21st Century Woman that was produced some time back but was shelved for many reasons. He said that he wanted to bring it back as a reality television series, yet there were many issues that only the Sunsilk/Unilever team knew, and if we could solve the problem for them. We turned the show into a complete TV activation campaign, and it became one of the most memorable campaigns year. It was Amir's belief in me, due to which he always got the best of me and my agency. Our other memorable projects with Unilever include Rexona Date with Fate and Clear Ronaldo TV content campaigns.
Another noteworthy project was Fair & Lovely Qismet ke Sitare campaign for Farheen Salman, then Marketing Manager on the brand. We brought young women from across Pakistan to the forefront who were changing their destinies and had great stories to tell the world. After this project, we went on to deliver a number of assignments in the consultancy, activation and creative sphere for Farheen who, like Amir, believed in our all-around capabilities and hence always got the best of us. Also, I was lucky to find other great people at Unilever Pakistan who helped us realize the depth of our potential as we carried out some of our best work for them. Some people that I want to especially mention here include Fariyha Subhani, Sikandar Tiwana, Qashif Effendi, Fuad Chundrigar, Haseeb ur Rehman, Usama Khan, Sadia Nasir, Shahzeb Mehmood, Khayam Rajpoot, Sabeen Fazli and Mona Hussain.
While these people believed in us; I and my team gave our heart and soul to producing quality work. It is this focus that made all the difference for Bulls Eye. The work we did for Unilever got us recognized throughout the industry and we got to work with other clients. Ali Akbar, Ahsan Afzal, and Salman Ali at Engro Foods put their confidence in us and we conceived and produced the famous award-winning reality TV campaign, Hero Bannay Ki Tarang. Ali Akbar also gave me a number of brand consultancy assignments for the Ice Cream and Dairy category at Engro Foods.  Sohail Mateen at GSK gave us the challenge of brand building for Horlicks that literally was to be done on no budget, and for several years we created cost-effective activations and content solutions for the brand based on their requirements. We made inroads at Nestle through the Maggi Umda Maza launch with Samra Maqbool, at Telenor we worked with Farooq and Meena year over year conceptualizing and organizing their sales conferences and activations, and did Mountain Dew Action events with Shehzad and Omer Malik at Pepsico. These projects got us firmly registered in the market as a new agency on the block doing noticeable marketing. Our all-rounder marketing nature was in our agency DNA, which helped us stand out.
Then came the time when the people who used to be our clients at Unilever Pakistan moved to other organizations, and from there we got our initial few breaks to create advertising campaigns. Two major accounts include LU where Fuad Chundrigar brought us in as a creative agency and Tullo Cooking Oil & Banaspati that Usama Khan gave us at Dalda Foods. After these, we started getting calls for pitches regularly and we started adding advertising clients as well at Bulls Eye. Our consistent wins year after year at PAS Awards for Sucral – thanks to Khurram Mahmood – furthered our advertising credentials.
CREATING A WORLD CLASS CULTURE
It was 2011 and we got the attention of the fourth largest advertising agency in the world – DDB worldwide – and they asked us to become their Pakistan partner. Hence, I created BE DDB as a specialist creative agency; while Bulls Eye continued to do activation, content, consultancy and other brand-building projects. So from Bulls Eye, we shifted all the local advertising business to BE DDB, while they gave us their globally aligned creative business; out of which the most significant is Lipton. We have managed it ever since, consistently producing work that has been recognized by the industry, with the latest being the Lipton Chotu campaign, which is also very close to my heart.
Last, but not the least, I want to mention quite a few of my team members who have been part and parcel of my mission at Bulls Eye. Qazi Yasir Ahmed and Kashif Siddiqui have been with me for over a decade and are like my younger brothers and partners rather than employees, having been through all the thick and thin with me and the Bulls Eye Group and I am personally very proud of them for their commitment, loyalty, and hard work through the years. Then, Jibran and Amir Adnan who have been there since I formed our initial creative team; Aqeel Abbas and Babar Ali Khan who have smartly managed finance and administration; Shuja, our operations champion who is the backbone of our agency and Mohammad Fahad in the Digital department are the main people without whom we would not have been what we are today.
I also want to mention some people who are not with us today but put their best foot forward for me and the agency. My former partner Tanveer Ajmi, who never made me worry about getting things done and helped make everything happen; Iftikhar, Tariq and Zain in the Design department when we started to evolve from activation to advertising; Khalid Rasheed in the Creative department for the (PAS) award-winning work that he consistently produced for us – I can see us creating some more magic in the future too. Then Bilal Ahmed, a great on-ground hands-on person who also took care of Bulls Eye when I was setting up BE DDB; Goher Ali Amin, also in operations and who held the North region for us and finally, Aadil Pasha and Umair Kazi the two strategic planners who played their part in our earlier years. I am very lucky to have equally talented younger team members in all these functions who are ready to take the agency into the next decade. You will read their names when I write the next chapter of my story a few years later.
I also want to especially thank Mr. Nauman Nabi and Mr. Ahmed Kapadia whose insightful advice, time and agency resources were always available to Bulls Eye in our early years, as and when needed.
My love and passion for marketing is no less today than it was when I embarked on this mission and these days, what excites me the most is the digital future. I can see the digitalization of the entire marketing and advertising landscape. Advertising is going digital. Activation is going digital. Everything we do now has a digital edge to it.  I can see all becoming one. We have set out a 2025 vision for where we see the Bulls Eye Group standing in the future and I am personally involved in planting the seeds, preparing the ground for it and watering the plant. And this is what keeps me going.
About the Writer
Shoaib Qureshy is CEO Bulls Eye DDB and can be reached at shoaib@be.com.pk