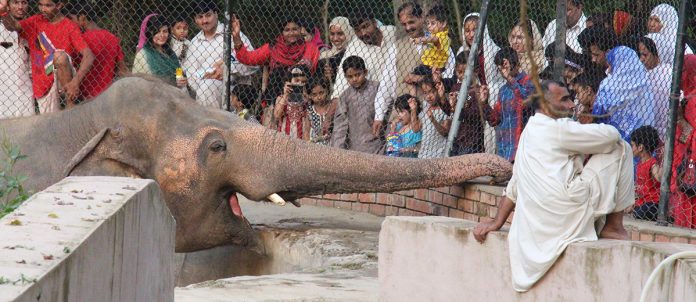 By Syed Umer Iftikhar Ahmed
The Wildlife Experience Center is a project of The Wildlife Welfare Society. The center is a petting zoo with four core objectives; education, conservation, rehabilitation and research. With these four cores as foundation, TWEC aims to create, promote and sustain awareness amongst the general populace about wildlife.
Being one of the first petting zoos in Pakistan, TWEC has become a trend setter in inducing the love for animals and wildlife in people through live interaction with animals in their respective habitats in the presence of well-trained personnel. The center has the largest variety of hand-raised exotic birds and other tamed animals. It is also equipped with excellent media facilities and supported by the media industry. Through these, TWEC also plans to make quality documentaries and presentations, meanwhile also arranging workshops and seminars on different topics about wildlife.
The Wildlife Experience Center has been well-received by the community as a progressive, constructive and innovative project. Pet-lovers, wildlife enthusiasts and academics in this field have joined hands to serve the cause through ideas, campaigns and education.
The center educates people of all ages, with respect to their intellect, through various programs. Several schools, colleges and universities have collaborated with TWEC to educate their students about wildlife and its importance. They have visited the place and vice versa for this purpose. TWEC promotes awareness about wildlife, both local and international through educational activities, circulation of educational material and instructions.
It has also carried out several educational activities in welfare institutions and is proud to be associated with Darul Sukun, Aghaz School, Hino Pak, Bank Al Falah and many more institutions.
TWEC is not only a petting zoo but also serves as a conservation center; many campaigns are underway for different goals, some of them being Save Native Wildlife, Save Vultures and Stop Bear Baiting.
The organization hopes to rehabilitate native wildlife through mass educational projects such as Wildlife Warriors, through which they will train wildlife enthusiasts on how to care for the environment and wildlife around them.
Along with expert zoologists and academics of the field, TWEC has an excellent research team. It has provided young academics of this field with an interactive, progressive and practical platform to implement their studies as well as collaborating with international experts, including Bob Clark and the Swamp Brothers from Discovery Channel and has international liaison offices in five countries including USA and UAE.
TWEC does not believe in taking donations but does work in partnership with organizations and the corporate sector to promote its cause while being an open for all space. It is extremely affordable to visit for anyone.
Being innovative and easily approachable, the TWECians have earned great appraisal from people in general. TWEC has an amazingly strong and capable volunteer force led by wildlife enthusiasts who act as mentors to guide its volunteers through different phases so that everyone may contribute. Having an extremely proactive volunteer program for students from all fields, it's a great platform where they can put their energies to a constructive cause.
The Wildlife Experience Center also provides certified internships to selected candidates from different academic fields and till now has achieved several milestones since its inception in the spring of 2013 and at the rate it is growing; it has a promising future.
TWEC not only provides a great educational experience but also has proved to be a great recreational center for all. People not only learn there but also find entertainment for different members of the family. Some of the recreational activities include getting photographed with pet animals and playing with them. People take these pictures home with moments in which they experienced the unconditional love these animals expressed to them.
Several TV shows also invited TWEC members to educate and entertain their audience while promoting their cause and now, the media industry constantly seeks expert opinion from the organization whenever any issue pertaining to wildlife comes up.
TWECians dream to make our society a nature-loving one where people will respect the surroundings they live in.
The Wildlife Welfare Society has come forward as one of the first local proactive not for profit organization which serves the cause of protecting wildlife through the support of the local community by educating, researching and conserving wildlife and rehabilitating endangered species. It hopes to one day serve as a platform through which enthusiasts, academics, entrepreneurs and experts come together for the love of wildlife.
Zeeshan Azeem, Hyder Shaheed Park, Block 1 Nazimabad,Karachi.
President: Atif Imtiaz
0300-8230961