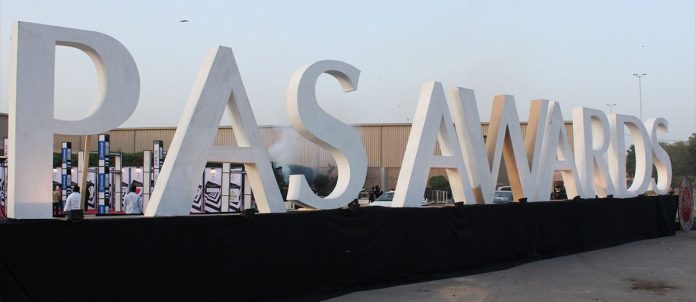 The PAS Awards, organized by the Pakistan Advertisers Society, and one of the most recognized and credible advertising events in Pakistan, awarded jubilant winners at a star-studded gala held at the Expo Center in Karachi on April 25, 2015.
This year, apart from the regular 21 categories, Pakistan Advertisers' Society introduced 5 special categories namely Passion for Pakistan, Best in Digital, Media Innovation, Best BTL Activation and Best Platform Award that went on to honour the most innovative marketing ideas.
Actor and radio presenter Khalid Malik, was the Master of Ceremony, while the show featured entertaining performances by FUSION, Rachael Viccaji, Zia Mohyuddin, Bushra Ansari, Jawad and Sara Raza.
The show also featured a glittering line up of Award Presenters from the advertising as well as the entertainment industry like Mohammad Malik, Sadaf Malatarre, Ehsan Malik, Zhalay Sarharidi, Amir Paracha, Khurram Koraishy, Tariq Ikram, Shayan Malik, Michael Nederlof, Zainab Mohammad, Rizwan Ahmed Siddiqui, Nadia Hussain, Mujtaba Naqvi, Romain Dequesne, Sarmad Ali, Azra Mohyeddin, Bahauddin Khan, Sajjad Laghari, Meera, Imran Aslam and Anwar Rammal.
The regular categories spanning across various segments had an overwhelming response this year from agencies and brands across Pakistan totalling 263 and after being evaluated and short listed by the jury, currently 68 brands and agencies were in the running to win PAS Awards 2015.
PAS Awards were presented by Zong; powered by Microsoft; co-sponsored by Toyota and Olpers Lassi while EBM and Dabur were associate sponsors. The categories "Passion for Pakistan", "Best in Digital" and "Media Innovation" were sponsored by Bank Alfalah, Synite and HBL respectively. Dinner was hosted by National Foods Limited, while Pepsi and Tapal Tea were sponsors for the Cocktail Lounge and Tea. TPL Direct Insurance was Official Insurer for the function.
JWT, Convex, Team SFA, E-creatorz and TDF were respectively the creative, digital, animation, technology and social media partners for the PAS Awards 2015. FM89, FM91, HotFM105, Jang Media Group, Brandsynario & Apna Karachi 107 were the media partners, while Kinetic Pakistan were the Outdoor media partners.
Interviewing PAS Jury Panel 2014
The PAS Awards entries were judged by best of the best in Pakistan's advertising. Brandsynario took the opportunity to talk to a few of the jury members and get their opinions on the creative landscape of Pakistan.
Imtisal Abbasi, COO – IAL Saatchi Pakistan
Q
Celebrity endorsements are prominent in our advertising. Do you agree that higher star power results in a better recall and translates into a better ROI?
A
As long as you have a strong idea, you don't need the support of a celebrity to back it. Our own agency engages a lot of celebrities, but I think that they add value on when they are relevant to the message. Just to have celebrities for the heck of having them does not make any sense.
Mansoor Karim, CEO – JWT Pakistan
Q
Outdoor advertising is too cluttered right now. How can some discipline be brought to the platform?
A
You can't blame brands or advertising or the outdoor industry. It has more to do with civic discipline. If there is an opportunity, brands will utilize it; even if one doesn't, another one will. The challenge lies with the civic or municipal office; the people who run the city. But I do think that there should be a limit to OOH advertising. Lahore is a good example of disciplined and organized outdoor advertising, where it's impactful and simple.
Zohra Yusuf, Creative director – Spectrum Communications
Q
Pakistani women have evolved over time and in a number of situations are as successful as Pakistani men, yet the advertising industry still seems to be stuck in typical stereotypes. What are the reasons behind this from your perspective as a woman?
A
Advertisements are far from reality I believe. No woman would smile while doing laundry or exuding the kind of satisfaction after cooking a meal for the entire family as shown in a number of our ads. I believe it's time to move away from such stereotyping.
Q
What qualities do you look for when hiring creative talent for your company?
A
Original thinking. I don't want people who are unnecessarily influenced by what is happening around them. I put a lot of emphasis on creativity, willingness to take risks and not being conformists.
It really is not important that they are formally educated in the creative field. I've seen a lot of potential in others too.
Faraz Maqsood Hamidi, Co-Founder, Partner & Chief Creative Officer – The D'Hamidi Partnership
Q
A lot of time we feel that advertisers sometimes underestimate the intellectual level of the audience and make a lot of in-your-face campaigns. What is your take on that?
A
My advice to my clients has always been to not go for the lowest common denominator, but to always go for the deepest common denominator; one which resonates across our common humanity and is invariably more powerful. If you take that approach, you will be doing slightly more intelligent and respectable advertising.
Q
How do you see the industry evolving in the next five years?
A
The industry is always shifting. The position I like to take, because I know, is that all incredible focus is towards digital because it's the next big thing. I don't think it will be at the cost of any former thing, like print, as most people would like to believe. The term I like to use is 'tri-digital'. Where we are headed is by using the best of our traditional experience and moving it towards a new platform, but the craft remains the same. People are still after good content, intelligent copy and something inspiring or moving; the principles will always remain the same.