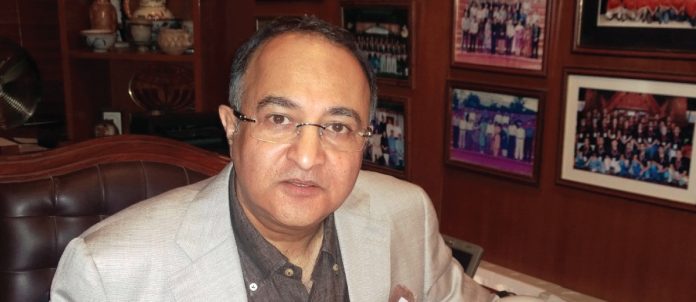 Mr. Sarmad Ali, Secretary General, All Pakistan Newspapers Society and Managing Director, Jang Media Group talks to Synergyzer about blacklisting as an effective regulatory practice and pays tribute to the legendary Masood Hamid.
Synergyzer: What does it mean to award accreditation to advertising agencies and media houses through APNS?
Mr. Sarmad Ali: Accreditation primarily means that we (APNS) allow advertising agencies and media buying houses to avail credit facilities with our member newspapers and publications. Accreditation is structured into three tiers for advertising agencies – associate agency, provisionally accredited agency, and fully accredited agency – and a fourth tier for media buying houses. Each tier has its own rules and financial implications.
Advertising agencies seek accreditation with APNS in order to do business with newspapers. This lets us protect the interests of not only the newspaper industry, but also of the agencies, particularly in cases where clients default.
There are some agencies which conduct business without being part of APNS, or even PBA for that matter, but they don't get the same kind of facilities or credit as APNS-accredited agencies do and APNS does not intercede in their matters.
Synergyzer: What is the differentiation between the three advertising tiers? How does an associate member go about becoming a provisional or full member?
Mr. Sarmad: Associate agencies have a credit time limit of 60 days on postdated cheques which must be submitted with each release order. After a year as an associate with a good track record with no complaints from the member newspapers, and no bounced cheques, the agency becomes eligible for provisional accreditation. This requires a bank guarantee of PKR 2 million. After another year and a payment of PKR 3 million the agency acquires full accreditation status. The credit period increases with each tier; for associates it is 60 days, for provisionals it is 75 days, and for full members it is 105 days. Associates get a pre-set agency commission of 14.5%, while provisional and full members get 15%.
Synergyzer: How do you protect the agencies? What is the procedure of blacklisting clients?
Mr. Sarmad: The primary objective of a body such as APNS is to protect its members, the newspapers and magazines that come into the fold of APNS, as well as agencies that are accredited by APNS.
When advertising agencies place business on credit with a newspaper, they draw up a basic contract called a release order. If the agency does not pay the publication on time, the publication will submit a complaint to the APNS. If the agency does not pay the dues within the time stipulated by APNS, the agency gets suspended.
On the flip side, if the agency's clients do not pay the agency on time, the agency can file a complaint with the APNS, who then suspends or blacklists the advertisers. If an advertiser wishes to change agencies, it must clear all dues pertaining to the print media of its incumbent agency before it is allowed to move to a new agency. As an added measure of protection, agency appointments are not recognized until outgoing agencies provide NOCs for the clients and certify there are no outstanding dues.
In the APNS system, a client not listed by any member agency is considered a free client and able to switch its business at will. But this practice in general is discouraged by APNS. If the client is listed in the APNS system, then under no circumstances is it allowed to move from one agency to another before clearing all outstanding dues of the agency. To clarify, we are not supposed to act as recovery agents for agencies; our objective is to ensure payments to our members are cleared. In very few cases – specifically, categorically, and only on merit – if a client doesn't respond to our letter, or an agency refuses to give clearance despite there being no dues, we step in and decide whether to allow the client to move to a new agency.
Synergyzer: Has blacklisting stepped up this fiscal year as compared to last?
Mr. Sarmad: Quite a few advertising agencies were suspended this year. When an agency is suspended, it either pays up or comes to APNS with a schedule of payment. If this schedule is acceptable to creditors, we restore the agency. Sometimes the agency pays up in a day and is restored immediately; sometimes they don't pay for months, or even years. We don't want to suspend agencies. We want them to function because only then will they have the capacity to pay us. We disaccredit an agency only if they have not paid for years.
The situation has been alarming for the past 4 or 5 years. Particularly for those agencies handling government business are in deep trouble, because more than a billion rupees is owed to them. In the past, APNS has even suspended the advertising of Federal as well as provincial governments on default. For instance, the Federal Government was suspended last year and we received written commitment from none other than the Federal Minister for Information that the payments will be made according to a certain schedule. Not even 5% of the commitment has yet been met. The PM has made similar commitments, so has the Finance Minister, and none have come through. If the government doesn't have the money to pay the agencies, and by extension the newspapers, then why does it advertise? Why should we accept an advertisement that won't be paid for? To satisfy our egos? Or maybe because we might get paid five, ten years down the road? A lot of agencies have suffered and we've had to reschedule the dues of many who handle government accounts because we know it's not their fault. We know they want to clear their outstanding payments, but can't because the government won't pay them.
The government is a client; if it doesn't pay its dues then it should be dealt with in the same way as private sector clients. If XYZ Corporation can be suspended for not paying, so can the government. This is a dilemma and it needs to be resolved. The APNS (on behalf of newspapers), PBA (on behalf of broadcasters, television, and radio), Information Ministry or Press Information Department (on behalf of the Government of Pakistan) and advertising agencies must sit down and find a way out of this crisis that has been brought upon us because of the government's inability to pay its bills on time.
Synergyzer: Has anything been done in that direction as of yet?
Mr. Sarmad: We're meeting with the Information and Finance Ministry to devise a solution. There has been some progress, but it's been very slow. Promises are made, but no one knows when they will be fulfilled. A committee has been formed with members of APNS and as officers of PID (Press Information Department) to verify bills to ensure there is no duplication or fake billing. We're doing as much as we can, but now the government needs to step up and do its part. If there are no payments then obviously they will be suspended again as clients. Federal, Sindh, and KPK are the worst at making payments; Punjab is better. The Baluchistan government is the best as its budget is so small that it doesn't have any issues on advertising.
Synergyzer: Are suspension and blacklisting effective as regulatory practices?
Mr. Sarmad: At times they're very effective, especially for clients who need to continuously advertise. If they get suspended, they need to pay to continue advertising. Then there are clients who may have been suspended from newspapers, so they move their advertising to television and vice versa. There is a dire need for us and PBA to form some sort of a joint mechanism that can make joint industry decisions on such clients.
Synergyzer: Are there any sustainable agencies or clients in Pakistan?
Mr. Sarmad: There have been agencies that have done business for years and have never been suspended, or if they were suspended then it was for a very short period. There is plenty of sustainability and there are a number of sustainable agencies and clients. There was a time when the government was considered the most sustainable client – we used to say that the government is not a credit risk. Today, however, government advertising is a bigger credit risk than the entire private sector put together.
Synergyzer: How can the industry encourage sustainable agencies and clients?
Mr. Sarmad: First, as I've been saying for years, there is a need for all associations to come together. For instance, there is APNS and PBA on the media side, then PAS (Pakistani Advertisers Society) which represents clients, and the AAP (Advertising Association of Pakistan) whose members are the advertising agencies. In 2000 or 2001, at the PAS event, I highlighted the need for a joint body that looks at the industry's issues at large. I think we need to start looking at the issues from an industry perspective instead of having a print centric or television centric approach.
Another way to encourage sustainability would be to design a payment system that satisfies both APNS and PBA. It becomes difficult for advertising agencies to meet their obligations when they must pay both APNS and PBA at the same time. Right now APNS has 6 clearances and PBA has 12, so there are 6 times when APNS and PBA payments coincide. This puts a strain on everyone. Perhaps an alternate clearance system where PBA gets paid one month and APNS the other month can be considered. Or APNS may also bring its clearance upto 12 from 6.
Synergyzer: Other than APNS, PBA, PAS, there is DPAP; what is the function of this body?
Mr. Sarmad: Digital Publishers Association of Pakistan (DPAP) is a relatively new phenomenon that came up about three years ago. My late friend, Masood Hamid, was its first President. Now Shahab Zuberi, Group COO Aaj TV/Business Recorder is the President. My colleague Lucas Peter is the Vice President and Monis Rahman of Naseeb Networks is the Secretary General. DPAP is an association of digital publishers. We felt there was a need for such an organization because there are many digital advertising agencies that are not accredited with either APNS or PBA, and it is difficult for the digital publishers to protect their interests, as well as the interests of advertising agencies and clients who want a presence in the digital space. It's a beginning. It's the first step and is still in its infancy; we are testing the waters and learning the business. It will take a couple of years for it to become an effective and mature body.
Synergyzer: Masood Hamid, Director Marketing Dawn Group, was a great friend of yours. Do you want to say anything about him?
Mr. Sarmad: My friendship with Masood Hamid was more than thirty years old. I met him in December 1985, we became friends and later turned into competitors. Despite being competitors our friendship grew stronger and brought us closer. Usually, we make friends when we are young i.e. in our school or college days and stay friends with them for the rest of our lives. We don't witness similar bonding in a professional environment. Turning that professional relationship into close friendship, and that too when the person who is your competitor, is something rare and the credit for this goes mostly to Masood.
He was an amazing person and whenever I think of him, I feel as if I have lost a precious part of my life. Death is inevitable and there is no question to that, but at his age, it is difficult for me to accept that a person so full of life and vibrant can suddenly leave us all.
I feel sad adding the word 'late' before his name as I don't think that someone like Masood should be defined as such. We need to celebrate his life and his achievements. He was a loveable person and all I want to say is that Au Revoir Masood, RIP.