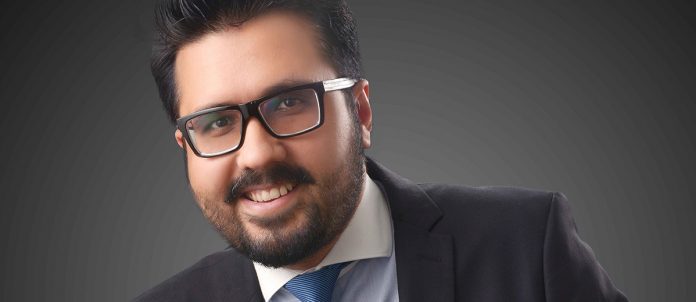 Tahseen Shaukat, in his latest avatar as Country Head for Ten Sports in Pakistan, speaks to Synergyzer on his thoughts about the media industry and the challenge of conceptualizing and implementing the intricate details around broadcast of ICC Cricket World Cup on Ten Sports Pakistan.
Tahseen currently holds the business responsibility for Ten Sports in Pakistan with the key mission to maintain the leadership position in sports genre.
Synergyzer: To start off, can you please tell us how has your career path evolved?
Tehseen Shaukat: I have done encyclopedia and mobile phone connection sales during my college days as a salesman working only on commission and for those days did fairly well to support myself. I later started a tech setup while I was finishing my studies. Yet, like most startups, the venture couldn't stay profitable for long due to competition and lack of funding to support cash inflow requirements. However, it taught me the most valuable lesson in life as you learn more from failures than success.
I worked in different industries for some time, then entered the media industry through Media Max and later settled with Geo TV Network and Jang Group for a stint of ten years. I served there in various capacities and left as an Executive Director to join Ten Sports Pakistan.
Synergyzer: What do you see are the prospects for Ten Sports in Pakistan, business- and viewership-wise?
Tehseen: From the product and platform positioning point of view, we are now evolving. We have shifted towards promoting our key sports like UEFA Champions League for football and WWE for wrestling alongside cricket. There is uniformity in what we are doing to engage our viewer and thankfully the numbers are thriving, however we are definitely eager to reach out to a much wider audience base. This is a good sign considering we have always been a one sport nation and inclined towards Cricket. Our recent renewal of broadcast rights for PCB will also help us grow our business in Pakistan.
Synergyzer: Sports are considered a form of national unifier. Being an international network, how important is Pakistan as a market for Ten Sports to showcase sports that are relevant to Pakistan as a nation?
Tehseen: Despite the diverse set of long term international sports rights available with us, interacting with our audience and delivering them the best in sports programs consistently is our first priority. Other than broadcasting Pakistan Cricket, which attracts serious advertising revenue on sports in Pakistan, we are also committed to broadcasting Pakistan's participation in key regional sporting events such as Hockey Champions Trophy, Asian Games and Commonwealth Games.
Synergyzer: How does Ten Sports promote and position its key driver properties; meaning sports and related programs that form main its main broadcast lineup, amidst so much competition in viewership?
Tehseen: 2014 was a unique year for us as we showcased the biggest spectacle of soccer i.e. the FIFA World Cup 2014, Glasgow Commonwealth Games and Incheon Asian Games to the Pakistani audience using a unique promotional strategy for each. Despite half of the FIFA World Cup 2014 falling in Ramadan, we generated a good amount of viewership. WWE with RAW, Smackdown and monthly Pay Per View events has been a consistent ratings driver for Ten Sports and we are now working to reinvent its promotions through capitalizing upon the popularity of certain WWE Superstars and unpredictable twists and turns in the story line that they are a part of.
For our cricket properties, we celebrated the game's following during Pakistan vs Australia and New Zealand series through our campaign "Yeh Khel Hai Deewano Ka". The campaign was designed and executed by our creative agency Adcom and won us a nomination at the PAS Awards for best campaign.
There is a lot of media action around the Pakistan Cricket team and we support the news channel fraternity and our partners with sports footages and expert analysis. Our collaboration with Dunya TV is just an example of it.
Synergyzer: Did Ten Sports use the ICC Cricket World Cup to its strategic advantage? How did the event fared for the channel in Pakistan?
Tehseen: Cricket, during World Cup in Pakistan becomes much more than a sport and the event becomes a big manifestation of national unity. Pakistan has a young-at-heart television audience when it comes to sports therefore we derived our ICC Cricket World Cup campaign with multiple strategic touch points and called it "Wake Up Pakistan". Understanding that the ICC Cricket World Cup does not need to be sold hard, the campaign connected with our audience at the grass root level with a strong message to come forward and become a part of the cricket fever, despite the timings. We worked with Nabeel Qureshi and music director Shani Arshad to conceptualize and execute the task with Adcom who did a fabulous job with our World Cup anthem and we are really happy with the final outcome.
Our most important achievement during the ICC Cricket World Cup was the implementation of a strong ad-capping policy during the event broadcast for which credit goes to our sales team. We are really thankful to our advertisers and media buying houses that helped us meet our revenue targets and in return derived extra ordinary value from viewership ratings that far surpassed competition. As a result, our rating differentials are the highest ever and the brand equity hence developed will continue to benefit us in the future.
Our distribution team did a fantastic job to ensure channel visibility during the World Cup and partnered with restaurants and cafes across Pakistan to show ICC Cricket World Cup via Ten Sports. The initiative not only helped us with getting additional out-of-home viewership but our partners also benefited by offering special dine-in packages and a unique entertainment proposition around cricket to their patrons.
Synergyzer: Ten Sports website for Pakistan was launched just ahead of the World Cup. Please tell us about the digital experience around this key event.
Tehseen: We did streaming for ICC Cricket World Cup 2015 on our website www.tensports.com, through the Ten Sports app and with the help of our extensive digital media promotion plan. We generated higher traffic than other platforms combined with highest average stay time. We give credit to our technical team for coming up with the streaming solution which delivered results despite heavy volumes of traffic. The new website is structured with dedicated pages for key sports and events and is fully responsive.
Synergyzer: Can you please tell us about the recent Ten Sports initiative "In it to win it"?
Tehseen: As a part of our plans to engage female audience around cricket, we teamed up with designer duo Sana Safinaz and came up with limited edition 'Kurtas' with the tagline 'In it to win it". The tagline was derived from Sheryl Sandberg's LeanIn Foundation's initiative #LeanInTogether that we are supporting in Pakistan to spread the message of gender equality at home and work place.
While this was the first of its kind, we plan to take up more of such initiatives to encourage and develop a strong female audience for our sports properties.
Synergyzer: Ten Sports has successfully renewed the rights for Pakistan Cricket Board Home Series till 2020, what is your strategy with the PCB rights?
Tehseen: Ten Sports has been associated with Pakistan Cricket Board for long now and this renewal shows our commitment to the development of cricket in Pakistan. With continuous advancements coming into sports production and distribution, Ten Sports will ensure good coverage and penetration for Pakistan games amongst fans across the globe.
Synergyzer: What are your comments over the role of PEMRA as a regulator in pushing for industry growth in Pakistan?
Tehseen: PEMRA has been fairly supportive towards industry growth. The fact that there are more than 120 satellite channel licensees in Pakistan is a strong proof of it however there are challenges that are particular to each market and we have our set of challenges in Pakistan as well.
Whereas digitization and addressability will remain the core issues to discuss in near future, real challenge will be to prepare the industry for content delivery via internet which will determine survival of many enterprises existing within the current television production, broadcasting and distribution eco-system. Hopefully, the industry with PEMRA's help will draw its own course for sustainable market growth against the challenges ahead.
Synergyzer: Can you please share some thoughts on the current state & future of television industry in Pakistan?
Tehseen: I would term the last decade as a decade of growth for Pakistan's television industry and while the growth phase allowed for experimentation, now is the time for consolidation. Just as an example, the trend of secondary GECs – General Entertainment Channels – is a result of consolidation in content and that access to foreign content is allowing for channels to save on fixed point charts costs and improve quality of their local content as well as attempting to produce international standard channel drivers. Similarly in the news segment there is a constant quest to expand into secondary news channels by the current players and who knows; we may see a successful formula for secondary news channels soon that can be around analysis, geography, languages or acquisition of competing mainstream platforms.
It is a positive sign that media entrepreneurs are not afraid of experimentation and are continuously trying to launch and incubate within and beyond their network resources.