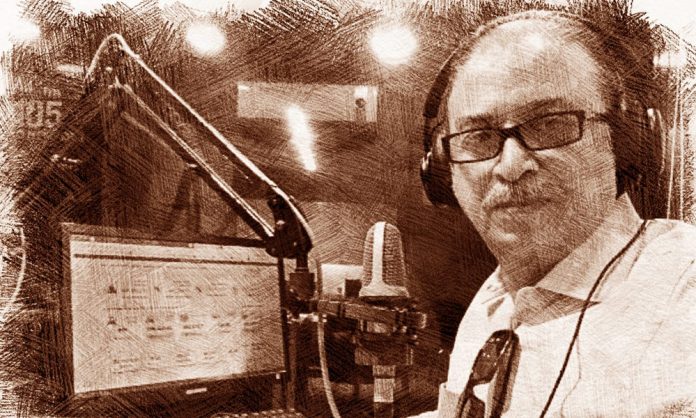 SYNERGYZER: Could you tell us briefly about the radio landscape in Pakistan post-2002 and when Hot FM 105 was established?
SYED ZULFIQAR ALI SHAH: In 2002, PEMRA began auctioning licenses to radio stations as well as television channels. TV licenses were given at a certain amount for ten years, while the auction prices for radio licenses ranged between Rs 3.5 million to Rs 4 million for a licensing period of ten years. The radio licenses were based on territories, which meant that if a license was issued for Karachi, then it could cover an area 40 kilometers in diameter in airwaves.
Licenses in larger cities cost more than those for smaller cities. It took two to three years to complete the radio license auctions, which occurred in phases during which the prices continued to increase. Each station took anywhere from two to six years to establish its reputation and build its audience. FM 100 was the first one, not only to launch but also to capture the attention of radio listeners. Every station tried to come up with its own unique offering; some, like FM 106.2, played only music, some targeted the English-speaking market like FM 89, while others offered programs in English as well as Urdu.
FM105 was established as Sachal FM by Infotainment Private Limited. The channel started with interactive programs featuring live interactions between the presenters and their audience. We had a newsroom from where we used to play our news bulletin every hour, 17 bulletins per day from 7 a.m. to 12 a.m. In September 2012, I took over the channel, and it has been for precisely ten years that I have been running it.
During my tenure, we tried to turn things around, be more effective and increase listenership. Our focus has always remained on Sindh; we started with Karachi and Hyderabad, and then came Mithi, Sangar, Nawab Shah, Shikarpur, Larkana, Naushehroferoze, Sukkur, and so on.
Today, we have 12 regional stations in Sindh, from Karachi to Jacobabad to Mithi, one in Quetta, Balochistan, and 1 in Chitral, all under the banner of Hot FM 105.
SYNERGYZER: How would you say Hot FM 105 is different from other radio channels?
 SYED ZULFIQAR ALI SHAH: We are different because we offer programs in almost all regional languages. In Karachi, we have people from across Pakistan who feel good when they hear a program in their native tongue. In order to attract these communities, we have two hours of Pushto, two hours of Balochi, and three hours of Sindhi programs, which are very popular.
There are no measurement tools as such to assess which radio stations or programs are popular. Only by talking to people do we really gauge the popularity of a show, who is listening to us, and where. Otherwise, switching to another radio station is just a tap away. We are unique in the sense that we give people an opportunity to talk for as long as they want and speak their minds.
SYNERGYZER: How many regular listeners do HOT FM105 have and what is your target audience?
SYED ZULFIQAR ALI SHAH: There is no tangible way to gauge this, so we take it this way: if the population of Karachi is about 2.5 crore, and if even one percent is listening to the ten or eleven stations that operate in the city, that amounts to 250,000 people. Now, if even one percent of total radio listeners – which is about 25,000 people – is listening to HOT FM 105 at any point in time, that is a significant number for me.
As for the target audience, if you want me to say that we target SEC (socio-economic class) A or B, I'd first ask you: how do you gauge SEC A?
The majority would say a person of that socio-economic class must read the Dawn newspaper, speak English, reside in a 300-500 square-yard house, own a car, send their children to study in a private school, and so on. If we go by this description, then we would assume that they also have a lot of buying power… but that's not necessarily the case.
Let me give you another example. When curved screen televisions were introduced to the market, I asked people who would buy these televisions, people from Karachi, Multan, or Larkana. One distributor said that the buying power of rural consumers far exceeded that of the metropolitan.
In Karachi, people are more job-oriented. It takes time for them to fulfill their desires for consumer goods. So how many people belonging to SEC A live entirely in Karachi?
You see, it is not just Defence or Clifton that constitutes Karachi; the city is huge. We must also account for people living on the other side of the bridge. Also, speaking English is not a particularly effective criterion or predictor of wealth. People with more buying power reside in other localities of Karachi.
Our target audience, therefore, could constitute a rickshaw driver, a millionaire, a doctor, and even a CEO or chairman of a company. Ours is the only radio station where the Chief Minister of Sindh came and participated in a show, which over 200,000 people saw on Facebook.
Our target audience also differs depending on the show. There are several pharmaceutical companies and hospitals that listen to and even ask to participate in our health shows, which are very popular. We also conduct shows on brands, where the audience is different.
SYNERGYZER: In this digital era, what would you say is the potential of radio? Is it still relevant?
 SYED ZULFIQAR ALI SHAH: It is a public medium, and free for all. It is the best medium to disseminate information when it comes to disasters such as tsunamis, floods, or earthquakes, or any critical information for that matter.
During the CoVID-19 pandemic, we did not get any commercials from advertisers. We did not earn anything. We were just surviving. But people, patients were listening to us in hospitals. Radio was the only medium available to entertain and inform them.
Also, Karachi has seen the worst of times; total darkness, curfews, martial law, and states of emergency, during which radio has always played its part in propagating awareness, whether it's during Ramadan, traffic updates, weather, etc. Television has not weathered these conditions.
In terms of entertainment, you can listen to music in every language on the radio. You cannot ignore the historic relationship music has had with radio since its inception. Whether it's Coke Studio, Kashmir Beats, Nescafe Basement, or Pepsi Battle of the Bands songs, we have been the biggest promoters of the local music industry.
Moreover, in Pakistan, there are several areas where people have no electricity or there is a lot of load-shedding. There are people who are ill, bedridden, or elderly. It is in these areas that radio thrives, and we are happy to be a part of their lives.
Here in Pakistan, radio is the lowest-cost medium for advertisers, where they do not hesitate to spend. If one television channel is selling its airtime for Rs. 200,000 a minute, then one radio channel is selling it for Rs. 200 – Rs. 1200 a minute, even in Karachi. If you compare these rates with those from Bombay, Singapore, or Malaysia, we are taking peanuts from these advertisers.
Yes, advertisers do not hesitate to give us this amount, because we get the spillover of their total budget, a large chunk of which goes into digital. Take regional newspapers, for example, also; they cost Rs. 30, while the English dailies cost between Rs. 40-45, and what is their shelf life? Three hours, from 9 a.m. to 12 p.m.
SYNERGYZER: How do you keep your target audience engaged?
SYED ZULFIQAR ALI SHAH: By talking to them. I myself host a show for three hours every Saturday. We also invite people from various fields to come and talk on our station, and people can ask them questions.
You see, ours is a third-world country, where people suffer from so many issues. There's CoVID, there are floods, there are earthquakes, there are mental issues, there is inflation, etc. We started a program called 'Relief through Airwaves', where we invite people to talk about these issues, diseases, symptoms, and preventive measures, because there are also people in Pakistan for whom reaching hospitals is not easy.
Under the umbrella of health and well-being, we have several programs that cater to men, women, children, and the elderly. We believe when you hear something on the radio, it registers much faster than through any other medium, and people can listen to it while doing their housework, driving, working, etc.
For the past two and a half years, we have been working with SIUT and running a campaign on deceased organ donation, as no one talks about it. Since so many people listen to us, a few weeks ago, a laborer got onto the show and said he wanted to donate his organs after death and asked where he could register himself. This happened because he was a regular listener of our show, and he was completely convinced. If I manage to convince just a single person in a month, it is an achievement for me.
People such as Dr. Adeeb ul Hasan Rizvi at SIUT, Indus Hospital, or LRBT for free eyecare, are serving humanity free of cost. They send their doctors to spread awareness on our shows. It is commendable for us, and I am proud of it.
SYNERGYZER: What are the challenges the radio industry is facing today?
SYED ZULFIQAR ALI SHAH: Well, unfortunately, radio operators have not put in a lot of effort in promoting radio as a medium. Secondly, the licenses that PEMRA issued in 2002 expired in 2012. It has been ten years since then, and the renewal fee today has skyrocketed by millions. PEMRA is asking for the last-bid amount as the renewal fee for existing licensees, and SAMAA FM bought the last radio station at a very high price.
Since we could not pay the renewal fee, we took our case to the Lahore High Court, which lasted for five to six years, and we won. But PEMRA then went to the Supreme Court, and radio lost that case. Now, the matter of the renewal fee is still pending with PEMRA.
PEMRA is still stuck in 2012. They are now asking for money for the first tenure, and the second as well. The only solution now is for the government to intervene, since they are asking for 5,000% more money, which no radio station can pay. During formal negotiation meetings, they mentioned canceling the licenses. If this is going to happen, then who will advance in the radio industry? Who will invest in it? I know so many stations where revenue is a lot lower than their expenditure.
We have come so far in this industry with the sole conviction that radio is important. My listeners have spent over a decade with me. Earning money is not my sole purpose. Think about people running radio in rural areas such as Chiniot, Sialkot, etc. How are they surviving? They are running ads for local hakims, even those prohibited to run by the government, in order to survive. Our airtime is our property, we sell time and give the opportunity to advertisers to reach out to people. Advertising on the radio is much more effective than any other medium, but unfortunately, even after 25 years, we're still learning how to survive.
The radio industry is not threatened by advertisers or listeners. But those who have awarded broadcast licenses have never themselves studied the dynamics of radio and never conducted studies to support and gauge the effectiveness of the medium.
Even the government works in such a way. Whether you are a grade 19 or 20 officers, a minister, chief minister, or even prime minister, all are ignorant of radio. In order for me to make my point of view heard, I will first have to have the prime minister understand, who will then bring it to the cabinet so that cabinet officers can bring in the new rules. And, mind you, this only happens in the private sector.
Otherwise, there is Radio Pakistan and over 55 other channels that are not operating under PEMRA. They are thriving.
If the media industry is worth Rs. 4 billion, then radio's share is 2.8%, in which a Godzilla comprising 50 stations handed over their commercial business to contractors to run. There is a huge difference between what they make and what I make. We've asked them to buy us out as well so that we don't have to buy licenses and there is a level playing field. But instead, they blame us, saying that we – along with all the other radio stations – have filed a petition in court against them. It is a hopeless and endless situation.
SYNERGYZER:  What are your plans ahead for HOT FM105?
 SYED ZULFIQAR ALI SHAH: I think it will get exciting for me once I get out of the survival mode which I am in right now, and looking at the way things are, I think this will go on for another ten years or so. I just cannot go and leave it all behind, as there are lives attached to me here. No one becomes a millionaire by running a radio station. I have no factories running on the side, and I am responsible for the livelihood of so many other people working with me. We just cannot be selfish.
Yes, I might not be paying them in line with the changing economic crises, but that is because advertisers have not increased rates for the past six years. Still, we are getting by. Our revenues have remained the same but our cost is ever-increasing. We had to give a 40% pay cut for two years, but then we revised it in 2022. Despite this, people stayed with us because we paid them on time, which by the way is very rare in media businesses. So, I do not have the capacity to dream now, because my focus right now is to save myself from drowning. The money I should be spending on upgrading my radio station, I am spending on my lawyer to tell PEMRA that we cannot afford to pay a high renewal fee of Rs. 20 to 30 million. And it is not me alone. It is the same case with all radio channels.
SYNERGYZER: How do you see the future of radio in Pakistan?
SYED ZULFIQAR ALI SHAH: Radio will survive. Like it has survived for the past 100 years, it will survive the next 100 as well. But for it to reach its true potential, we will first have to acknowledge its effectiveness. Our government's current priority is TV channels because they sell a minute for a hundred thousand rupees. For that money, I can sell them airtime for a whole month. We will have to market ourselves in the right way to advertisers because we are already attached to our audience.
One reason for this is that people who are in a position to make decisions do not listen to the radio. I have had many politicians in my studio, and each one of them has questioned me about who listens to the radio these days. When I tell them their voters listen to it, they readily agree to come on the show. It is through these ways that we have to show the government that we can be effective for them, we can run campaigns for them. But it has been a long time since we received any support from the government.
For the survival of radio, the government as well as PEMRA should realize the effectiveness and importance of radio like the rest of the world does. They can go to the United Nations, Queen Elizabeth's funeral, and the China Summit… but they only go out in public once in 5 years, when it's time to pander to their constituents for the elections. They should realize that we are the hope of the masses, a source of free information and entertainment for the public. Doing it free for the masses gives us the satisfaction that you cannot buy.
Also, it is important for us to maintain the engagement levels of our current listeners and bring in younger listeners. It brings us great joy when our listeners participate in our quizzes during Ramadan. For a gift hamper worth Rs. 500 or Rs. 1,000, they come in rickshaws from North Nazimabad or Korangi. It's women, it's the elderly, its children, and people who are bedridden… we are life and hope for them.
I do not care if a person who owns an expensive Rolls-Royce or SUV listens to the Radio. But a rickshaw owner, a Suzuki pickup owner, or a truck-wala is always listening. Radio is the medium of the common man. And if this medium has survived a hundred years, then it's worth fighting for.
With changing times and with digital taking over, in the future, satellite radio stations will replace conventional radio. You will not have to pay to receive signals.
So, Radio is in no way dying. Remember when VCRs first came to market? People thought TV would die, but instead, VCRs proved to be short-lived. Today, people speculate that the internet will die, and everything will be through satellite. New things come and old things become obsolete… but radio is an exception.