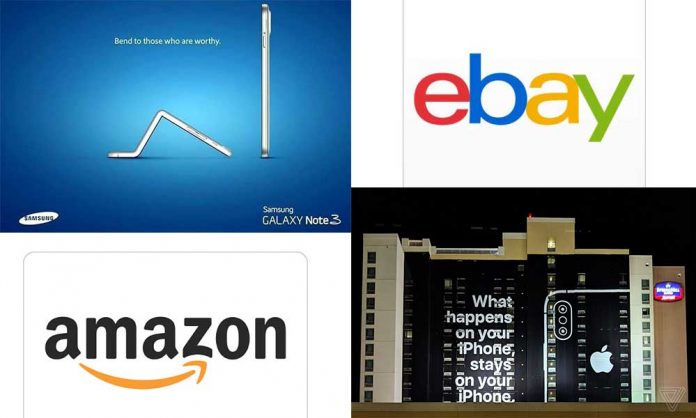 Around the globe, numerous brands follow the marketing technique of Competitive advertising, advertising by a brand that targets a rival brand's product. Samsung vs Apple, while eBay goes against Amazon, and Burger King trolls McDonald's; they spice up their marketing because let's face it, we humans love drama, but apparently not in Pakistan. In Pakistan, brands take the liberty of blurring out the packaging and never take names, scared of lawsuits that might follow.
Let's look at a few popular brands that openly trolled their rival brand's name and they continue to do so because of the way they do it, it looks like sibling rivalry and everyone loves it.
The first in the list is the newest eBay ad jabbing at Amazon
In this new eBay ad, the brand gave Alexa, the virtual assistant, a face. The Honest Alexa, as eBay called her, is depicted by a teenager who outright makes fun of Amazon's 'Prime Day' and taunts Amazon for letting their site crash on a day the brand created for itself to increase sales.
Cashing on Amazon's blunder, eBay, the American multinational e-commerce corporation, decided to initiate the promotion of crash sale on Amazon's Prime Day. The ad is even more fun when you realize that Alexa is short for Amazon Alexa since it was created by Amazon.
Have a look at the ad below.
2. Burger King targetting McDonald's
The story goes… well there really is no story in this one. But Burger King went all the way in establishing enmity with McDonald's by having a promotion that literally steals customers from the latter's kitchens. Burger King decided to deal out 1 cent burgers to anybody seated in the halls of McDonald's and even provided them with the modern version of Gretel's breadcrumbs, Google Maps.
Have a look at Burger King's Whopper Detour
how do you order a Whopper sandwich for a penny "at" McDonald's? here's how. #WhopperDetour https://t.co/lAgbGO0bL0 pic.twitter.com/ANXIy6Yu9I

— Burger King (@BurgerKing) December 4, 2018
3. Samsung Apple Drama
And then we have Samsung and Apple competition that keeps both brands' users busy fighting over their phone's integrity. But the brands itself don't stray too far behind. A number of Samsung ads can be seen portraying competitive advertising by showing apple products and how Samsung is better than them. The unique design of Apple product makes it evident that the parallel is being created with them even if the ads do not name the product.
4. Apple keeps up with its competitive advertising too
With the many Alexa and Google assistant blunders of having spread confidential information of its users, Apple was quick to come up with a creative retort. At the yearly Consumer Electronics Show happening in Las Vegas, Apple published an ad on the hotel beside Las Vegas Convention Center (LVCC) that read, 'What happens on your iPhone stays on your iPhone' inspired by the famous line, 'What happens in Vegas, stays in Vegas', implying that iPhone is better at ensuring privacy compared to its competitors.
4. Burger King Trolling McDonalds
And another one of Burger King's attacks on McDonald's when Burger King hijacked IT, the horror movie, at a cinema screening. With the sadistic serial killer/evil as the highlight of the movie, Burger King had the entire audience laughing when they relayed the message, 'The moral is NEVER TRUST A CLOWN'.
Ouch.
5. And when Streak-umm, a food brand, and Pop-tarts, a toaster pastry brand, kind of got together to roast everybody else with the (un)said assumption that they were the big guys in the business, Twitter witnessed a clique-ish conversation that entertained both brands followers.
Well, all the fun banter aside, if this happened in Pakistan, our sensitive nature would lead to brands taking the legal road rather than play it out creatively. But let's hope we soon witness a similar wordplay in Pakistan that makes the advertising world fun again.
Stay tuned to Synergyzer!