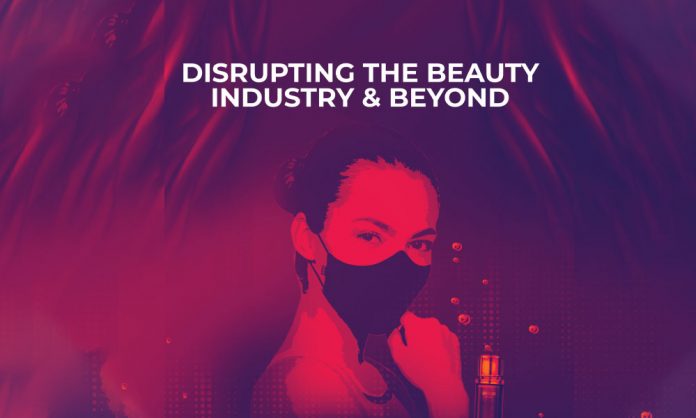 When Aldous Huxley wrote the essay, "The Beauty Industry", in times of the Great Depression of 1930's, the case he established on a lighter note was, the beauty industry will never see a downfall.
Before COVID-19 and the lockdown, we were all going about with our lives with the attitude that socializing, partying, get-togethers, dinners and luncheons will never stop. This meant that the need to look different, look the best, look pretty and be the show-stealer were here to stay forever and never go out of style. Also, the labor force participation had changed at a rapid pace with more and more women stepping out to work in Pakistan, and it currently stands at 22%. With such growth, how could have anyone thought that the beauty industry, being as lucrative as it is, will also face survival challenges?
Comes the time of the Great Reset; due to the pandemic, which has led to great disruption and setting of a new normal. As per McKinsey, COVID-19 has sent the global beauty industry into a shock. All brands saw a decline in the year-on-year sales globally; including mainstream varieties like Maybelline and luxury brands like Estee Lauder alike. Globally, the size of the beauty industry stands at USD 500 billion, and it generates millions of direct and indirect jobs.
Amid widespread quarantines, limits on in-person beauty services, social distancing and requirements to wear masks; beauty customers are changing their spending habits, gravitating towards products that allow them to mimic the salon experience at home and protect them from the potential impact of an increasingly digital lifestyle[1] i.e. providing them the salon experience at home through DIY products.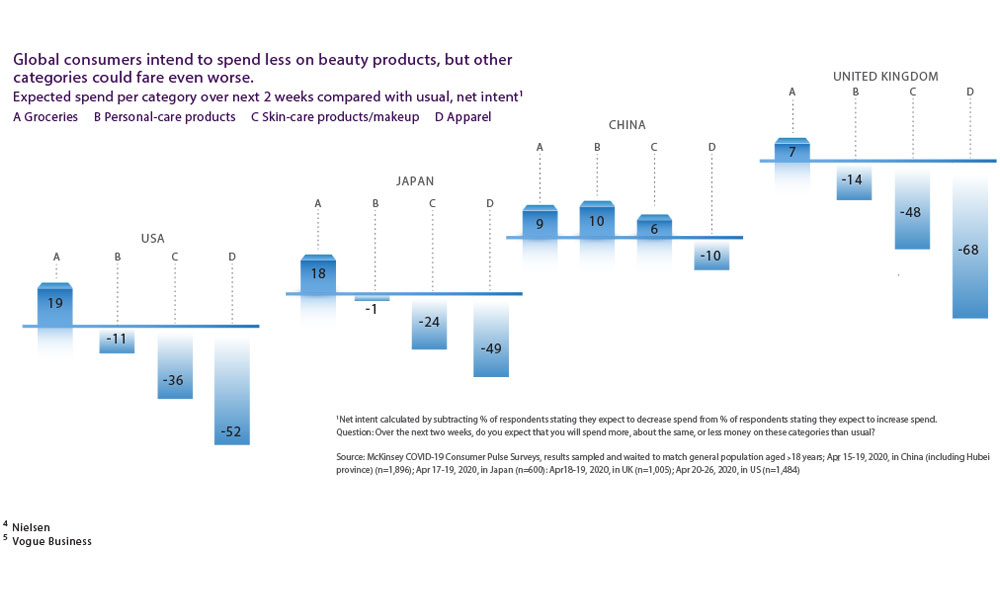 Even when the workforce has started to return to work, many continue to wear facemasks, which means that the makeup industry's recovery will remain slow. Yet in China, Ali Baba reported eye-cosmetics sales rising by 150%[2] during Feb 2020. Not only this, the nail care and do-it-yourself (DIY) beauty care segment has picked up and shown growth. This is largely due to economic difficulties and drops in incomes as well as the fact that many salons have closed and makeup consumers want less physical contact.
However, one cannot deny the fact that the beauty industry has always been the most resilient when it comes to dealing with crises and bouncing back. According to Vogue Business, the beauty industry will bounce back before the fashion industry because it is an industry led by innovation. As per McKinsey, it is all set to surpass 2019 sales despite the pandemic setbacks. This was seen in the past during the 2008 financial crises when Leonard Lauder came up with the term 'Lipstick Index', a cosmetic staple for every woman that falls under the 'affordable luxury' umbrella. So, the sales were not hit because by and large there was a power product, a hero to save the day for the industry. This time, the lipstick effect has an added dimension – the 'Nail-polish Effect'.
Speaking of which, a major question plaguing industry experts at the moment is regarding the performance of the color cosmetics category: Will it be able to bounce back with the same vigor or will it take a longer time than ever? The emergence of the new normal has changed everything at warp speed, and consumer behavior towards color cosmetics is no exception; being the basic block which makes or breaks the world in such disruptive times.
"Comes the time of the Great Reset due to the pandemic, which has led to great disruption and setting of a new normal."
THE EVOLVED CONSUMER AND BUYING PATTERNS
Nielsen assessed and classified consumers in the following five distinctive groups:
Constrained AND Restricted: Financially constrained or suffering income loss.
Constrained BUT Free: Under financial constraints, but their savings are there to help.
Cautious Middle: Not impacted financially, but do have fears and will spend money cautiously.
Insulated BUT Restricted: Not impacted financially, but have enough to splurge in some way.
Insulated AND Free: Not impacted financially. Are extending help and can splurge money.
Although these groups are mainly classified based on income and finances, consumers today are well-informed, highly sensitive and demanding owing to their access to a plethora of information (and disinformation) available online and over social platforms. The post-pandemic consumer is highly price-sensitive and is looking for affordable products offering multifunctionality[3].
As per Euromonitor, the sales of color cosmetics are expected to grow by 7% – from USD 500 billion to USD 535 billion, a constant since 2019 due to the impact of COVID-19. Earlier, it was projected at 9% i.e. USD 545 billion. This acts as reassurance to the industry's resilience, which it has been showing since the Great Depression. However, one must be cognizant of the differences between consumer tastes and preferences across the globe.
SEEING IT ALL IN THE CONTEXT OF PAKISTAN
While the world saw the rise of the DIY beauty movement, women in Pakistan already follow a do-it-yourself culture. While the Nail Polish Effect is leading the USA and European markets, Euromonitor expects the nail polish remover to see the most dramatic slowdown in sales in Pakistan as consumers reduce nail polish usage due to fewer occasions to socialize.
The question then is, how can color cosmetics in Pakistan keep selling?
As per Euromonitor, the sales of color cosmetics is set to reduce as consumers prioritize their expenses and spending due to the prevalent uncertainty in an already fragile economic environment. Although global brands dominate the beauty and personal care segments and enjoy better repute and perception versus local brands, the situation looks bleak from where we stand right now. 
THE DIGITAL DIARY FOR BRAND COMMUNICATION
The Pakistani consumer has evolved, with the lockdown impacting online purchase behavior to a great deal. More and more people are now using smartphones with 95 million broadband subscribers across Pakistan, including those using 3G and 4G. 20% Pakistani women using smartphones means a customer base who can do transactions at the swipe of a finger. E-commerce sales were currently reported to be USD 2 billion.In the light of the data and analysis available, and the emergence of the digitized consumer, the color cosmetics industry can use certain strategies to ensure sales and stability.
"Keeping in view Pakistan's price sensitive consumers, the need of the hour is to focus on the benefits that will appeal to our woman, who are tech savvy, well-informed and are looking for multi functional products."
The COVID-19 pandemic has contributed to consumers increased usage of online media as well as shopping online. While a number of companies are cutting marketing budgets, digital marketing channels are leading the way in terms of consumer spending[4]. However, digital ROI – return on investment – is declining and it has started to look similar to ROI for TV. Plus, the digital medium is not as far reaching as traditional electronic media. To generate online sales, consumer reviews, user-generated-content (UGC) and product rankings play a very important role. The international cosmetics brand, U Beauty, launched in November 2019, just before the pandemic and lockdowns hit across the world. Instead of focusing on performance marketing as planned, the brand shifted its entire marketing budget to sending out 100,000 product samples to influencers, which resulted in the whole product line getting sold out in no time[5].
That is how one brand dealt with circumstances that defied the norm. Nielsen suggests that three key factors must be considered when leveraging the digital medium, whether it is for new product launches or already established brands.
The complexity of the message:
Can the message be communicated in a banner or it needs a detailed explanation?
How Targeted is the audience?
Can the TG – target group – be reached through mass channels or should the focus be on specific websites?
What is the budget?
Advertising over the digital medium doesn't necessarily mean low to no budget.
Digital media vehicles carry a wide range of benefits and potential returns, but it is important for brands to use the right platforms and tools, keeping audience preferences in mind. For instance, if potential users are on TikTok, but the brand is focusing on Twitter, there will hardly be any results to be proud of. It is also important for the brand to choose such topics to speak about that help it stay relevant and build long lasting connections with its customers. 
A CONSUMER CENTRIC STRATEGY TO MARKET PRODUCTS
Where the advent of the digital medium allowed marketers to mine deeper insights into consumer behavior, it also provides them the opportunity to develop multiple strategies for the same product. For example, during the lockdown, the same foundation by Estee Lauder which was marketed in the USA for its ability to last from morning to night was marketed in Japan for its flawless finishing look. Keeping in view Pakistan's price sensitive consumers, the need of the hour is to focus on the benefits that will appeal to our woman, who are tech savvy, well-informed and are looking for multifunctional products. This is one major reason the BB Cream was an instant hit since it offered not only moisturization, but a flawless, makeup-free look suitable for formal as well as casual occasions. In post-lockdown times, when consumers are constrained by inflation, color cosmetics brands in Pakistan will also need to position and market themselves to cater to evolving consumer needs. 
"Amid widespread quarantines, limits on in-person beauty services, social distancing and requirements to wear masks; beauty customers are changing their spending habits."
AGE IS NOT JUST A NUMBER, IT'S AN ATTITUDE
According to McKinsey, once we are able to breathe in a world post-COVID-19, which is sans lockdowns; the consumer's age will be a critical factor when deciding upon strategies for brands, even more than culture, which itself is an important consideration. Both these – age more so – will define consumer behaviors and attitudes in spending, especially on products like color cosmetics. McKinsey observed that countries with older demographics like France and Japan are less optimistic compared to younger populations like India and Indonesia. In the Pakistani market, where more than half (53.09%) of the population is between the age of 15-64 years, this is indeed very good news since any campaigns and strategies done right will bring about long lasting gains. Brands can actually improve, stabilize and ensure steady numbers by working on "Customer Lifetime Value" (CLV). More than ever, brands need to create more personalized experiences for this younger age group that resonates with them. The particular consumer segment comprising of millennials and Gen-Z are Communaholics and Dialoguers[6], which means that the difference between online and offline friends is nonexistent for them. A number of brands have arranged online events that saw engagement with a high increase in UGC. Their consumption is not focused on possession, but it's an expression of individual identity and ethical concern. A brand that can assure its consumers of carrying out ethical practices in business at all levels will be able to connect deeper and gain advantage over competitors. The clean and green beauty movement has been a result of this pressure globally, the need of the hour is to communicate similar values to local consumers that will help brands gain mileage and stay ahead of competition. 
LOYALTY "STILL" RULES THE WORLD
Nothing could have made marketers and brands realize the importance of loyal customers than the advent of COVID-19-driven lockdowns. With consumers staying home for work and in-person socializing at the lowest, online ordering becoming the norm of the day and brands that have a strong connect with their consumers remained sales-resilient even during lockdowns.
Many brands globally switched to offering or developing programs that ensured repeat purchases by their customers by enticing them through online AI-based initiatives. Beauty companies like Sephora and Smashbox Cosmetics kept their customers hooked through loyalty programs that drove customer-retention and repeat purchase[7]. A major beauty brand, e.l.f., accounted for 70% of its online sales from customers that came through its loyalty program[8].
Beauty or color cosmetics brands in Pakistan don't have loyalty programs so far. Although fashion retail did work on the concept, but when loyalty programs got questioned globally (Nielsen: "Disloyalty is the New Black"); many local brands ended their loyalty programs to focus on the quality of their products rather than offering discounts. However, due to the current economic and financial constraints, consumers are seeking more from brands, and loyalty programs seem to be just the right solution. A steady, stable program which ensures online engagement and keeps customers informed about new product and brand developments is bound to generate sales numbers and help build stronger bonds. (We will revisit the loyalty paradigm in another read.)
"The post-pandemic consumer is highly price-sensitive and is looking for affordable products offering MULTI FUNCTIONALITY."
Last but not the least, while the beauty industry is affected with color cosmetics being at loss the most, matters are getting sorted. Agreed, we may have a long way to go before the lockdown-effect starts to wane, adopting the right strategies and connecting with consumers at the right touch-points will guarantee sales numbers and a more dependable brand image in the long run.
Our consumers may be cautious in their spending, however if we – the beauty industry – offers products with more than one benefit, chances are it will serve as a game changer. There are examples in the USA where brands have been able to generate steady sales numbers despite catering to customers in areas that have been under more than 40% lockdown. We, here in Pakistan can take those lessons and do the right thing, at the right time and reap good benefits.
[1] Vogue Business
[2] McKinsey
[3] Euromonitor
[4] Nielsen
[5] Vogue Business
[6] McKinsey: True Gen
[7] Vogue Business
[8] Vogue Business