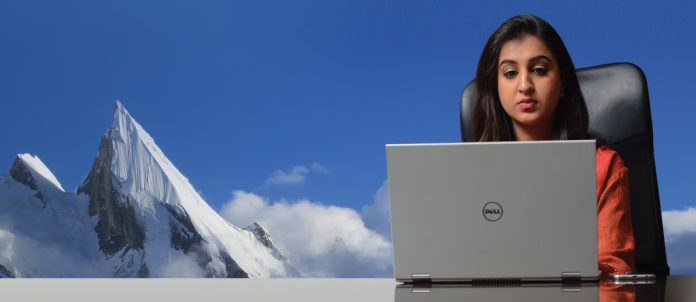 Nadine Malik Almani, Country Manager for Jovago Pakistan speaks to Synergyzer about tourism in Pakistan and how Jovago plans to facilitate the hotel-traveler gap.
Synergyzer: Please give details about Jovago.
Nadine Malik: Jovago.pk is an online hotel booking portal that offers competitive rates for booking more than 2000 hotels in Pakistan. It aims to promote the tourism industry of Pakistan by providing easy access to accommodation solutions for people traveling on a budget. We are working with the biggest selection of hotels and guest houses in Pakistan, and because of this, we feel comfortable in claiming the title of Pakistan's No.1 online hotel booking portal. Our claim is supported by testimonials of clients who have utilized our platform.
Our team begins assisting tourists from the day they visit our website. We make sure all their travel needs are met, until their checkout. By making travel easy and affordable for everyone, we encourage people from all parts of the world to explore Pakistan, helping boost our tourism industry, while correcting the negative stereotypes and fears that people have about Pakistan.
Jovago was first launched in Africa. After succeeding there, we entered the Pakistan market, starting operations in May 2014, although the platform was formally launched in 2015.
Synergyzer: What is the market potential for a travel related business like Jovago in Pakistan?
Nadine: We have a lot of tourism potential since we lie on one of the most important trade routes of the world which makes it an ideal location for trade and commerce with South East, West and Central Asia. With recent investments in Gwadar port and the influx of Chinese investments in the form of the Pak-China Economic corridor, business tourism within the country is expected to increase in the years ahead making the country a very attractive proposition for investments in the hospitality and tourism industry.
Also, domestic tourism is increasing every year, with an expected number of 50+ million domestic tourists forecasted by PTDC, indicating significant potential growth in the industry. The biggest challenge however, would be the negative perception of Pakistan due to security problems, which will continue to pose a significant risk to overall industry.
Synergyzer: You say that Jovago is working to promote the tourism sector of Pakistan. Are you getting any support from the government on this?
Nadine: It goes without saying that the Pakistani government has made serious efforts in improving the law and order situation within the country. Their efforts have had observable impact, resulting in a significant decline in terrorist activities in the past couple of years. This has aided in the expansion of our tourism sector. It is worth mentioning, however, that even while incidents were happening tourism didn't halt entirely.
Also, government initiatives like the signing of the China-Pakistan Economic Corridor have brought in investments that could result in the growth of the travel and tourism industry of Pakistan. Recently, we witnessed many Chinese nationals using our services to arrange their accommodations within Pakistan. This first wave of foreign investors and visitors could quite possibly drive a trend resulting in the growth of our travel industry in the years to come.
Synergyzer: The Pakistani market works more on the basis of relationships. Also, hotels have their own websites that allow booking. Why then launch a portal like Jovago which provides hotel bookings and what are you offering differently to potential travelers?
Nadine: Before we began our operations in Pakistan, we observed that although there are a lot of hotels and guest houses here, the masses are unaware of most of them as they are working in their own limited spaces and capacities. As a customer, one could not find one single platform for information regarding them. As a result, there were limited options for booking hotels within Pakistan online.
People usually booked directly at the most well-known hotels, or went through travel agencies, which on an average had no more than five to six recommended hotels. Even then, they had no way of knowing what the hotel would look like until they got there. What we did was, we added a range of such estates online to cater to a range of travel budgets. On our website, a traveler can find hotels and guesthouses ranging from PKR 250 – PKR 100,000 per night. We also take pictures of the hotels ourselves and encourage customer reviews, so that our users have an accurate representation of what the hotel would look like once they get there. By providing more choice, greater transparency, and convenience, we make the travel process much easier and more affordable for our customers.
Synergyzer: What is Jovago's niche?
Nadine: Our core target market consists of people aged between 25 to 45. Most of the bookings are made by males who are also the decision makers in their social circles. However, recently we have observed a slight change in the trend as a lot of women are also deciding where to travel, and as a result, we are planning to launch a category of women-friendly hotels in Pakistan.
Synergyzer: How are you promoting Jovago?
Nadine: We use both online and offline methods for promoting Jovago. A significant portion of our marketing budget is allocated to online advertising due to the tech oriented and internet-based nature of our business. In addition, we regularly conduct events involving media participation for reaching out to wider audiences.
Synergyzer: What are your partnership terms with hotels and guest houses?
Nadine: Our partnership terms vary for every hotel and guest house as each of them operates with different capacities and working conditions. Hence, a one size fits all strategy cannot be adopted with the hospitality business. We customize our terms and conditions for every hotel and guest house that we work with making it a mutually lucrative partnership for both.
Synergyzer: What challenges have you faced in getting service providers on board?
Nadine: The biggest challenge was to educate small hotels about Jovago, the credibility of doing business online and to convince them to join us, since they are more used to the concept of a bricks & mortar travel agency.
Also, changing consumer mindsets from booking traditionally via a travel agent, to booking online was initially a bit of a challenge. However, since a lot of online businesses are now entering Pakistan, the education and communication has become a little easier.
Synergyzer: What kind of hotels etc. do you approach as your partners, since hotel chains like Serena & Shangrila are not there on the Jovago website?
Nadine: We are working with hotels and guest houses of all price ranges. Our website features well known hotels such as Ramada as well as smaller and lesser known hotels, guest houses and lodges. Our team goes and visits the properties that sign up with us, to verify that they exist and to make sure they are in a condition worth staying in. We cater to a diverse range of travelers who want to explore the country and for most, the choice depends on their budget which we keep in mind, and do not discriminate between hotels and guest houses based on star rating.
We do not have certain hotel chains like Serena & Shangrila on our portal due to their already saturated occupancy rates. Also, during peak traveling seasons, these hotels prefer walk-in customers as opposed to pre-hotel bookings. Having said that, it is in our long-term prospects to also get these names onboard.
Synergyzer: What is Jovago's long-term vision for itself as well as the industry?
Nadine: To evolve the industry to its highest potential. Tourism as a worldwide export category, ranks third after fuels and chemicals, followed by food and automotive products. In Pakistan, there is enormous potential as many travel-worthy areas are still undiscovered and unexplored by most people.
Our aim is to make sure that people get to know about the beautiful places in Pakistan and we want to make it extremely convenient for travelers to visit those areas by providing them attractive and affordable accommodation solutions. So much money is being spent to travel to international destinations, we feel we can diversify their choices and give Pakistanis domestic travel-worthy destinations.
Synergyzer: How much growth has Jovago experienced till now?
Nadine: Jovago started in Pakistan after we saw the possibilities of making an impact in the country's domestic tourism industry. Our customers consist of both hotels and travelers and we have made huge growth in both categories. To this date we have over 2000 hotels in more than 160 cities, while our customers have grown over 300% since inception.
Synergyzer: On your search listings, there is a thumbs-up sign in front of certain hotels, stating, "The Jovago team has given this hotel thumbs up for great quality and value". What is your procedure for reviewing such hotels & on what basis do you assign the 'thumbs up'?
Nadine: The 'thumbs up' basically signifies Jovago's selection hotels. We identify excellent hotels based on a set criteria, from both an operations and a customer's point of view. The objective of this selection is to share our knowledge about the hotel with travelers and recommend them where to stay regardless of budget, stars, destination or type of hotel. The hotels that we have on board are assessed on various parameters, where the largest weight is given to how preferred the hotel is by our customers and how well our referred customers are treated there.
Synergyzer: Jovago seems to be getting mixed reviews when searched in Google. Why is there such a big difference in the kind of feedback you are getting?
Nadine: At Jovago we are limited to helping our customers book hotels online. It is important to understand that we simply facilitate customers with convenient hotel booking. Once the customers have reached the hotels, it becomes the hotel's responsibility to provide good service. The reason you may find mixed reviews is because we record all sorts of reviews that we receive from our customers regarding their hotel stay. It is important that we show the real picture to our website users so that they can make a well-informed decision, taking into consideration the reviews of people who have used similar services before.
Synergyzer: What are the top destinations that Pakistanis travel to, especially within Pakistan?
Nadine: Currently, we are only dealing with hotels and guest houses within Pakistan. Our top 5 tourist destinations include Lahore, Karachi, Islamabad, Murree, and Naran.
Synergyzer: Any interesting trends that you have seen when it comes to traveling and hotel booking?
Nadine: We have observed that unlike in the past, more and more customers now want to make an informed decision by carefully going through all the choices available to them. People these days are relying less on travel agents mostly because they have a very small portfolio of accommodation solutions. Rather, they look for platforms that provides diverse choices as opposed to blindly following their travel agent's advice.
Also, people seem to be visiting emerging tourist spots that weren't very popular destinations in the past. For example, previously the only popular tourist destinations included Muree, Naran , Kaghan and adjoining areas. Whereas, these days, thanks to improvements in roads and infrastructure facilities, people are visiting places like Muzzafarabad and other parts of Azad Kashmir.
Synergyzer: What is Jovago looking to offer in the future?
Nadine: We just rolled out our hotel stay and travel packages, and we are looking into providing even more comprehensive options, transparency, and choices to best cater to our customers. The PTDC (Pakistan Tourism Development Corp) estimated that 50 million domestic tourists, or about 25% of the population of Pakistan will travel within the country this year, so we are excited to do our best to offer them the best possible options for their travels, stay tuned!