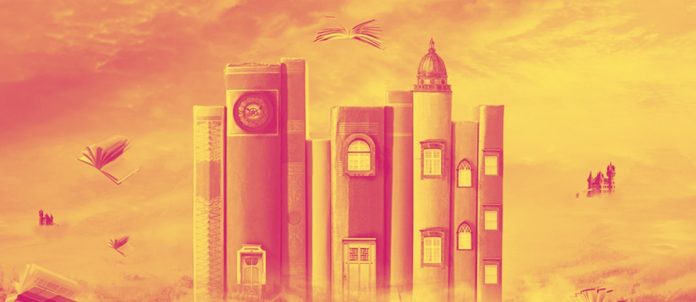 As originally published in Synergyzer Issue 3 – 2018
Syed Ommer Amer is a creative entrepreneur and a content specialist. As the founder of Daastan, the technology startup specializing in literary publishing, he aims to revive the dying literary industry of Pakistan.
Ommer has also written the script for an animated TV series, Teeto and Tania, among his various literary and entrepreneurial endeavors. He dreams of putting Pakistan on the forefront of knowledge-based global economies by building technology products and showcasing local talent in the global market.
Question: Tell us what Daastan is?
Syed Ommer Amer: Daastan (Pvt) Ltd. is a technology company. We build tools to address the challenges plaguing Pakistan's literary industry. There are various divisions under Daastan's umbrella, each focusing on a different domain. We believe that in order to revive any industry which is operating offline, the very first entity required is a Platform where one can gather a bunch of people who believe in the cause. The second most important thing is Training the Talent at hand, as per the market needs. Lastly, Earning – when there is a trained workforce on a technology platform then connecting them with clients who will use their services is apparently the easiest part of the equation.
For this, Daastan has already built a strong technology platform named Qissa where we have more than 3,000 authors from 17 countries. We have successfully initiated and sustained training modules like 'The Stories Untold – A themed short story writing competition' and an annual 'Literary Fellowship' program, which has benefited around 1,000 authors. Lastly, the best talent which comes out of this process is either hired for Daastan's core team or given access to earning opportunities.
Usually, it is expected that a technology company will exit in around 5 years or so, having earned or grown beyond the 'startup' status. We may not be considered a typically high-growth company, but what people are missing is the fact that we are injecting life into an industry (literary publishing) that has been declared dead. So whatever we have been able to achieve, I am extremely happy with it.
Question: What got you interested and what kind of opportunity did you see in a self-publishing business model?
Ommer: Now that's an interesting story. Daastan was not founded with the intention to make money; it was founded out of necessity. I had a novel which I wanted to publish but I could not find a publisher, so I built this corporation as a means of self-gratification. Later, I realized that it was not just me who faced this problem – around a million other graduates contended with the same issue.
So, we thought, why not scale the idea? Thus, we built a prototype, which back then was called Digital Raconteurs. (Yeah, that is a difficult name to pronounce and remember.) We pitched this idea to Plan9 and got inducted in their Cycle 5 and that's where we rebranded it to Daastan. Here, I want to mention that I am the third generation of a family which is actively involved in improving the education sector of Pakistan and I have spent most of my life reading books.
As far as opportunities are concerned, even today we come across people who laugh at our face and say that nobody in Pakistan reads; half the population is illiterate; literature is boring; there is Amazon – why would anyone publish with you etc. Hearing such statements is not a refreshing experience. However, no matter what anyone says, the ground reality is completely different.
After all the grilling at Plan9, Telenor Velocity, and other startup competitions, I went back to the drawing board and researched.  A report that I discovered, published by International Publisher's Association (2014), stated that Pakistan's literary publishing industry's net worth was UK Pound Sterling 89 million. We had 2300 publishers who were producing around 3500 titles per year back then.
I realized that this is quite a lucrative market and the best part is that nobody is interested in building anything within this domain in Pakistan. Eureka! There was our answer. So, we put all our savings into building the Daastan infrastructure to get the first mover's advantage, and luckily, we won. Recently, we raised pre-seed angel investment provided by Mr. Naeem Zamindaar, Chairman Board of Investment, Pakistan.
I believe that we are in a much better position in this niche domain now, something which all thought was impossible.
Question: How is your model different from the existing publication models
Ommer: There are two types of publishing models: One is traditional and the other is self-publishing. The best part is that a majority of publishers in Pakistan, whom I have interviewed, have no idea about which kind they belong to.–  This reflects the state of awareness in our industry. Anyway, the difference is Traditional Publishing is where publishers buy content or content rights from authors and publish a certain number of hard copies to generate sales. For this model to work, there are three crucial components which one should have: 1) Huge capital to invest and sustain; 2) an author who is largely read; and 3) a strong distribution network.
Most of the people out there have capital and can tap into existing networks of distribution. However, they lack good content; and even if they are able to find content and earn profits, they DO NOT give back royalty to authors. This ultimately forces good authors to switch fields or to publish across borders.
The greed of these publishers has led to the decline of our industry. This is how the second publishing model – self-publishing – emerged, pioneered by Amazon. Self-publishing is when authors bring in their finalized content and USE (on-demand) publishing services according to their convenience. The service provider builds a technology platform where authors submit content, while the rest of the logistics, like distribution, printing etc. are handled by the platform. In exchange, the platform reserves a certain percentage from sales revenue, which is distributed through an automated and transparent process.
According to our research, we were the first ones to build such a platform in Pakistan where authors can get design, editing and publishing services. Many other platforms tried to replicate us but were not successful. The prime reason is that when an author would come to them, they would offer them solutions which would ensure that THEY would make the most profit, while the author would suffer losses. While at Daastan, we all are authors ourselves. We are working not for money, but for the higher purpose of making Pakistan a knowledge-based economy by EMPOWERING authors. We provide the best possible and most economical solutions to our authors and we work hard to help these new young voices build their readership and writing portfolio.
There is a simple differentiating factor between us and other me-too platforms out there. We believe that if we help you earn PKR 10,000, we are the rightful owners of PKR 1,000 from those earnings. If we cannot help add any value to your earnings, then we don't deserve a single rupee from you.
Question: What is the self-publishing process that a writer has to go through when utilizing Daastan?
Ommer: We are currently offering two services for self-publishing: Digital Publishing and Print Publishing.
For Digital Publishing, we follow a similar model to that of Amazon's CreateSpace. Authors have to sign up and upload content to get it published. Whereas, through our Print Publishing model, we facilitate authors by providing them an option to cover their printing costs through crowd-funding campaigns. On an average, we are raising around PKR 200,000 per quarter through preorders.
Question:  What are you doing for local languages of Pakistan?
Ommer: We are looking for organizations and individuals who are passionate about literature, and want to preserve Pakistani culture and languages. For that, the very first step was the initiation of a separate Punjabi wing, which is being led by Mr. Ali Usman Bajwa. We are currently digitizing the offline Punjabi content, marketing the local Punjabi events on our social media channels, partnering with international brands, and pushing local Punjabi authors to participate in them. In this regard,  we recently launched a module named 'Likh Punjabi' on Daastan, where the best Punjabi content will be published.
We want to do all this for other languages too. However, right now, we lack resources to do so.
Question: Most self-publishing business models suffer inept editorial quality due to dependency on the authors themselves to take care of the storyline, editing etc., which is one of the reasons many self-published books, as well as platforms, do not gain much traction in terms of book sales. How does Daastan manage to control the quality of the manuscripts?
Ommer: We have hired editors in our team who review the manuscripts which are submitted on the portal. We provide basic editing and detailed reviews free of cost. The manuscripts which are in pretty bad shape are rejected straight away. The full-length novels which require medium level editing are re-directed to our online marketplace where the authors hire their editors of choice and perfect their manuscript. This way, we tackle quality issues while providing job opportunities to competent professionals.
Question: The number of local bookstores in Pakistan is just as low as the number of readers for literature. These bookstores, however, enjoy a larger proportion of retail than their online counterparts. Yet, Daastan books are not available at many of the local bookstore chains across Pakistan. Why is this so?
Ommer: As I mentioned earlier, there is a distribution system but it is hard to access. They (the bookstores) control the content and ask for up to 60% of the retail price of the books, while some even charge for rack space. Most of them DO NOT provide any accountability for books damaged or lost. At times, there is no financial tracking of sales and royalties. Plus, there are a lot of middle-men in this supply chain, who take way too much commission at each level.
For a startup company operating with limited resources and tight capital, we cannot afford to be associated with such a convoluted distribution network. Such a system suits those publishers who print and stock their entire lot with these distribution chains. We have already seen that this model is failing, and it is forcing authors to quit writing as a profession. We are here to fix this and therefore, we are establishing an alternate distribution model through which we are not only selling directly to the readers but also supplying our products to book clubs and literary societies of universities.
In the near future, Daastan will be opening up creative spaces all over Pakistan, where you will find our books.
But, while you will find us exhibiting in university olympiads, literary festivals and other literary events happening in Pakistan, our books will not be available at bookstores anytime soon.
Question: How does Daastan reach out to readers?
Ommer: We touch both online and offline mediums. For quite a few years, we worked on building a strong online presence and followership through digital marketing. We also send out newsletters, in-app notifications on Qissa and creative challenges on social media to market new books. Other than that, we sometimes do videos of featured authors as well as posters.
During the process, we realized that users want to meet us, see the books and feel them before deciding on the purchase. Hence, we started exhibiting at literary festivals, and university events, which became a priority because our target audience is emerging authors.
We focus a lot on presentation and quality of content. The way we communicate, pack and ship is unique. In fact, what makes us unique is that our designs are original and we spend a huge portion of our budget on them. We know what our readers want and we give them the best possible product.
Our growth on social media is organic and our work is all cause-based. Our emphasis is on building a community of people who LOVE us, not those who LIKE us and that is why we do not use paid advertising to accelerate growth. Furthermore, since more than 50% of our followers are women, sometimes we have to ban users who engage in harassing women signed up on our portal. So, we believe in less, but quality content.
We are still continuously reworking and improving our portal and services.
Question: Literary readership begins from an early age. To this end, schools are putting in little effort to increase the interest of students. Is there any such effort by Daastan to gradually increase the reading population?
Ommer: In a personal capacity, I am working with Al Huda International School, Wah Cantt. campus, where we have introduced storytelling as a medium to teach students. We have brought various reforms in the teaching methodology too. Currently, we are working to introduce a tailored curriculum written by the school's experienced faculty for kids, which will be put into effect by 2019.
We are also supporting brands like Kaho Kahani, founded by Ammarah Shah, through our resources and connections to give mileage to their storytelling and content for kids. Furthermore, Words and Metaphors, founded by Daastan's co-founder Sidra Amin, is providing a platform to artists of KPK to showcase their skills by gathering all storytellers, engaging the KPK government and organizing storytelling sessions.
The main things are one, good content and two, good storytellers; in that order to make such projects work. Daastan is looking at the content side, whereas our partner organizations, Kaho Kahani and Words and Metaphors, are handling the training of the storytellers. And that is how we are working to create an impact in our community.
Question: What has the venture evolved and grown since it began?
Ommer: To be honest, it has been an extremely tiring and draining journey. We have had days where we slept on floors, skipped meals, traveled on the cheapest possible option available to save cash. We have had days where we lost almost 60% of the website data due to a hacking attempt on our servers. We have had days where people left us mid-way through the most critical of projects.
But we trusted each other and, most importantly, the vision that bound us together. I am glad to say that currently, we are a brand which is respected in all literary circles. From winning our first ever micro-grant of USD 5,000, awarded to us by The United States Institute of Peace (PeaceTech Lab) to starting our operations in India; from winning the South Asian Triple Helix Award (SATHA) for social impact to raising USD 25,000 as pre-seed angel investment. All these are our crowning achievements since our inception.
I still remember that there were just two people here in the beginning. Now, we have over 3000 users from 17 countries and around 200 manuscripts in 13 genres in two languages on Qissa. We are still growing at around 5% per month. The most important thing is that our average reading time is still around five minutes, which means that we have traffic that is doing what it should – read.
Question: What is your vision for Daastan for the future?
Ommer: Our vision is to make Daastan a doorway through which local authors can access the international market, and vice versa.  At present, there is no proper channel for an international brand or an author to launch their content in Pakistan and gain access to readers. The piracy here is rampant, Daastan intends to break that.
Besides this, we are aiming to publish 100,000 manuscripts by 2020. For that, we are actively looking for partners and investment opportunities, with which we can scale our project.
We dream of Daastan as a marketplace where one can explore the world's best creative talent in the publishing niche. We are working not only on training local talent but also enabling them to sell their skills online using our technology platform.
At present, a considerable chunk of our industry is offline. Daastan intends to build tools and services with which this whole thing can be automated and digitized. We dream of bringing forth the next international best-selling author from Pakistan.
I know these are crazy, audacious goals but that's who we are, after all – a bunch of dreamers who think that they can revive and revamp the literary industry of Pakistan! The thing is our dreams are coming true!