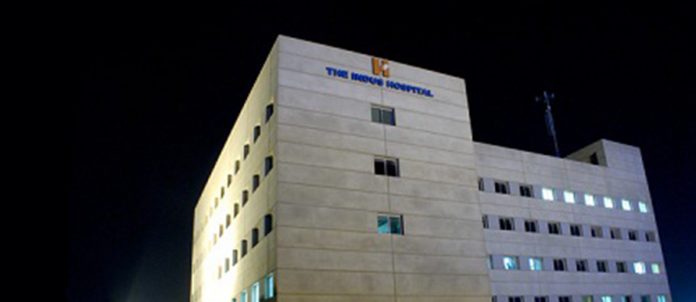 We mention Pakistan and usually talk about despair all around. What we don't realize is the fact that if Pakistan was as hopeless as we believe it to be, we wouldn't have survived till now. There is a fraction of us who are spending their lives for the benefit of humanity. The Indus Hospital is one such healthcare center providing quality care without charging anything from the people benefiting from it. Synergyzer talks to Dr. Zafar Zaidi, Medical Director and one of the founding members of The Indus Hospital to know more about the vision and mission behind the noble cause.
Synergyzer: How does the Indus Hospital stand out amongst other hospitals and social welfare run set ups?
Dr. Zafar Zaidi: The Indus Hospital is a state-of-the-art tertiary healthcare center providing quality care, free of cost to our less privileged brethren, which makes the hospital stand apart from the rest. There are absolutely no cash counters at the hospital.
The patients are catered to at the first come first serve basis. The people who can afford the treatment do not supersede the ones who cannot so there is no discrimination of class, color or creed.
The hospital has a progressive outlook as we want all specialties and research to be at par with international standards. The Indus Hospital Research Center (IHRC) is a well equipped facility where research is carried out with the objective of policy change and patient care.
The Indus Hospital is a paperless hospital where all the data, whether clinical or non-clinical, is stored electronically. Patients are given an MR (Medial Record) number which is used to access any information regarding them saved in the hospital's records.
Synergyzer: What is the business model being followed?
Dr. Zafar: It is a faith based business model. From the day we started The Indus Hospital we knew that it is the right thing to do and Allah will help us on each and every step. Currently, we don't have endowments, but very soon we will expand the hospital's allied services, introducing off-site revenue centers which will sustain the hospital's operations in the long run. Till then we aim to be transparent, perform well and let the people know about the kind of work we are doing. We have treated more than 1.8 million patients since 2007, all with the constant support of our well-wishers and benefactors.
Synergyzer: What are the challenges that you face with the Indus Hospital?
Dr. Zafar: The biggest challenge for us are quaity human resources and we are developing that aspect. Besides, we have space constraints that we are mitigating through expanding the hospital. Currently, The Indus Hospital has 150 beds which become inadequate for the 40,000 patients that visit us each month. Keeping this in mind, we are expanding our capacity to more than 1500 beds so that we don't have to turn down people merely due to lack of space. This process will take a decade but we have divided it into phases and the first phase will be complete within four years, making the hospital a 600 plus bed facility.
Synergyzer: What kind of projects does the Indus Hospital Research Center (IHRC) undertake? How extensive is the relevance of these projects?
Dr. Zafar: The IHRC largely looks after public health issues focusing on devising methods of providing free, high quality preventive and curative care to vulnerable communities through our community outreach programs.
The relevance of these projects reside in the fact that if we can diagnose and prevent the disease in its early stages then we can help the community nip the disease in the bud.
Synergyzer: What was the idea behind creating a paperless environment and what are its mechanics?
Dr. Zafar: When we were establishing the hospital we knew that computerized operations were the order of the day in developed countries. Our leadership hence decided that this was to be the way forward and we adopted the paperless environment from the day we started functioning.
We put together our own information system team and developed our software that was patient friendly and could be easily used by doctors also. The technical aspects of it are entirely taken care of by our Hospital Management Information System (HMIS) which include all clinical, non-clinical and administrative operations.
Synergyzer: How does the paperless mechanism work for patients?
Dr. Zafar: The paperless environment is the most beneficial for patients. They are not burdened by carrying their information each time they come for a check-up. Everything is stored in the system and the doctors can easily access all their information from the day they step into the hospital to the current date through a single click. Hence, there are no chances of losing any record, no matter how minute it seems.
Also, the information of both patient care and patient flow can be administered, audited and improved upon. We know the patients' treatment status and can judge the improvement in their health which becomes the basis for further treatment. This way, it is feasible for both doctors and patients.
Synergyzer: How do you deal with superstitions in ensuring health care that are carried by most less affluent and uneducated patients?
Dr. Zafar: I think it has more to do with the financial condition of the people than education. If a person can afford quality treatment they will not be concerned how much money they spend on their health but if a person lacks the funds then they  turn towards mausoleums and other such outlets where they do not have to worry about expenses.
We deal with this situation by providing them free of cost quality healthcare and winning over their confidence. When they come to us, they realize that we are treating them well and not depriving them of their earnings so they listen to us and show faith in us. Of course, as they get better their trust in the hospital strengthens and they tend to go to hospitals and not mausoleums the next time they face any health hazard.
Synergyzer: How do you run a financial check on patients to assess their affordability or the lack of it?
Dr. Zafar: We have a Welfare department that asks pertinent questions about any patient's status in society. We tell them that their treatment will be absolutely free but the questions will help us decide whether their treatment will fall under Zakat or Donations. Since they are sure they would not be charged a single penny and would still be provided premium healthcare services, they rarely lie about their credentials.
Do we run a background check on them? Rather we take the patients' word and don't send our staff to their houses to check their socio-economic status. We believe them and help them accordingly.
Synergyzer: What are the development stages of the Indus Hospital based on? How will the progress be through each stage?
Dr. Zafar: Initially, we needed to start the hospital and make an impact that we can deliver. For this, we took difficult cases on board and proved ourselves through the type of care we provided. This started garnering attention and more and more philanthropists joined our cause.
We have known that the space we are occupying currently will become insufficient after a while but we wanted to gain the knowledge and experience of running a free of cost hospital. Now we have learned the dynamics and have embarked on the path of expansion. We have also learnt that we can be more effective by having smaller sub-units within Karachi and beyond so that patients don't have to travel long distances to come to us. They can be catered to by their nearest healthcare center and can be referred to the main unit if need be. This will save them the travel cost and the pain of traveling long distances also.
We have started a unit in PIB Colony in Karachi for our kidney patients, a healthcare center in Muzaffargarh and will soon start one in Bhong and Khyber Pakhtunkhwa.
Synergyzer: What are your views about the scope of philanthropy prevalent in the Pakistani society?
Dr. Zafar: It's amazing! Pakistan is one of the highest ranking philanthropic countries and Karachi one of the highest charity giving cities of the world. With so many humanitarians in our country, our dream of 1500 beds doesn't seem impossible either.
We will continue to be transparent in our functions and we are sure our well-wishers will continue to help us achieve our dream of 1500 plus beds in no time.
For Zakat and donations contact
Tel: +92 (21) 111 111 880
Tel: +92 (21) 3511 2220
The Indus Hospital
Korangi Crossing, Karachi -75190, Pakistan.
Interview conducted and written by Fatima Zakir,
Assistant Manager Marketing at The Indus Hospital.
She can be reached at fatimazak@hotmail.com