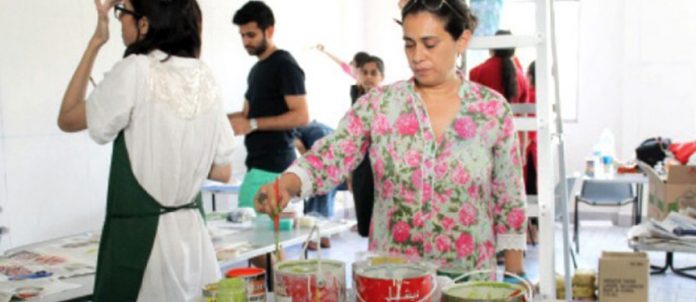 Mental Illness is Treatable
By Zaheeruddin Babar, Chief Executive Officer, Karwan-e-Hayat
"No act of kindness, no matter how small, is ever wasted." – Aesop
Back in the early 1980s, Dr Zafar Mohammad Qureshi,a psychiatrist of great repute and a philanthropist, was approached by a lady who ran from pillar to post trying to get affordable treatment for a poor mentally ill patient. She posed the uncomfortable question to the Doctor: where should the poor and underprivileged go for treatment of mental illness? Unfortunately, Dr Zafar realized, there was then no place in Karachi he could suggest.
The brainchild of  Dr Qureshi, Karwan-e-Hayat was launched to provide treatment and rehabilitation services to mentally ill patients who could not afford it. Initially, a handful of psychiatry professionals, social workers, philanthropists such as late Begum Raana Liaquat Ali Khan, Begum Shaista Ikramullah, Prof. Zaki Hasan, Mr. Rustamji of the BVS Parsi school, Ms. Anita Ghulam Ali, Cardinal Joseph Cordeiro etc. became Karwan's founding members. Soon the non-profit welfare organization expanded as the number of underprivileged patients visiting it increased. While many joined the bandwagon at the house of Dr Zafar Qureshi initially who also created awareness on mental illness through seminars and workshops, it was in 1983 that the Karwan was formally inaugurated.
With limited means, a small mental illness clinic was set up in two rented rooms in Punjab Colony which drew many patients who heard of the clinic by word of mouth. Today, Karwan-e-Hayat functions as a 100-bed hospital and rehabilitation unit at Keamari, an outpatient facility at Jami, and a Community Psychiatry Centre in Korangi. It is the only NGO of its kind that not only offers treatment but also rehabilitation services along with skill training to help mentally challenged patients salvage the lost years due to mental illness.
Karwan-e-Hayat's aim is to work for the prevention, relief and treatment of mental illness; to work towards the rehabilitation of mentally distressed people, especially the underprivileged and deprived; to organize, train and maintain a team of dedicated psychiatrists, psychologists, occupational therapists and social workers to ensure a competent and ongoing mental health service; and to raise public awareness about mental illness and to foster behavioral change in society.
These have been fulfilled over the years since 2004, the year when Karwan-e-Hayat opened the largest inpatient hospital for mentally ill patients, initially treating a total of 9,757 patients during the year 2005-2006. The years 2013 and 2014 saw an influx of 30,791 patients visiting the three Karachi facilities of Karwan-e-Hayat for psychiatric treatment. Another 9,878 patients received rehabilitation services. Eighty percent of all these received treatment free of cost. So far Karwan-e-Hayat has treated 167,161 patients in outpatient clinics, 61,676 in rehabilitation services and 3,721 as inpatients.
Administering the latest psychiatric treatment and rehabilitation techniques, Karwan-e-Hayat began the country's state-of-the-art psychiatric rehabilitation unit at Keamari after an intensive training from the University of Medicine and Dentistry of New Jersey, USA.This is the first of its kind facility which successfully treats mentally ill patients and rehabilitates them to return to their loved ones and live a productive life. In 2011, Karwan launched another model of Community Psychiatry which is an outpatient facility in Korangi. This facility is based on treating the patient at home with the help of case workers, social workers, occupational therapists etc.
Such rehabilitation techniques have been very effective in making mentally ill patients maintain healthy relationships with their co-workers, family members and also being productive at work. Ahmed (name changed for sake of anonymity) was 25 years old when he showed signs of severe schizophrenia. The family mistook the symptoms for exorcism and had him chained at a shrine in interior Sindh.
When he was referred to  Karwan-e-Hayat, he had lost almost 10 years of his life. With treatment that ensued almost a year, he recovered and was discharged, also finding freedom from the rusted chains around his feet and hands. Today he carries out all his personal chores and is able to work also.
Ahmed was lucky to have found his way to Karwan-e-Hayat, but many still remain unattended due to stigma and lack of awareness on mental illness. An estimated 15 million people in Pakistan are faced with mental illness and a sizable 2 million in Karachi are faced with mild and severe mental disorders. It has been a constant challenge for Karwan-e-Hayat to make ends meet due to the increasing number of patients visiting the facilities with restricted funds but the smile on their faces and a deep sense of gratitude when they recover and return to their loved ones and lead a productive life remains the drive for Karwan-e-Hayat to forge ahead.
According to the Pakistan Centre for Philanthropy, almost 98 per cent people in Pakistan give out whole-heartedly to philanthropic causes, which makes this nation unique in more ways than one. There is a dire need for the corporate sector to capitalize on this strength of the Pakistani nation and become a partner in reducing misery in Pakistan.
Mental illness is a neglected area that needs a lot of attention and funding to treat mentally ill patients. In the coming years, depression will be the leading cause of disease burden and this needs to be tackled in a concerted manner. Since poverty is one of the leading causes of mental illness, there is a dire need to work in this area in a multi-pronged fashion. The corporate sector and high net-worth individuals can, not only invest in treatment, but also vocational training of mentally ill patients to be able to make them live a productive life. Karwan-e-Hayat continues the journey to provide solace to millions who need help.
Karwan-e-Hayat can be contacted at:
Karwan-e-Hayat
101 Al-Noor Arcade, near Qamrul Islam mosque,
Khayaban-e-Jami, Karachi 75500
Phone: 0092 21 35863060
Email: karwanhayat@yahoo.com 
KPT & Karwan-e-Hayat Psychiatric Care and Rehabilitation Centre,
Near KPT Hospital and Ziauddin Hospital
Keamari, Karachi
Phone: 9221 32856880, 32856774-75
E-mail: kehpcrc1@hotmail.com
Korangi Community Psychiatric Clinic
Plot # SC-54, Darussalam Housing Society,
Sector 31-F, Korangi, Karachi
Phone: 9221 35120204-5
Website: www.keh.org.pk