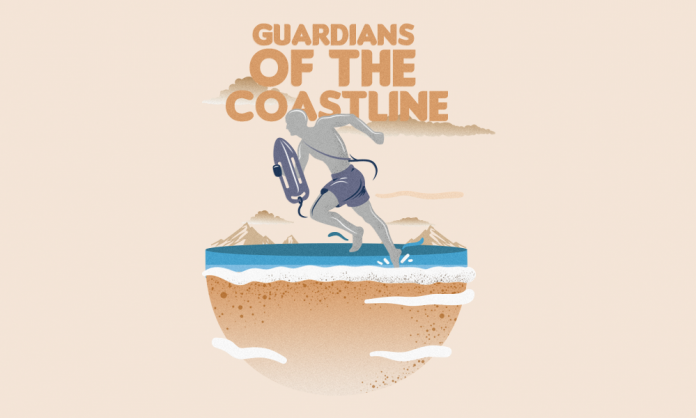 It takes three minutes to know the fate of a drowning victim. The life and death situation depends on how quickly that person is rescued and medical assistance provided thereafter. The guardians clad in scarlet and mid-yellow at Karachi's beaches ensure that no one is engulfed by the sea.
Karachi's coastline stretches around 35 kilometres covering a number of beaches including Clifton's famous Seaview Beach, Sandspit, Hawkes Bay, French Beach, Paradise Point, Cape Monze, Sunehra, Kanupp Point, and Mubarak Village. Till the establishment of a formal life-saving organisation, the expected death toll at the beaches used to sound nothing short of folklore. "Oh it's August 14 which means at least 14 people may drown," the villagers used to say. The death toll was estimated to be up to 250 per year, with the average age of victims around 21 years!
As bleak as it may sound, there was no such organisation to take the responsibility of providing protection to naïve swimmers around the coast until 2003 when Reza Samad had to save his two friends from the turbulent Karachi sea waves; the rescue going on for two hours. This near-death experience motivated him into laying the foundation of Pakistan Life Saving Foundation (PALS Rescue), the only privately run NGO which provides life-saving services and lifeguards around the coastline, free of cost! Before he started building the organization, Founder & President PALS Rescue, knew he had a long journey ahead of him since philanthropy itself has its fair share of challenges.
After his life-changing experience, Reza had written to numerous life-saving foundations around the world, seeking their guidance regarding setting up an organization that would house trained lifeguards. Out of many, Surf Life Saving New Zealand's (SLSNZ) President, Tim Jago showed interest in visiting Karachi. To his bewilderment, what he found were unguarded beaches with a great susceptibility to danger. According to him, had it been any other part of the world, people would not be allowed to visit these spots on ordinary days, let alone during the monsoon. Upon his return, Jago made arrangements and scheduled for a training session for March 2004. Around the same time, DHL showed their generosity by air-freighting a whole container of life-saving equipment.
Over the next few weeks, PALS Rescue inducted local fishermen and got them trained as lifeguards. The reason behind recruiting local fishermen was that swimming was not only an innate trait for them, but they were also well-acquainted with life at the beach in general. Much to Raza's surprise, thousands of fervent villagers flocked towards the spot where training was to be conducted. All it took was word of mouth and a banner announcing jobs for people who would be interested in serving as lifeguards. The 200 most agile people were shortlisted to be trained by SLSNZ during a span of 3 weeks. When it came to proving their mettle, these lifeguards turned out to be the real heroes as all of them initially volunteered their services despite knowing there was no income stream for the organization at that time.
"These are the people who are literally living off of daily wages and have nothing, yet they came and volunteered not just for weekends but for weekdays as well when we were not even sure we could pay them at all," recalls Reza, "I was hardly expecting a handful of volunteers, yet all 200 of them gave their names when we formally took the leap of faith."
Reza Samad's near-death experience motivated him into laying the foundation of Pakistan Life Saving Foundation (PALS Rescue), the only privately run NGO which provides life-saving services and lifeguards around the coastline, free of cost.
PALS Rescue's lifeguards have not given up on their perseverance ever since! Eventually, Continental Biscuits stepped forward as the first sponsor and PALS Rescue started taking on a steady turn. The organization still heavily depends upon sponsors and since corporate sponsorships are slow-moving it is still a challenge to make both ends meet, especially since a fair share of lifeguards' salaries are heavily reliant on the sponsorship amount. Hence, federal and provincial governments are being sought as the ultimate resort for the sustainability of this organization as the cause is not only benefitting the citizens enjoying the beaches but also local villagers serving as lifeguards.
Depending on the beach footfall, the lifeguards are deployed at all main spots including Sandspit and Hawkes Bay all the way up to Mubarak Village. The deployment is actively influenced by the monsoon season. Since the lifeguards belong to the fishermen community and the fish catch is scanty during monsoon, the dire need of lifeguards at all Karachi beaches during that time allows for an alternate source of income stream for the fisherman.
Every year PALS Rescue arranges training for almost 300 to 350 lifeguards by SLSNZ. The batch employed after that is then further trained by senior lifeguards on a regular basis. These lifeguards are then deployed at Karachi beaches to keep a vigilant eye on all visitors, most of whom do not even know how to swim and need constant rescuing. Their responsibilities majorly include beach patrolling from dawn to dusk; providing first aid to, for instance, victims stung by bluebottle or those saved from drowning.
Even after the end of the monsoon season, the constant need for lifeguards leads to induction on full-time as well as part-time basis. The latter allows young village students to work on weekends and gain financial independence alongside helping their families, earning up to PKR 1,000 as daily wages. The pay scale of senior lifeguards on permanent positions can go up to PKR 35,000 per month and if at any time they want to try their luck at fishing, they are welcome to switch to their fishermen mode. Either way, it helps them earn their livelihood.
Systematically spreading over Sindh, the vision of PALS Rescue is to encompass the whole of Pakistan, providing life-saving services at all water bodies, including all rivers and canals. Over the span of the last 15 years, PALS Rescue has employed over 1000 lifeguards who have helped bring down the drowning rate to near-zero with their expertise and astute skill set. It is about time that these real life heroes are recognized for their untiring efforts and their willpower to do good for the society they are an equal part of.