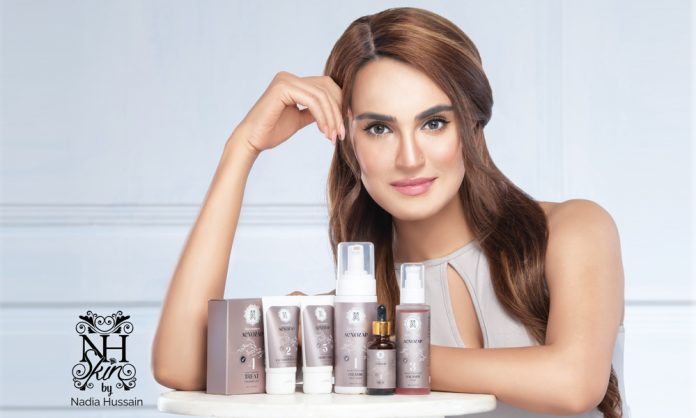 Nadia Hussain – model, beauty consultant, aesthetician and entrepreneur – has lately been aggressively marketing her cosmetic brand 'Bling', on morning shows, social media and her masterclasses. Although she launched the brand in 2019, the promotional activities had to be suspended due to Covid-19 the following year, and the consequent lockdown.
Even during the past three years or so of the pandemic, Hussain had been promoting Bling on social media through 5-minute makeup challenge videos, using all Bling products and imparting her viewers about the brand.
Hussain, who has played various roles during her journey in the field of fashion, from a model to an actor, to hosting shows and then finally having a salon, says she thought having a cosmetic brand was a good addition under her name, since she has been involved in giving aesthetic treatments for a long time. "Throughout my career I have been known for being 'blingy', whether it is my nails, my phone, shoes or jewellery, I have been called the 'bling queen' and since the word has been associated with me so often, the product name had to be the same."
According to her, Bling's product range has everything under the sun which is related to makeup; primers, serums, foundations, suited for all skins and preferences such as matte, semi matte, cream form, sticks and even water-based foundations, blushers and highlighters, eyeshadows, glitters, eyeliners, mascaras and lipsticks. Bling also has a GO makeup palette – an all-in-one, pocket-friendly product that has a corrector and concealer for skin imperfections, lip and cheek tint, and at the bottom, a cream contour, eyeshadow and face powder.
The brand also offers a few skincare products and fragrances. Of the skincare range, her products offer solutions for skin problems such as acne, pigmentation as well as skin-whitening and brightening. "This (demand for whitening products) is a reality which we cannot ignore in our society as well as in our country, and I feel it is a personal choice. If someone wants to be fair or buy whitening products or get treatments, then it should be fine," opines Hussain.
She adds the reason why she launched these whitening products was because there were a lot of products in the market that used dangerous chemicals and which also do not deliver the same results that people expect. Hussain is of the view that people should also have realistic expectations of what they can achieve after treatments, because to actually work on lightening your entire skin is an expensive treatment and not everyone can afford it. "If you can, you may as well go ahead and do it, but if you can't, then you should make the right choices and use the right and safe products," she says.
All Bling products are manufactured abroad, because according to Hussain, unfortunately, in Pakistan there are limited resources when it comes to manufacturing cosmetics. The variety of products that one requires, whether colours, pigments, packaging or formulae, is really difficult to find in Pakistan. "Moreover, the biggest problem having it made locally is that in an instant, they are going to be copies made and sold under another name."
All the products are made in the Far East, from different companies and factories in Bangkok, China and Korea. Other famous Pakistani brands that are being manufactured out of Pakistan include Massarrat Misbah, which is produced in Turkey, and Luscious which is manufactured also in the far east, as well as Zero which is produced in Europe.
Bling's target market is middle-class women as well as those from SEC-B+, and all age groups. "We have tints or BB creams, which are very young girl-oriented kind of products as well as neon-coloured eyeliners. Our skincare products cater to all age groups as well; Acnozap for acne prone younger girls, while Vite N Glow that targets pigmentation is a favourite among older women. The target market for fragrances is women ranging from 20-35 years," explains Hussain.
She believes her products are very price competitive as far as drugstore products are concerned. "My foundation, which comes in a 65ml packaging, costs Rs 2,750, while in general, you get foundations in a 30ml packaging and cost around Rs 3,000," says Hussain, for whom the competition is Pakistani brands only, and not the Chinese ones on wholesale because though they might be a lot cheaper, no one can vouch for their quality.
Hussain's plans ahead having 'Bling' in a lot many stores. "I have started retail on 6 to 7 months ago since Covid-19 ended, and retail is important for the brand to grow. Since I do masterclasses, which cater more to professionals, so all beauticians, salon owners buy my products and that is how the chain continues. It has been a good journey so far."
Talking about the challenges, Hussain says in Pakistan people do not buy foundations with medium-based colours, because they think they are dark colours and she has not still figured out ow to break that. "Earlier I was ordering foundations that range from light to medium, but now I only order from light to semi-light, because the medium ones are not being sold because people have a fixation that it is a dark tone, which is wrong.
She also believes that women nowadays despite brand loyalty, want to try new things and that is how the word is spread. Mostly what women are looking for is affordability and quality. To them packaging does not matter much, but if it is good, then that is even more impressive.
Bling products are now available at stores across Karachi, Lahore, and Faisalabad, but will soon be visible in Rawalpindi, Abbottabad, and many other places. Husain says Punjab is a very big market, where people really love to and are happy to spend. "Hence a lot of my sales goes towards Punjab. We are also generating a lot of sales from Kashmir."
Marketing however, remains a challenge and finding the right people to do it, as she says some are good at one thing and terrible at the other and one has to constantly micromanage, which is a challenge in itself.
Also Hussain says doing business in Pakistan is not very easy. You have to be aware of the challenges you will face from import to customs, especially when there is a ban on imports and when your product is selling fast and you need the fresh batch soon. "When your products are out of stock, the customers sometimes wait, or get frustrated and head towards another brand, which affects our brand loyalty."
As far as stores are concerned, Hussain says it's a different ball game altogether because there are many stores that are willing to work with you but then there will be some that will demand money for it. "It becomes all about money and then you ask yourself what about the product because to them, the product doesn't matter – what only matters to them is only money. Give them your product and the money."
Hence, she advises all women to calculate risks they can afford to take a range of skincare products, makeup products, fragrances, etc. And because it is an investment, you need to be able to withstand the loss if it's not going to do well. "If you want to invest 1 million to a 100 million rupees, and if that business is not successful, and you're not being able to handle it, you need to be able to bear the loss."