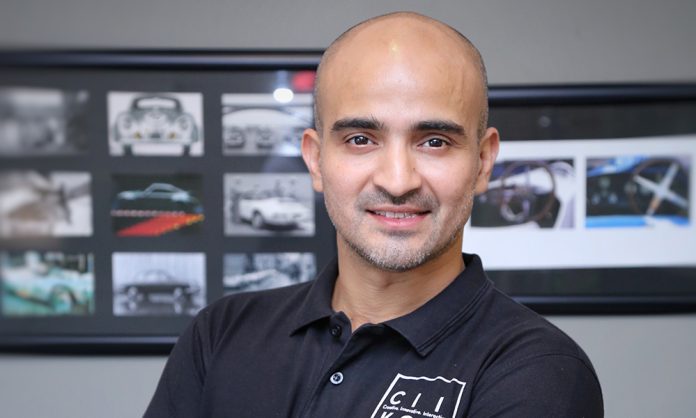 SYNERGYZER: You started your career as an investment banker in the US, then came to Pakistan and started a channel and today you are heading a digital agency. What prompted the transition?
FAIZAN SYED: After I got back to Pakistan, I got involved with the Ziauddin Group, where I served multiple roles including that of the CFO. I also launched a couple of colleges as well as their 'Health TV' channel.
As I was launching and scaling the channel – because it was first of its kind in Pakistan (focused on health and lifestyle) – the world had started to move towards the digital medium and digital content. Realizing this, we built a website that was content-focused. Other channels at that time had only informational websites. We took a content-focused approach not only for the website but also for our Facebook page, and within three years, without spending any money, our Facebook page had about 3.2 million followers and the website garnered about five million page visits a month. This kind of traffic was amazing for health and lifestyle content.
Later, friends started helping us with the digital presence and we took a couple of clients on board. One fine day, Continental Biscuits came in for a pitch, looking for an agency. That was when we decided to set up one. Though we were not an agency back then, I put together a team, went for the pitch and won the account. We then set up the office and the rest is history.
'East River' was initiated as a passion project but it grew so big in size that I eventually had to give it my full attention and this is where I have been spending my time over the last few years. Today, we have over 30 domestic and international clients and about 80 employees.
SYNERGYZER: How did you get involved with Ziauddin Eastern Medicine?
FAIZAN SYED: So, while running TV, we did a show on TV called 'Tib-e-Nabavi', and when I checked, that particular show had fantastic ratings. After talking to the hosts 'the hakeems' who came and talked about hikmat and tibb on the show, I realized there was a huge market for this kind of service and products in Pakistan, to which brands such as Hamdard and Qarshi were catering, but no one was doing this on a mass market scale. This is when we decided to set up our first clinic in Karachi with the same hakeems who were coming to the show, and asked them to record the show during the day and in the evening, divert that traffic to the clinic.
I then started designing products and selling at the clinic; we made a liver tonic and even a heart tonic. During my quest for different natural ingredients, I discovered that one product we did not market well enough, despite its abundant availability in Pakistan, was honey. I went to KP, visited various areas, met farmers, bee-keepers and discovered that Pakistan's Sidr honey was one of the best in the world. In fact, it gets smuggled out of Pakistan and is repackaged as Saudi Sidr Honey or Yemini Sidr Honey, even though it's our honey and we're not getting the pricing value for it. So we began packaging and selling the local Sidr honey not only in our clinics but to other retailers as well. At one point, we had four clinics nationwide; Karachi, Lahore, Islamabad and Hyderabad with four to five hakeems serving those clinics, a TV show, and our products and our honey selling at different retail stores including Chase Up, Imtiaz Super Store, Al Fatah etc.
Finally, we had the system going and it was a great start, but then came Covid-19 and people stopped going out and there was no traffic in the clinics anymore. At that time, we decided to sell the broadcast license for TV because I started noticing a lot of advertising spend going towards digital. So, we shifted to digital for Hiba Life and shut the broadcast.
We did continue on YouTube but at that time, it was not enough to drive traffic to the clinics. During this time – since I had affiliated with universities, had access to the clinics, and knew the demand there was for hikmat and tibb – I began researching more, met people at the National Council for Tibb and discovered that there were only seven colleges of professional education in eastern medicine and tibb. Hence, we decided to create a department within Ziauddin University called Ziauddin Eastern Medicine and the idea was that the clinics that I had set up would have a pipeline of students coming through to fill the roles of hakeems and we would promote this, as well as our products, on TV and digital. But unfortunately, Covid-19 disrupted this vision. We had to pull back and had to rethink our strategy. Fortunately, since we had been running Ziauddin Faculty of Eastern Medicine for three years, we have about 150 students in the pipeline who will be graduating soon. So, we have a pipeline now and I am thinking of restarting that clinic practice again.
The college of media sciences was created because while I was running the TV channel, I noticed that there was a dearth of good quality media professionals in the market. Seeing this gap, we created the College of Media Sciences, which I oversaw for a number of years as the founding director and even taught some courses there. The idea was to train students not just in the class rooms but also give them practical exposure – since we had TV, radio and digital on campus – to create the perfect media professional. I am proud to say that out of our batch of graduates, we have a number of people who are working here at East River. I had the same vision for Hiba Life and the Ziauddin Faculty Eastern Medicine too.
SYNERGYZER: How were you able to gauge the market potential for businesses that you initiated?
FAIZAN SYED: For this, you have to look at a few things, such as the GDP per capita to understand the spending power of people in the country. Then you look at the size of the population, population growth rate and with that, a lot of ground level research which includes talking to people and looking at local and international trends. When you put all of these things together on paper, you see that globally, people are inclined towards natural products and Pakistan already has a mindset for eastern medicine (every household has a remedy or a nuskha (prescription) for common ailments. Hamdard and Qarshi, though had a good market presence at that time, they were not very aggressive in terms of marketing. This is how I figured the potential for a strong dominant player in this category, provided there was the right kind of investment and packaging in place.
SYNERGYZER: Coming now to the agency side, how, in your opinion can we develop the advertising/creative industry in Pakistan?
FAIZAN SYED: For this you first have to understand Pakistan. We have to play safe. Since here,  we do not have a lot of excess cash sitting around in businesses or in the hands of consumers, our propensity to experiment is lower. We have little much money so we have to do only what will work.
As to what will work – 'just use the previous idea because it worked somewhere else, so it will work here as well; copy it, tweak it a little, change it, done'. Very few people will say they have little much money and they are willing to experiment, because what if an experiment fails? It may not work and then what will happen? That little money you had is gone. How will you capture your audience? That's why I think, our environment is a little less risk-taking when it's come to creativity. Yet, some great things have come out of Pakistan, proving you don't need a lot of budget for great creativity, but I think on the whole, not everyone is ready to take risks.
What comes to my mind here is 'The Blair Witch Project'. It was a movie that came out in the mid-2000s. It was made with a budget of just $60,000-80,000 and it created a new genre of film.
Look at Khaby Lame, the biggest TikTok star in the world today, who has millions of followers. He began creating simple videos. With time he got smarter and began editing his videos, but look at his earlier videos, they required zero-budget. He experimented, tried something new and different and suddenly became a star, known today by the entire world. So, the questions is: How much are you willing to experiment? Are you ready to accept failure? Ready to be ridiculed? What if you get it right? I think this is what is missing and why experimentation is not be as large and visible as it should be in a country that has a population of 200 million, 100 million 3G and 4G subscribers, and about 40 million smartphone owners.
SYNERGYZER: How are you developing and training your employees at East River?
FAIZAN SYED: We have a robust training system, every single employee is incentivized to take on training. We have prescribed list of training. You take on you training, you complete your certification, and you get a cash incentive. Moreover, we have identified every single resource need and trainings are updated every year because platforms, strategies, tool are all moving at such a rapid pace that unless you're recertifying yourself every year, you are falling behind. So for us, recertification, identifying what training are needed by every position, and then providing them the opportunity – whether they require funding to get that certification, or if we need to pay for it, we will pay for the certification, and also give them an incentive for completing it.
SYNERGYZER: Let's talk about PAA (Pakistan advertising association) now. Do you think for a full-service digital marketing agency, is it important to be registered with an advertising association such as PAA?
FAIZAN SYED: I think any industry association is extremely beneficial for the businesses that operates within that industry. Why? Because that's the melting part of the minds of the industry. And it is important for those minds to get together on a regular basis, share ideas so that the industry improves, evolves and becomes bigger and better. We can work together in PAA to develop our talent, our services we deliver to our clients and just make this overall a better space.  So, of course every agency should be a member of PAA, because that is the role the PAA and any industry can and should play.
Yes, digital agencies want to operate in their own style but I think ultimately, an agency is an agent between an audience and a brand. Whether you are a creative agency, creating content that brings that audience to the brand; a media agency placing that content on the right media, be at television, radio or digital, it is an agent delivering an audience to a brand. So if you look at this way, then we are all just agent, serving the same purpose, except that one agent is creating content, one agent is delivering an audience and one agent is working slightly different with one type of medium, but they all are working within the same framework. They are working on the same objective so they should all work together and find a way to work together.
SYNERGYZER: How are digital agencies able to work around mechanism such as learning and developing, claims and default issues from clients, lack of structure in the industry etc.?
FAIZAN SYED: Yes, that is a big problem and we had number of clients, new startup businesses that have disappeared without payments. But what do you do as a digital agency? These problems do not arise if you are a media agency or a print agency because APNS registration and PBA registration helps prevent that. So yes, for a digital agency, that is one area of exposure and remains a challenge and I am open to hearing how others in the industry are tackling this challenge.
SYNERGYZER: What is your opinion on affiliation of digital agencies with international agency networks. How are such affiliation beneficial?
FAIZAN SYED: It entirely depends on what the affiliation brings to the table. If you are just taking a global name next to your local name, thinking that global name will bring you client but you have not changed the way you operate the agency, then there is really no point. Just putting an English name next to your own, does not change your service delivery and your style of executing and your strategy and approach to client. Now if your affiliation is such that it actually gives you a lot of access to systems, processes, white papers, thought leadership, content… great, because now you are taking all of that and inculcating that kind of thinking, that process, that knowledge in your local work force and upscaling it. If you upscale the work force, then it can do so much more; generate taxes since you're make more money, remittances, export work etc. So, I think it depend on the affiliation and what the affiliation brings for the table.
SYNERGYZER: Do you think advertising sector should be given the status of an Industry in Pakistan and which would include both traditionally and digitally businesses? So far advertising has only been a part of media.
FAIZAN SYED: I think we need to figure out first how we define media. You have various mediums, such as TV, print, digital, OOH; these are the traditional ones. I would even say those flyers they used to give out while you are standing at a traffic signal, that is also a media, and these are one-way methods of communication. TV, print, flyers is one way but radio is two way because if they open up the call-in system, you can call and give feedbacks – hence radio is not exactly a one-way method. Digital is a two-way communication system. It is the only medium that allows the audience to give feedback to the advertiser. It is the only medium where every single user of the medium can be a revenue earner, contributor, creator, advertiser and serve both roles – advertiser and audience. This medium where the creator is also the audience, and if the audiences get together and start watching random creators, then the creators having the audience behind them and if I insert ad units in between, I can actually monetize that audience and that creator gets monetized too. That's what happening. All these YouTubers that are coming up from interior Sindh, Punjab, the TikTokers, if you look at them in Pakistan, and you look at how much money these people have started to make, you will be surprised. They are making $15,000-30,000 a month from home. There are people running amazon stores ever since Pakistan got approved for Amazon. Pakistan is the fastest market for Amazon store growth in the world. Now, even if our GDP per capita is low and people are only making $5,000, look at the number of people that can potentially make that kind of money. If there is 30 to 40 million people on Facebook, 30 million people on TikTok and let's say 10 million are the active audience and if 10 million people even make $1,000 individually a month (10 million times a thousand is $10 billion per month). You can wipe out this country's external debt in one year if you support this medium and if you support this industry because that money will come in and you can channel that money and tax it and allocate it for your external debt. This is just an example.  So for me, of course it is an industry, but it is an industry where the buyer and the seller are same or can be the same.