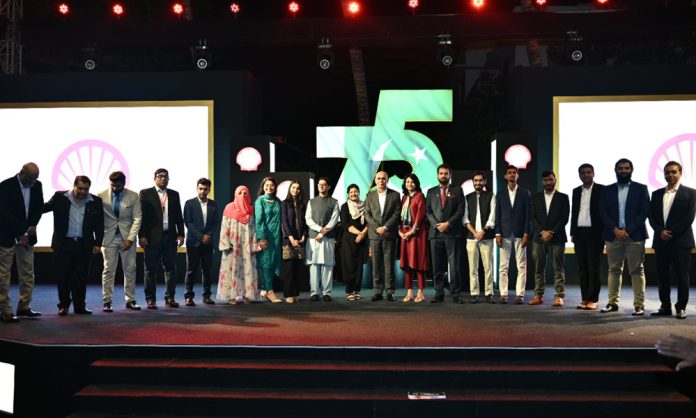 Shell Pakistan celebrated Pakistan's seventy-fifth anniversary, this November, with a grand ceremony, attended by their partners, industry leaders, business professionals,  entrepreneurs, and academia. It was also the occasion when the company announced the winners of the Shell Tameer Awards 2022, a nationwide contest that recognizes the best and brightest entrepreneurs in Pakistan.
Addressing the occasion, Waqar Siddiqui, Chief Executive Officer, and Managing Director of Shell Pakistan said, "This year marks 75 years since Pakistan's creation and 75 years of Shell powering progress in the country. We have partnered with Pakistan to build and grow and today, we have come together to celebrate an incredible milestone. We are honored to be a part of the country's past successes and future opportunities."
Being the oldest energy company in the country, with a strong and rich legacy, Shell has had its presence in Pakistan in one form or the other for over a century. Their presence in South Asia dates back to 1928, when Royal Dutch Shell and the Burmah Oil Company, India – which was looking to enhance their distribution capabilities in the region –  were merged to become Burmah Shell Oil Storage and Distribution Company of India. Post Partition, the company's name was changed to Burmah Shell Oil Storage and Distribution Company of Pakistan. In 1970, after 51% of the company's shares were transferred to Pakistani investors, it was renamed Pakistan Burmah Shell Limited (PBS), which had about 1,200 sites across the country.
In 1993, following Burmah Oil Company's divestment from PBS, Royal Dutch Shell raised its investment to 51% and the company became Shell Pakistan Limited.
According to Habib Haider, Head of External Relations and Corporate Affairs, Burmah Shell has played a major role in helping run some of the first major industries of Pakistan, namely, Adamjee Jute Mills, Bata, Buxly Paints, Crescent Textiles, Dalmia Cement, Gul Ahmed Textiles, Premier Sugar Mills and Pakistan International Airlines. The company was the choice fuel provider for a number of airlines visiting Pakistan and fuelled PIA's first Boeing 747. Subsequently, it was awarded a three-year contract by PIA.
"Also in 1952, the Sui gas field was discovered in Pakistan by Pakistan Petroleum Limited (PPL), which was back then, a subsidiary of Burmah Oil Company. This was the first major milestone in the search for hydrocarbons in Pakistan," he says.
After becoming Shell Pakistan, it was during the 90s that Shell launched its Retail Visual Identity (RVI) which included not only redesigning their pecten but also revamping their services at the petrol stations. "We rebranded and set up a total of 750 sites, which was a massive accelerated program. Later, PSO and Caltex too launched similar programs, but it was Shell that pioneered the RVI concept, providing a one-stop shop concept to consumers in Pakistan, a fact that many people do not know even today," says Haider.
In 2005, Shell also became the biggest private investor (with a 26% share) in the "White Oil Pipeline' project, connecting Karachi to Multan. The project turned around the entire diesel supply chain in the country, consequently reducing massive road congestion caused by the fuel transportation trucks. During that time, they also invested in a terminal in Lahore in collaboration with PARCO, which is now called the Machike terminal.
"Hence this celebration is a subtle reminder to people that we have been around for 75 years in the country and have been part of its progress," says Haider.
Shell Pakistan, today, has a shareholding of about 78% and a solid presence in the country. However, Haider believes that now the industry has become very fragmented, and with about 20 companies operational in the sector, brand loyalty has also become very competitive. During the 90s, competition came from only three other brands: Caltex, PSO, and Attock, but now others have caught up in terms of providing the same services and convenience.
But despite this, he says the company has a very good network since they have been here for a long time and in cities such as Karachi, Lahore, and Islamabad, which are the main demand centers, having a good station at a good location is a huge advantage which they have had for a long time. "Our strength lies in our ability to do something consistently. If we have a select store, there is a whole structure behind it to ensure that it is stocked and serves customers at a consistent level. At our location, a customer can get the quality and quantity they are paying for."
Shell Pakistan's main competitors include PSO, Total, and Attock – which has a strong presence in the north due to their refinery. Apart from fuel, Shell Pakistan's main grade lubricants include Helix (for automotive and cars and petrol engines) Rimula (for trucks, and diesel engines), and Advanced (for different grades for motorbikes). Their biggest competitor in the lubricants category is Chevron, which is also a strong competitor in the diesel market.
Going forward, Haider says there are two to three plans in the pipeline. The government has decided to deregulate the sector which he says, makes the environment much more exciting as now, the companies will have the ability to launch a new range of fuels and specifications, etc. But, this will also bring about challenges. "For example, in the retailing business if you claim to have the best network and the best everything you are also vulnerable to market inefficiencies. You want to make sure that your network control is very solid and you don't want other people to sell through your retail station. We do not want such practices creeping into your business. For this, we are talking to the regulators about changing a few laws and regulations to make the market more transparent which will also encourage more investment in the sector.
They are also looking to expand their retail with a new concept called 'Destination Concept' at retail fuel stations. "That's one step forward from the one-stop solution. These destination sites will have EV charging station, yet, they will not just be EV facilities. There will be air-conditioned rest areas where people can wait and watch television while their cars are on charge. Also, our Select stores are getting better with more alliance partners coming in place. We have established one of these stores on the highway with KFC, our alliance partner, and the site is powered through solar cells. We have also partnered with K-solar, which has put up the electrification facilities at our retail stations.
Shell Tameer Awards 2022
Shell Pakistan's 75 years celebration was also exciting for some as it announced the winners of the Shell Tameer Awards 2022.
Shell Tameer is part of the Shell LiveWIRE, a  global flagship social investment Enterprise Development program with a vision to strengthen local economies by promoting entrepreneurship, innovation and meaningful employment.
Giving further details, Afhsan Pasha, Social Performance Lead, Shell Pakistan, says the LiveWIRE programme was launched 40 years ago and is currently run in 20 countries. "It was launched from Scotland in 1982, where unemployment at that time, was very high (at 14%) and one person in eight was unemployed. Since Shell was a UK-based company, this is how they decided to create an alternative way of about creating employment, livelihood and supporting local economies."
In Pakistan, the programme was launched in 2003, under the name Shell Tameer. Pakistan's employment rate in 2003 was 7.5 and the objective of its launch was the same as it was in Scotland 40 years ago; to create alternative means of employment for people.
"We now have evolved into six categories but initially when the programme was launched, even business schools were not teaching entrepreneurship. They started teaching it in 2007-2008, when it became little known. So Tameer's efforts in the first few years since its inception was just to create awareness about what entrepreneurship is, and also what is the alternative means to having a white collared job," says Pasha.
(LiveWIRE also has a Top Ten Innovators' Awards competition that they run globally across 20 livewire countries, in which only livewire alumnis can participate. These awards have been going on for seven years and Pakistan has been showcased in all of them. So far, nine Shell Tameer entrepreneurs have won these Awards receiving global and national recognition)
The Shell Tameer programme has also reached out to women in Sindh and Balochistan and provided them with entrepreneurship training and helped them start over 230 small businesses. In partnership with SOS Technical Training Institute and the Hunar Foundation, Shell Tameer has trained 300 students in enterprise generation. "At the grassroot level, we supported a few communities but gradually, we structured our focus area to add value because at the end of the day, I cannot support an artisan who makes semi-precious stones, somewhere in Thar. It has to be linked to our business so that we can add value and connect them to the right people. We're an energy company after all. So, that's how we came up with the thematic areas. In 2016, we launched four, and now we have launched six," she explains.
Since 2004, the awards have been taking place every two years and but because of the disruption caused by Covid-19, Pasha says they are now making up for the years they missed. The awards were also held last year online and this year, they are in the ninth round.
Pasha further says that since supporting and training startups is a big chunk of their programme, they work with incubators, universities, along with facilities, resources, and academia they have access to, to teach entrepreneurs them how to run their businesses.
They also do roadshows which include visiting universities that have incubation centers, such as the Punjab Investment Board, which has a national expansion program. Pasha says they do this because it is very interesting to work with tertiary markets such as Hyderabad, Sukkur, Multan, etc. as "that is where the hidden talent is waiting to be discovered, and this is where we get applications from."
For participating in the programme, the entrepreneurs have to be Pakistani national, between 18 to 40 years of age, and are running a business for at least three years (in terms of registration). They also must have an idea at a prototype stage.
The screening is done through the Shell Volunteer Program – comprising of Shell employees, who are given applications for various categories. Each volunteer screens five applications and ranks them. "Only the top scorers are reviewed and if there is a tie in terms of scoring, we then decide on the one with the most innovative idea or which has the biggest social impact."
Following this, one of the consultants at DAI, their international partner, conducts a webinar with the finalists on 'how to win pitches'. After this, the finalists get fifteen minutes of a mock session, seven minutes to pitch, and seven for feedback – all of which are mandatory. "One more thing that we do internally is that we do due diligence for every finalist. "If someone has submitted something and there is no data or documents to validate it, he/she is disqualified," says Pasha.
On the final pitch day, the judges constitute a person from the finance department at Shell, one from the academia, and third from the industry – P&G, Nestle, Unilever, and K-Electric, some of which are Shell's partners.
The winners, apart from getting prize money, also get to meet industry experts in their field and are links to potential opportunities, "For example, reducing the net carbon footprint at our retail sites. We can get in touch with those startups to work with our retail people to deliver such solutions. Last year from our Tameer awards we had two winners who are now integrated into Shell's ecosystem. One of them is 'Trash it' who are working on waste management, and the second is 'Enent,' which has a device for reducing energy waste. The founder did a pilot for six months with us and it was successful, so we have given him three more sites now to reduce electricity bills by up to 20%.
For this year's programme, over 250 applications were received and 30 finalists were shortlisted in six award categories – Circular Economy, Clean Energy Solutions, Empowering Women, Technology Innovation, Transport, and Mobility and Bright Idea. On November 3, the finalists presented their pitches to an expert jury of diverse professionals who selected this year's winners and runners-up.
The following are the Grand Winners of the Shell Tameer Awards 2022.
Circular Economy
Concept Loop by Dabeer Hemani
A tech-based start-up converting plastic waste into building materials and high-value lifestyle products through their sustainable data-driven and tech-empowered processes.
Clean Energy Solutions
Geoaircon by Muhammad Hassamuddin
A clean-tech start-up providing ground-sourced Climate Control technology. Utilizing temperate underground temperatures to cut down air-conditioning or heating costs by 35-75% for industrial, commercial, residential, and agricultural use.
Empowering Women
The Method by Insiya Meherally
A young start-up working towards women's safety by providing self-defense training across corporate and private networks.
Technology Innovation
Crop2x Pvt Limited by Humaira Rana
A technology start-up advancing the agriculture sector by proving AI-based data-driven insights on soil, land, and weather conditions to increase yields and reduce operational costs.
Transport & Mobility
Motto Vest Pvt Limited by Zeeshan Shahid
A tech-based start-up aimed at providing safe mobility for bike riders through their AI sensor-based airbag vest to prevent fatalities and disabilities.
Bright Idea
Enviro Solutions by Abuzar Siddiqui – An eco-friendly idea converting plastic waste into road-building material.