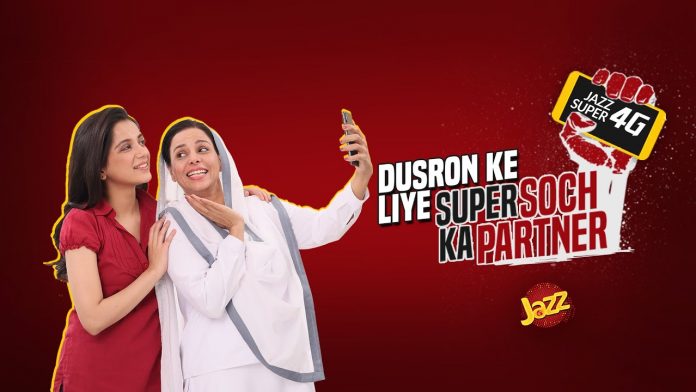 Jazz launched its campaign 'Super Soch Ka Partner' late last year with an objective to challenge the existing negative perception of social media and instead showcasing the positive impact digital enablement can have on people's everyday lives, thus translating their Super 4G trajectory into 'Super Soch'. The aim of the campaign was also to leverage Jazz as the leading telecom brand for 'the greater good' – whether it is Karachi Foods, Covid-19 support or vaccine awareness.
According to Shoaib Aftab, Head of Brands and Communication (Director Marketing), Jazz has been a cultural leader in the telco industry and the brand's goal is to empower users through digital enablement, from high-quality services to providing the resources to peoplewho need to make their daily lives easier and more efficient whether it is professional, personal or educational. Jazz should be their constant friend and digital partner.
"We started the year 2021 by aiming to become our customers' digital friend forever and since then, our communication progressed from 'Super Iraday' (how you as an individual can achieve success), to 'Super Confident' (how you can enable others to achieve success), to 'Garh De Jhanday' on August 14 (the collective success on a national level), eventually to 'Super Soch' to bring a positive change in people's lives," he explains.
The 360-degree integrated campaign was shared on TV, Radio, OOH and digital and lasted five weeks. The creative agency responsible for the campaign was Fishbowl, which released three TVCs encompassing the 'Super Soch' concept (a wife ordering a cake for her husband over the phone, a girl collecting blood donors for a blood drive online and a shop-owner using a translation app to cater to foreign customers. This was followed by small digital content pieces. Iris was responsible for digital while Blitz handled the media and OOH was taken care of by Kinetic Pakistan and O-Media.
Talking about the campaign, Saira Masood, Creative Director, Fishbowl, says, Jazz has concentrated on creating a unique brand ethos with its audience for the past year and a half with the objective of taking a role of a friend who is there always to help and support through digital solutions. She said keeping that in mind, the agency created an insightful communication with which the core target audience could resonate, all the while keeping the overarching brand ethos in mind. "Super Soch Ka Partner has pushed the envelope even further and the brand homed in on empowering a positive mindset," she says.
"Being the biggest digital company in Pakistan with over 25 years' legacy, Jazz is exploring new magnitudes to digitally enable the country."
Moreover, she explains that the universe of digital entails two distinct schools of thought; one which believes in it and the other which questions the value of the digital world compared to the real one. "Spending time on social media or interactive online is considered to be lazing around, endorsing a fake world that is selfie-obsessed. This mindset unfortunately tarnished all the positives the digital world brings to the table."
However, she says, we all have witnessed people helping each other out through digital, contributing to donating in charities and blood donations, connecting and being there for each other and making each other laugh by sharing memes to make their day much better.
"Jazz wanted to highlight all these positives by celebrating all those people who use jazz as well as represent their mindset, aka 'Super Soch' to help themselves and others," she reiterates.
The target audience for the campaign was not defined by age, gender, profession or city. It was inclusive and cut across all SECs and included university students who relied on digital platforms for infotainment and do not shy away from stating their opinions, as well as 40-year-old women (housewives) who want to help and inspire people around them as well as be the go-to-person for friends, family and neighbours. "We wanted to break the industry clutter by designing something for the audience as this would help us in attracting attention, as well as increase brand awareness and recall," says Aftab.
"Super Soch Ka Partner campaign is for all those who possess the desire to show the world their true potential."
For the TVCs, the brand and the agency dived deep into the target audience and drew insights which they used to showcase real-life situations the audiences could relate to. By harnessing empathy in the overall communication, tonality and design, we were able to build our brand narrative around how Jazz Super 4G impacts our lives in a meaningful way. "The overarching campaign strategy is to translate Jazz Super 4G to Super Soch experiences across every touchpoint," adds Aftab.
Being the biggest digital company in Pakistan with over 25 years' legacy, Aftab says the brand is exploring new magnitudes to digitally enable the country. In the process, he says the brand has created the strongest sub-brands; the Jazz Cash app, which is the largest mobile wallet with more than 15.7 million monthly active users nationwide. Their digital 4G handsets series cater to the price-conscious segment and aim to make technology accessible to all.  Also, the Jazzxlr8 is enabling the Pakistani start-up ecosystem and has multiple partnerships with the government as well as the United Nations that are helping Jazz achieve our objective in corporate social responsibility ambit.
Hence, Aftab believes that Jazz is not a leader in just numbers but also in ruling the hearts of its audiences. "Our initiatives like financial inclusion, data inclusion, business to business products are creating a wave of digital experiences."
"As for Super Soch, our aim is to further amplify it to new dimensions never explored before, he concludes.
(Continuing its focus on driving digital inclusion, Jazz invested PKR 14.9 billion under its '4G for all' ambition during the first quarter of 2022, taking its overall investment in Pakistan to US $10.2 billion.)
Source: Jazz.com.pk