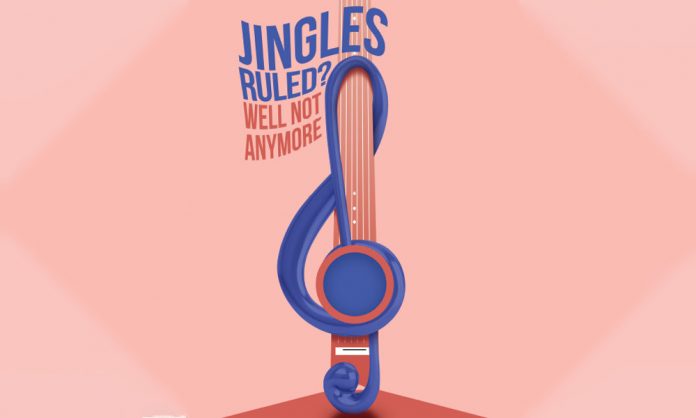 "Sab Se Aagay, Sab Se Ooper…"
This is what comes mind when someone asks me about a jingle-based ad that I remember. But why? Why does this specific ad have a separate fan base? Why is this song instantly recognized by almost every Pakistani? It might sound fictitious, but I am certain a number of Pakistanis can even sing the entire jingle!
There was an era when jingles ruled. They were a reason why people were hooked to the twice-in-an-hour break during dramas because they loved listening to these catchy tunes again and again.
Before we go deeper into this, let's discuss some basics. So, what is a jingle? "A jingle is a short song or tune used in advertising and for other commercial uses. A jingle contains one or more hooks and meaning that explicitly promotes the product or service being advertised."
Though jingles are a great way to promote brands, it's not every time that they are impactful – most certainly not the ones produced without any proper research and backing. In the many decades of advertising, countless jingles have been broadcast, yet only a few were able to connect with the audience while the rest were forgotten along the way.
"In the many decades Of advertising, countless jingles have been broadcast, yet only a few were able to connect with the audience while the rest were forgotten along the way."
So how do we craft a jingle that makes its way to the hearts and minds of people and stays there? A number of drivers make a jingle memorable for years. Whether any listeners love it or hate it, a good jingle will always direct them to the brand. Once a jingle makes it big on mass broadcast, people will associate it and recall it whenever they see any of the brand's ads with the tagline that was there in the jingle. This increases the likelihood that customers will buy the brand whose jingle they recall while making a purchase. Following are three reasons that make jingles a great way to communicate about brands and their offerings.
Repetition helps people retain information
Our brain is designed to memorize processes that we repeatedly carry out. The data is stored uniquely and it can be easily accessed, which helps in skill-building or bringing information from the conscious to the subconscious. So, when we hear a jingle repeatedly, like "Sab se aagay, sab se ooper…", it becomes a part of our subconscious.
Easy to remember and catchy
Like McDonald's "gyara-baara-four-four-six-two-two" (11-12-44-622) , the only UAN number I sing while dialing it or, as of now, writing it. That's how fun and easy it is to remember information; like a phone number, company name, or other features that define the brand or the company.
Helps associate the brand with what it has to offer
"Manalo food ka love with 7Up…". Whenever I am at a restaurant, and the server comes to take the order for a beverage, I ask for 7Up with this song playing at the back of my mind. Exactly like this, a good jingle not only stays in listeners' minds, but also creates brand association with the offering.
Besides these, here are some more examples  of great jingles, Made In PAKISTAN!
NAZ PAN MASALA: "Meri muthi mein band hai kiya?"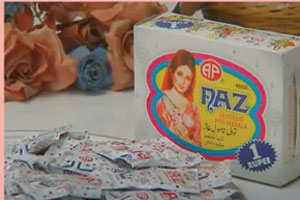 One of the most popular advertising jingles in the 90s, every 90s kid has grown up listening to 'Naz Pan Masala, Naz Pan Masala'. In fact, we used to tease each other using this jingle.
DALDA: "Jahan maamta, wahan Dalda"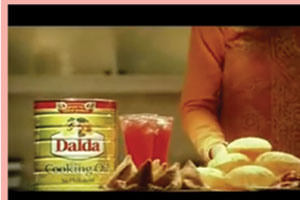 No matter how many ads Dalda has done, this one has been the OG – original to its core and incredibly exceptional. Nothing has come close to the brand's Ramzan TVC of 2008 that has a great story, lyrics, and tune. The most important part is that almost every Pakistani knows it.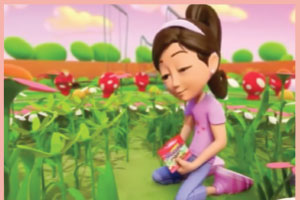 COCOMO: "Mujhe bhi do"
Goes without saying. NOT THE NEW ONE, but the classic old one. Whenever I see a friend opening a pack of Cocomo, I know what my next line will be, without a second thought. That's the power of this ad. It has created an iconic recall, and I would say this about my generation that the place it holds in our hearts is irreplaceable.
I miss that era when I hear the jingles being made today. Brands are trying to cope with Gen Z trends, especially by creating jingles around the type of music they listen to. So instead of strategizing a way that is unique and more relevant to the brand, they – these brands as in – end up jumping on each other's bandwagons. For instance, when Pepsi came up with its new positioning, along with the new jingle, "Why Not Meri Jaan?", we can see a number of brands copying that culture.
Cocomo brought back its iconic jingle with a hip-hop twist. Sung by Asim Azhar, the new jingle has not received a very warm welcome by Pakistanis, especially those who grew up listening to the original tune. It has changed slightly with the addition of rap verses and tunes, but the sung line remains the same.
FRESH-UP: "Life mein freshness aaney do"
The first rendition of this jingle was catchy and created its own space in the consumers' minds, but the new one hasn't been able to cut through the clutter. It came out only recently, and it may be somewhat early to judge. Let's wait and see if this new jingle is also able to create an impact like its predecessor.
In the last decade, advertising has evolved and the competition amongst brands to gain a larger share of the pie, win customers and break the clutter has increased. The challenges and objective have remained the same – to create awareness and a never-ending recall in the minds of consumers. Marketers are doing all they can to create and sustain the image of their respective brands, and using jingles to do just that has always been their favorite tactic. With the younger generation emerging to take the front seat; the prevalent mindset, mass likes and dislikes as well as the type of content that is dominantly viewed now has also evolved, yet the efforts seem redundant due to the follow-the-leader approach that marketers nowadays are following versus creating a path that works for the brand. It shouldn't be like that. Being brand custodians, marketers can determine and evaluate the need for a jingle and if it is worth investing time and money in. When done right, a jingle can create unaided recall, and weave it into the hearts of consumers.