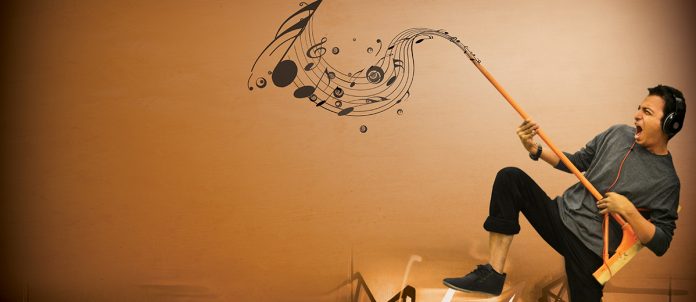 Decades ago people would tune into their large size radio transistors to listen to various radio programs. Varying AM frequencies would help people cross borders and access multi-cultural radio content. Urdu broadcasts from BBC or Indian Doordarshan were household names across all plains in Pakistan.
Elders of a house would turn on these large loud machines in the morning, on full volumes to shake the little ones off their beds and prepare for school. More news savvy members of a family would keep comparatively smaller hand held units which would travel with them like mobile phones of those eras. From hourly news bulletins to news features and entertainment based programs to radio dramas, there was plenty to be hooked onto.
With the advent of FM radio stations, all of a sudden, these keen ears were exposed to more localized programming. This sudden transition was not overnight, with FM 100 Pakistan and FM 101 operating almost a decade earlier before the influx of more competitive FM radio stations came forth, one may say that these market leaders rigorously prepared ground and exposed masses to a more urban format of radio broadcasting. With mushroom growth seen in the radio industry from 2004 onwards, several radio networks have setup their operations across Pakistan. They might have gone through some testing times, but as soon as radio's power to penetrate masses was established, the influx of commercial radio has established several major brands among these nationwide broadcasting operators. Not only the rate of commercial airtime has been revised several times in the previous decade, the license fee to operate a radio station has gone up manifold. Although the cost to launch and operate a new FM station in major urban centers of Pakistan may seem high, radio stations which have already established their business and bandwidth may appear to cover these costs in a matter of months.
Over years, many new radio stations have tightened the frequency band, and major urban centers have more than a dozen FM stations to lure its listeners. One may ask how all these radio stations would survive the competition. A closer look into the spectrum of these various FM bands would explain. Over the years, FM 100 Pakistan has not ventured much into the unknown creative terrain and kept the traditional RJ based programs at the heart of its format. Result: Undeterred loyal ears. On the other hand, Apna Karachi FM 107 has rejuvenated their sound continuously and yet kept the crisp balance between content and music. Hum FM 106.2 seems to be at peace with its music only policy, catering to listeners who prefer uninterrupted melodies, round the clock. The occasional live cricket commentary and induction of news bulletins has added value to it its sound over the years.
Mast FM 103 initially outweighed its competition with heavy Indian music and distinct programming, including hourly news bulletins and current affairs shows, while Hot FM 105 spread its vast network of stations and made ripples with its mature sound from the first day and still managed to secure a large chunk of the pie. City FM 89 is consistent in catering to the English only niche, while Radioactive FM 96 is still claimant of the youth's aspirations. Samaa FM 107.4 is a new induction in the FM spectrum with its more music and less talk format and still a long way to go, while new stations like Josh FM 99 are already catering to listeners with its sharp audio quality of music.
With atleast 60% of mobile phones sold across Pakistan have the built-in FM radio feature, this new influx of listeners are worth fighting for, thus competition is fierce. From traditional household radio boxes to smart car stereos to pocket size devices, orthodox radio drive time shows are undoubtedly catering more to other listeners, than just commuters on the go. Ever evolving radio listeners and maturing ears are the main reason why it is not enough to keep an eye on the competition only. Thus some have kept the emphasis on heavy supply of music to keep listeners from wandering away and even to lure them to tune in, while some operators have developed enriching content.
Yet, it is still debated within the radio industry whether the music only policy makes listeners any loyal to brands. If audio entertainment is kept to the minimum of melodies only, then memory cards and mp3 downloads is a cheaper and faster choice for music hungry listeners. There has to be more than music to radio. Interactivity with listeners through social media and mobile SMS is run of the mill answer to most of the radio shows. As one broadcaster puts it, "A playlist with good music can hook a listener for an hour, while a good content based show creates loyal listeners for years to follow".
With the advent of smartphone sets and mobile applications, listeners now have an untapped resource of live global radio streams available, just a click away. This may have sounded extraordinary a few years ago, but now anyone with a good enough internet connection or a Wi-Fi cloud around them; can easily tune into a radio show being broadcast from San Francisco or Cape Town.
Similarly, radio stations have stepped out of their age old territorial programming boundaries and brought in features of international appeal. "Border Crossing" from USA, broadcast by Josh FM 99 is one such program receiving applause from listeners in Pakistan. Meanwhile, almost all radio networks which are running their operations across different cities of Pakistan have a national programming link. You may have woken up in the morning to an energetic voice of a radio presenter based in Islamabad and may have tucked yourself in bed with soothing melodies being played from a studio in Lahore. Competition is fierce to run round the clock radio streams, offering unique features to keep listeners glued to the dial.
This race to compete sometimes misses the vital point of all this exercise; what's in it for the listener? Rush hours are by far the closest to a million march one witnesses in city districts, every day. Imagine a radio host based in Multan sharing his account of a local fruit mart not keeping in mind his listeners in Karachi or Islamabad, or a presenter based in Hyderabad talking about a local zoo in a manner as if everyone in Lahore or Quetta has already seen it. This detachment from one's audience is where despite technological advancement some networks tend to fail their listeners.
When this question of broadcasting radio shows simultaneously across different cities with their distinct cultural and lingual diversity was put across to Yasir Qazi, National Program Manager for HOT FM 105, who looks after a 14 city station programming grid, he replied, "The answer to creating massive appeal for all lies in the rich content and traditional broadcasting principles. In the early years of radio, people would listen to international radio broadcasts that would sometimes be from a different continent and still loved them. Who would not like broad subjects and insightful features which are well planned? Everyone from Sanghar to Chitral knows what the moon is, right? A true broadcaster is the one who tactfully talks about what everyone can connect with, and a good radio show is the one that offers content everyone can relate to." This is also the reason why the Hot FM Network broadcasts a show called 'Today in History'. Explains Qazi, "We are moving into the future, yet we want to remember and value our past. From glories to tragedies, they all teach us lessons".
A good radio broadcast is a result of crafting ideas in advance, visualizing and imagining through the ears of a listener. Enriching the quality of airwaves with subjects of interest and information has been the secret of this very medium to have survived more than half a century even though the visible display shows no colors. The very essence of radio is to tap into a listener's imagination, the highest faculty of the brain. To be able to entertain, mesmerize and inform through the auditory sense is what the soul of radio is made of.
Thanks to advancement in technology it is now a rapidly shrinking planet with ever more listeners seeking out radio frequencies from beyond their time zones. With many radio stations offering good infotainment while stretching their creative limits, there is still a huge space for progressive and traditional broadcasting values to offer a nice fusion.
Shoaib is a radio broadcaster and blogger who adds his own flavor to current affairs on his blog thesunsetshow.blogspot.com and serves political satire with music on his daily radio show.