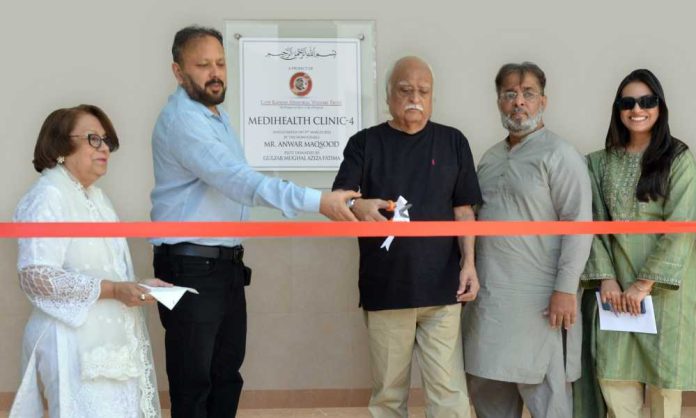 The Latif Kapadia Memorial Welfare Trust (LKMWT) has inaugurated its fourth Non-Profit Medi-Health Clinic in Khuda Ki Basti, Surjani Town, Karachi, Pakistan. The clinic offers affordable healthcare services to underprivileged people in the country. The clinic was inaugurated by Mr. Anwar Maqsood, one of the most prominent personalities in Pakistan and Mr. Ahmed Kapadia, Chairman of LKMWT.
Appreciating the Efforts that Matter
During the inauguration, Mr. Maqsood praised the clinic's high-quality medical facilities and the late Latif Kapadia's efforts toward improving the lives of people and the community. He also stressed the need for more initiatives to provide access to good medical services within reach of the people.
The newly opened LKMWT clinic in Surjani Town is equipped with modern medical tools and provides free medical consultations, diagnostic tests, and medication facilities to residents of Surjani Town and nearby areas. The project was ready within a year of laying the foundation stone, thanks to the dedication of LKMWT and its volunteers.
Mr. Ahmed Kapadia's Commitment to Providing Affordable Healthcare Services
LKMWT's mission is to enable basic healthcare facilities for less privileged communities. Mr. Ahmed Kapadia expressed his gratitude to donors and volunteers of LKMWT for their contributions. He also thanked Mr. Gulzar Mughal for providing the land for the clinic. He also acknowledged the efforts of other trustees of LKMWT, including Mr. Sabir Sami. In addition, he vowed to continue the mission of the trust by managing this welfare project and enhancing its future medical capabilities.
LKMWT was established in 2007 by a team of admirers of the renowned actor Latif Kapadia. Its main focus is to cater to the needs of underprivileged communities. Previously, LKWMT established world-class health clinics in Shah Faisal Colony, Khokhrapar-Malir, and Quaidabad-Landhi. These clinics provide medical checkups, consultations, and medications at only Rs. 40 per patient. Each year, over 120,000 patients take benefit from these Medi-Health clinics.
The fourth Non-Profit Medi-Health Clinic is a testament to LKMWT's commitment to providing affordable healthcare services to underprivileged communities in Pakistan and fulfilling the vision of its late founder, Latif Kapadia. The trust will continue working for the betterment of society by promoting education, alleviating poverty, fighting socio-economic challenges, and paving the way for a high-quality healthcare ecosystem with the ambit of trust.
Keeping the Spirit of Latif Kapadia Alive
Since its inception in 2007, the charity has been helping underserved areas set up medical clinics. In the past, LKWMT has set up state-of-the-art medical facilities in the neighborhoods of Shah Faisal Colony, Khokhrapar-Malir, and Quaidabad-Landhi. Checkups, consultations, and medicines are all available at these clinics for only Rs. 40 per person. Medi-Health centers help More than 120,000 people a year.
The goal of LKWMT is to help those who lack access to high-quality medical care, as envisioned by the late 'Latif Kapadia'. The trust will carry on its societal improvement initiatives, such as expanding access to excellent healthcare and reducing poverty and other economic and social stresses.
For more information, visit the LKMWT website: www.lkmwt.org