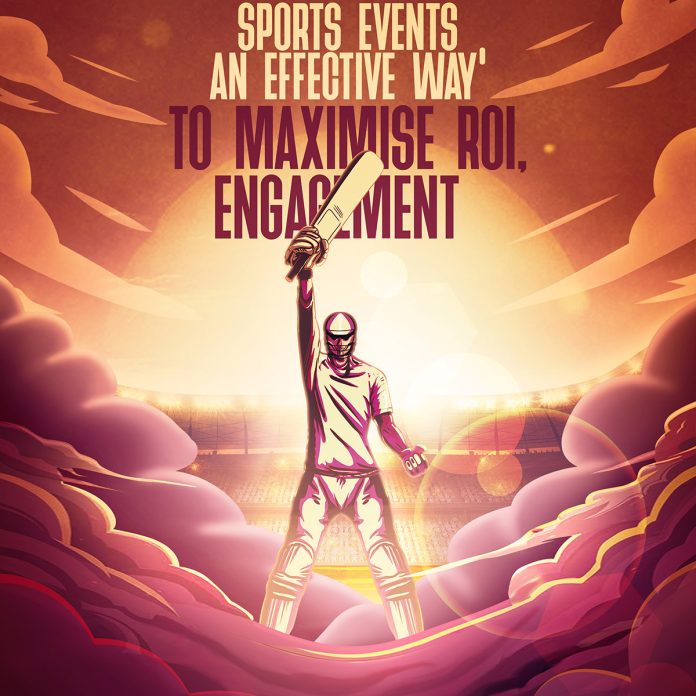 Sports events today are like never-ending festivals, where attendees enjoy cheering for their favourite teams, enter competitions and win prizes. Meanwhile, businesses make a sufficient profit by investing minimal effort and funds intelligently. As for brands, they desire nothing but to attract new customers and keep the older ones loyal.
Since word of mouth is considered to be the most reliable mode of marketing, people believe and value the opinions of their loved ones, their favourite sportsmen, teams and leagues. You must have seen someone around you fighting over who the GOAT is; Cristiano Ronaldo or Lionel Messi? … and they might not have anything to do with either of them. This is the power of sports. No other industry can consume people so emotionally, who celebrate and regret their every action, every wicket, every goal and every ace without knowing them even remotely.
Keeping in mind the power 'sports' has to engage people, numerous brands now look to deliver their message through athletes and sponsorships. Marketing through sports and athletes, however, is not new. Probably the first such stint was performed by the duo Puma and Pele, famously known as the 'Puma and the Pause campaign'.
During the FIFA World Cup final in 1970, the Brazilian star player asked the referee to stop the game as he had to tie his shoelaces. Knowing well that he was the biggest player in the world at that moment and was the centre of attention, he conveniently took long to tie his laces and put Puma's shoes in focus. It was probably the first marketing campaign of this sort.
It was just the beginning, and then corporations' dependence on athletes for product endorsement and sports events for marketing to increase their brand recognition kept increasing with each passing day.
To have an idea of the size of investment made by the brands in the sports industry today, around $57 billion were spent on sports sponsorship in 2020, and the value is expected to reach $87.60 by 2027. A major reason for that increase is the exponential growth in the number of sporting events taking place every day.
Take cricket for example. About 40 years back, the sport was considered a seasonal one. However, it gradually grew into new formats like ODIs coming in and new countries getting the ICC full-time membership. With the introduction of T20 cricket in the early 2000s, its popularity skyrocketed.
Then came the Indian Premier League in 2008, and it changed the whole course of the game. Since then, almost every country now holds their own league, trying to experiment with different formats and rules. Hence cricket, which was once a seasonal sport, is played throughout the year.
With more leagues coming into existence, different formats and players from non-cricketing nations came into the limelight. This has brought more opportunities for brands to be visible, increase their recall value, and earn the loyalty of their fans.
The pioneer of the cricket leagues, IPL, has a huge viewership around the world, averaging 31.57 million. Therefore, it is considered a viable place for brands to advertise as they will get audiences from different demographics, age groups, social classes and ethnicities.
To give you an idea of how lucrative it is for a brand to run a marketing campaign with a sports event like the IPL, a company called Rapido witnessed a 60 per cent uplift during pre-IPL campaigns. (They had yet to evaluate the conversions as the campaign was underway).
It is just an example of IPL; there is the Big Bash League, Pakistan Super League, Lanka Premier League and dozens of others that can be used as a tool for marketing… and these leagues only feature cricket. There are absolutely huge international and franchise-based tournaments involving different sports, such as football, basketball, baseball, tennis, badminton and many more. There are just limitless ways in which small and large-scale firms can leverage their brands during sports events.
Digitization has also been instrumental in helping brands market their products and improve brand recall. A report from Nielson Sports revealed that fans also have evolved in terms of their viewing habits. According to the report, about 40.7 per cent of fans now stream live sports through digital platforms. Similarly, 47 per cent of the viewers switch between different screens.
A prime example of efficiently exploiting this aspect of the spectrum is Daraz. The online shopping platform acquired the rights from the Pakistan Cricket Board in 2021 to live-stream their matches on their app. As a result, hundreds and thousands, if not millions, of users downloaded the app to witness the live action.
And how has it helped them? Their reach increased massively. Now, they could send push notifications to thousands of people using their app; the brand recall reached new heights, and they earned more through advertisements of other bands during the stream and their special coverage of the matches. The expanding sports industry is providing businesses with a horizon of opportunities that has absolutely no end.
It is understandable that not all brands can spend like TATA, who disbursed INR 440 crores to attach their name with the IPL. However, it does not mean that being a start-up or a sole proprietor, you cannot make the most of this industry. You can build excitement for a game, celebrate the success of a team or share fans' depression after their team suffers a defeat. If you own a small clothing brand, you can launch a limited-edition design for a specific event, like a jersey with Messi printed on it after the World Cup. Or, if you are a restaurant owner, you can offer a complimentary slice of cake if the supported team wins. In case they lose, you can offer discounts for fans to cheer them up. Such marketing strategies can be adopted by all kinds of businesses, irrespective of the scale they are operating on.