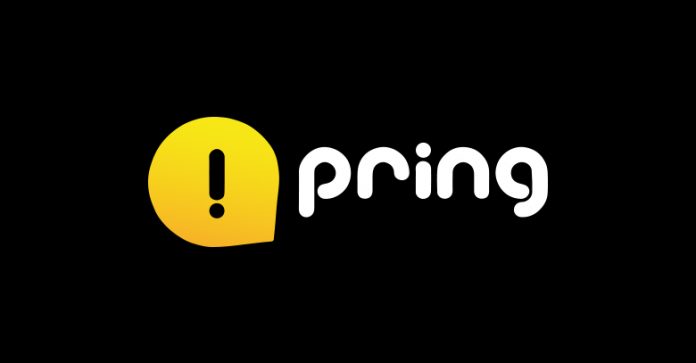 As originally published in Synergyzer Issue 6 – 2012
By Ghalia Mirza
You don't draw the attention of Red Herring, a leading global magazine on technological innovations, unless you are as promising as Google, Facebook, Twitter, Skype, or eBay, to name a few.
Hence, when Pring, Pakistan's very own internet and cellular social network, was included in the magazine's list of 2012 Asia Top 100, and more recently, won the Red Herring 2012 Top 100 Global award, it was due to its innovative use of technology, entrepreneurial edge, and the difference it has made to cellular communication in a short while.
Now, there's no looking back from here.
The social media revolution is taking place differently in Pakistan than the developed world. All major social networks are accessible via the internet and there are about 20 million internet connections in the country. But comparing this number to the nearly 120 million active cellular connections shows that mobiles reign when it comes to connecting with others in Pakistan.
The mobile has been our modern companion everywhere we go for a decade now; from telling us today's weather to where that new restaurant is and how to get there.  People are using their cell phones to socialize and find out what's going on around them, besides just taking calls.
Yet, the benefits of this innovation still cannot be utilized by those 95% Pakistanis who are not smartphone users; and this is precisely the gap that Pring is working to bridge.
"You should be able to socialize, access information and services on any device, anywhere," says Nash, the founder of Pring. "Whether you have a smartphone or a basic cellular device that can only take calls and send SMS, it's important that you stay connected to information and services."
The social network works on SMS, the internet, as well as smartphones. This opens up 120 million mobile users to social and business opportunities that were out of reach before. Circles of friends can talk to each other collectively. People from big cities, small cities and rural areas alike, are able to create and join communities of shared interests or a cause.
Millions of conversations are happening on Pring. News, sports, books, religion, celebrities, you name the topic and chances are a debate is taking place right now. Instead of waiting to log on to the internet and accessing a social network to see what your friends and family are up to, Pring lets you connect and communicate with them anytime, anywhere. Currently, more than 4.5 million users are already experiencing this.
The best part is that texting had always existed for mobile users; its 'mainstream' and we're all pretty used to it. What Pring has done is open a gateway for mobile users to connect to a bigger world through a secure platform.
To become a part of Pring, all you have to do is log on to www.pringit.com and sign up by entering your email address and your mobile phone number. You can also join by sending an SMS from your cell phone to 9900. You can invite friends by entering their mobile phone numbers or search for communities, celebrities, or brands and choose whoever you'd like to follow. Pring's Public Feed is a live feed with the most recent updates by public communities or businesses. You will get regular updates from the people who you are following and can opt out at any time. A status update can be made from your mobile or from your Pring account on the web and it will go to everyone who is following you.
The idea of Pring was pieced together slowly over a span of about 3 years by founder and Chief Technology Officer (CTO) of Pring, Muhammad Nasrullah aka Nash, a graduate of Ghulam Ishaq Khan (GIK) Institute. Working at the telecommunications giant Ericsson, Nash felt there was a gaping separation between entrepreneurs and millions of consumers.  After a lot of experiments, Pring final came into existence in May 2009 and has been growing phenomenally since then, gaining 4.5 million users by now. Compared to this, Facebook and Twitter, the world's biggest social networks, have been in Pakistan for nearly seven years, with 6.5 million and 1 million users in the country, respectively.
It's fascinating to see how much can be done with mobiles if done right. College and university events, involving hundreds of students, are organized through Pring. At the recently held 3-day annual Softcom event at GIK University, Pring was used to alert students of the various activities going on around the campus. Also, when the issue of a separate Seraiki province in Pakistan was a hot topic, 20,000 people on Pring were asked to participate in a survey, asking whether it should come into existence. An overwhelming response came in a matter of hours. Besides this, when dengue fever broke out across the country in 2011, hundreds of Pringers turned into citizen journalists, texting in the names and locations of people around them who had been afflicted with the disease. The information was collected to give a clear picture of which areas were most affected.
The BBC recently published a report about a study group on Pring that helps students with questions on several subjects. It also gives students tips on how to take college examinations, all through SMS. The community, called D-study, started by two MBBS students, Mehsim Samir and Waqar Karim, has now grown to include hundreds of students and teachers, eager to educate and help others.
With such a fantastic response by people, businesses are not to be left behind. From corporations such as Coca Cola, TCS, and Telenor, to small and medium business owners, marketers are on Pring, keen to be where consumers are. P&G's Ariel built up publicity around the TV program, 'Ariel Maa', by engaging followers with stories about motherhood, which thousands of people responded to by sending in anecdotes and shout-outs to their mothers. Sprite used Pring to spread its Cricket Next campaign on a scale wider than ever before, getting hundreds of thousands of registrations through it. Followers were sent texts, to alert them where the campaign was headed next. It was organized, hassle-free and fun! When Chughtai's Lab wanted a one-on-one connection with its customers, Pring was the network they turned to for delivering test results. Mobile social ads may be the most powerful marketing tool yet since mobile messages have a 97% probability of getting read, allowing advertisers to get to know their customers through direct communication and immediate feedback.
Text marketing can be supported by traditional marketing. Pring has been integrated smoothly in 360-degree advertising campaigns that include outdoors, TV and radio. But mobile marketing is a flight that has just taken off. The cell phone is an intimate gadget. Given its private nature, mobile marketing must be tread upon very carefully. Pring's main goal is to respect that privacy. Push messaging? Don't even think about it. Spamming or spraying bulk messages to millions of users in one go is the exact antithesis of what Pring is striving for. It's about forming long-term relationships and actually engaging users, rather than merely gaining followers.  The mobile users give their consent before they begin receiving messages from any business. Pring always gives users the choice of 'opting out', that is, stop receiving messages at any time. Privacy settings let users control who sees their information and updates and who can follow them. A mobile app version of Pring has just been developed to be used on smartphones.
This is just the beginning for Pring. The future holds endless possibilities. Booking airline or movie theater tickets through SMS, receiving text message coupons automatically as soon as you walk in a store, getting directions to a particular destination, accessing information from the web without actually logging on to the internet; these are all ideas the Pring team is working on to bring to life.
Using a mobile is simple, inexpensive, and popular, which is just the right mix of ingredients for a gadget to become an integral part of our lives. Pring has refined and enhanced the meaning of SMS, bringing the whole world right to your fingertips.
About the Writer
Ghalia Mirza is a Content Developer at Pring who believes the written word has the power to give birth to revolutions – within the mind and outside.