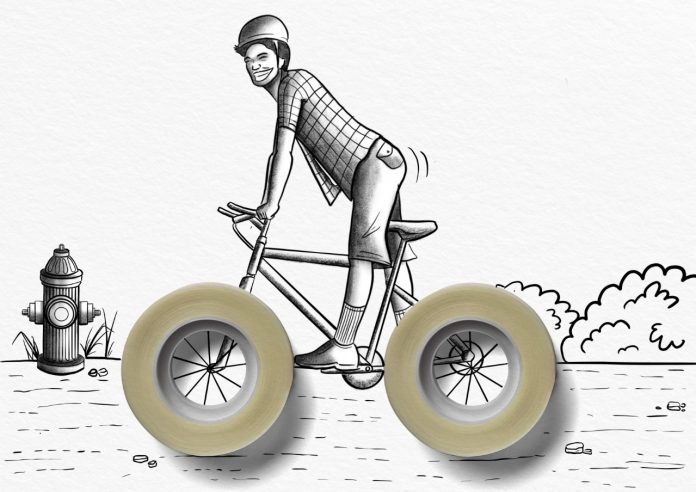 What made you start CYKIQ?
CYKIQ was launched by four NUST students who wanted to disrupt the transport system at NUST. The idea was born when we realized that walking from our hostel to the cafe took over 20 minutes, and a bicycle would cut down this time considerably. With that idea in mind, we attended an entrepreneurship workshop and worked on a business strategy, and CYKIQ kicked off.
Universities such as NUST and University of Peshawar have campuses as big as entire sectors in Islamabad, and people need to go from one department to another all day which can be manic especially in the heat. The community's own transportation system was not enough to cater to their needs because it only moves at specific timings and has certain pickup spots. In these universities, easily accessible transportation on a budget is crucial, and bicycles could make traveling convenient and fun. And so, CYKIQ was the perfect solution for short distance traveling.
How does the bicycle renting process work?
A bicycle can be unlocked for single use for just PKR 15. Users need to top up their wallets which they can do through SimSim or CYKIQ's wallet, CyWallet. Funds can be easily transferred from the cafeteria or from their bank account to the wallet.
A user who has signed up for CYKIQ can also purchase one of our packages with funds from their wallet. These packages are affordable and suit the commuter's needs. They include: CY Daily Pass – PKR 40 for 5 Rides, CY Weekly – PKR 150 for 20 Rides, CY Monthly Eco – PKR 300 for 45 Rides, and CY Monthly Plus – PKR 500 for 100 Rides.
Bicycles are available throughout the university 24/7 and the location of the bicycle is pinned on the map in our application. The user has to scan the QR Code present on the bicycle and they will receive a 4-digit unique combination to unlock it. The entire process is simple and convenient.
Where has CYKIQ been launched and where do you intend to go next?
Aside from NUST, we have had a presence at popular events such as Bicycle Rally arranged by Pakistan Children Heart Foundation, All Women Bike Rally by the Islamabad Chapter of Girls at Dhabas, and more.
We are also expanding beyond NUST to other universities. Recently, we signed a franchise deal with Ghulam Ishaq Khan Institute of Engineering Sciences and Technology (GIKI). We are also expanding our services to the University of Peshawar and will be rolling out 20 bicycles initially which we hope to increase to 150 by the end of the year.
When you started what was your intended audience? And how has your user base evolved over time?
CYKIQ was intended to be an affordable ride-hailing solution for students in large universities and initially, we catered to an audience of over 5000 residents of the campus and during the daytime, more than 10,000 day scholars, staff, and workers who would be able to use our product. In the beginning, we had deployed a docking system with 2 stations and 10 cycles, but we soon realized that this system limited the commuting process and ultimately shifted to a dockless system. We also scaled up to 50 bicycles later that year.
We conducted a market survey to understand and analyze the demographics of users and found out that more than 60% of CYKIQ users are female. Furthermore, the service also became popular with university employees. Even during summer break, CYKIQ remained overbooked because people preferred cycling over walking in the intense weather.
How has the venture grown since incubation?
If we go by the numbers, CYKIQ has completed over 10,000 km of commute and the app has been downloaded more than 3000 times on Google Play Store and App Store. Around 150 to 200 people use the app daily for traveling around NUST.
As I mentioned above, we have also signed a franchise deal with Ghulam Ishaq Khan Institute (GIKI) and very recently, we are scaling to University of Peshawar and will provide them with 20 bicycles which will be scaled up to 150 by the end of this year.
Our bicycles have been manufactured by Sohrab, they are also the oldest and leading cycle manufacturers in Pakistan, and so far, our experience with them in terms of endurance and the working of bicycles has been great. We have recently rolled out geared cycles throughout NUST to make the experience more enjoyable and less tiring.
Have you acquired funding? How you intend to get further funding?
CYKIQ was initially bootstrapped for 30 bicycles, after which we secured seed funding. Currently, we are approaching foreign investors and accelerators for investment. If we sign 3 more franchise deals, our company will become cash positive.
What is your vision for the future?
We intend to reach a much broader audience with CYKIQ. If we successfully strike an agreement with the government, we can make commutes from metro bus stations to nearby localities easier. We will also continue to reach out to large universities throughout Pakistan and offer them our services.