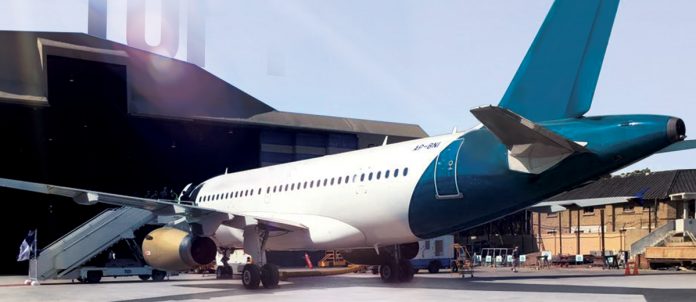 As originally published in Synergyzer Issue 3 – 2017
Recently, Shaheen Air rebranded itself. Would you tell us its new story?
A little over 20 years ago, Shaheen Air began its journey as Pakistan's first private airline. This led to a number of "firsts": To begin with, we were the first to challenge the status quo, the first to go against the grain of expectations, and the first to earn the accolade and privilege of being honored as Pakistan's Second National Carrier.
Today, we have come very far. I can proudly say that our collective efforts over the years have resulted in us being the country's largest private carrier with 24 aircraft, a young and passionate crew, flying to 7 seven local and 12 international destinations.
And, yet, our journey has only begun.
As we fly into the future, into an increasingly competitive space, we believe that the time has come to develop and live up to a consistent image in the minds of our passengers and stakeholders. This is achieved in several ways. But it is best reflected in a brand and identity system that truly reflects who we are and where we want to be in the hearts and minds of people everywhere.
Hence our efforts were directed towards a new identity which is more of a reflection of values in all what is Shaheen rather than a rebranding in terms of logo evolutions.
So how is the rebranding tied with a shift in philosophy?
A new brand identity is more than a collection of colors, symbols, and fonts. It is a system that unites our history — and our ambitions — in an unforgettable way. Building that system has involved a dynamic collaboration between our leadership teams and our customers who helped us define our new positioning and its resultant brand strategy and visual identity.
The new logo is more than just a logo evolution. Our objective is to amplify all that is Shaheen in a unique, single-minded proposition that would compel our brand to come to life. We want this philosophy to capture our commitment to our customers with the promise of the ultimate service in all that we do. A philosophy that reflects our growth and drives our vision.
Among local airlines, where does Shaheen Air, stand in your opinion?
Shaheen Air is the second national carrier of Pakistan. It is an all-economy largest private carrier in terms of its network and fleet.
At the moment we are providing secure air travel option for its passengers with economical fares in Pakistan not in terms of ticket price, but as an overall smart choice. With economical tickets, our airline offers many extra value-added services which are not offered without class bifurcations in other airlines at the moment. A few include extra baggage, full meal, new advanced fleet, additional in-flight services provided specially on international routes like Inflight Entertainment System and young energetic trained crew.
We believe in pioneering by emerging as innovative strategy makers of the aviation industry.
Can you comment on the changing trends of the aviation sector?
The global aviation industry is growing at a rate of 5.3% per annum. As per CAA published reports, 19,670,393 passengers traveled in 2015-16 with 65% international and 35% domestic traveling. This is approximately 9% growth over last year.
The industry is getting more competitive each day with new players coming in. We appreciatively welcome new entrants in the aviation industry and view competition as a positive notion. We encourage healthy competition for the betterment of the aviation industry in Pakistan and passengers in general.
What are some of the unique challenges you face in domestic & International travel?
Currently, Shaheen has a significant market share both in domestic and international destinations. The passenger traffic has drastically grown in the past years and our flights, especially on domestic routes are full. However, recent price wars initiated by the dominant carriers are affecting the profit margins for private carriers making heavy traffic routes commercially nonviable.
As far as international destinations are concerned, lenient policies and preferences favoring international players are making it difficult to operate on lower margins.
However, we believe in responding to market opportunities and challenges innovatively and competing by providing services which match international standards in economical fares.
What kind of strategy is needed to improve the progress of the aviation industry?
The current aviation industry of Pakistan has a lot of unexplored potential. The existing policies are not very welcoming for the local private players in the industry. Monopoly of the dominant player with leniencies and price wars are resulting in barriers to new players and contraction of the existing ones. Moreover, if we talk about tax structures, 40% of the ticket price at the moment is taxes to the government which leaves us with no choice but to operate on low-profit margins considering the affordability factor.
To welcome new players and increase the size of passengers through air travel, major changes in the tax structures and leniencies for the private players need to come into play. All the players should be working for the betterment of the industry which will, in turn, benefit the economy of the country.