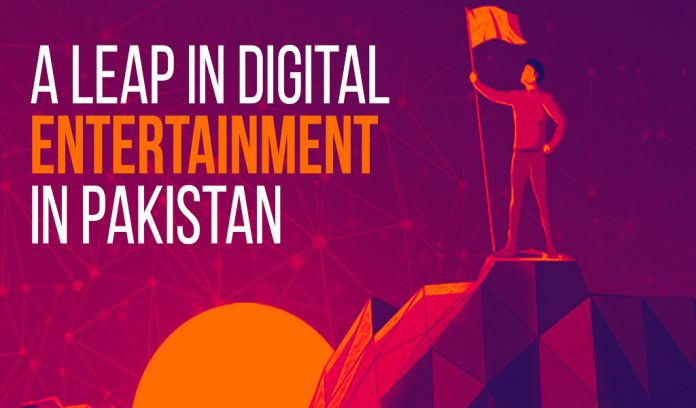 Hon. Dato' Sheikh Jamal, Chairman & Founder Mr. MUFE (Worldwide) talks about bringing Pakistan's very own digital entertainment platform to the country's audience and the power of local thinking.
Synergyzer: Congratulations in bringing Pakistan's first OTT platform to the country. What helped you decide in bringing an OTT platform to Pakistan?
Dato' Sheikh Jamal: I will start by thanking you for your noteworthy contributions to the community and highlighting us to your readers.
Back in 2016, I decided to have my own OTT platform. Three years later, we had successfully managed to establish it in Malaysia. I firmly believed that this venture could be instrumentally successful if run from multiple nations than a singular one; hence we are currently running it from 47 Asian countries.
My first priority was Pakistan. Other than the fact that I belong here, being a non-resident Pakistani, I felt that this enterprise needed to be shared with my people. Pakistan constitutes of a whopping 76 million internet subscribers hence our concentration in this market could prove to be a game changer.
With reference to success, our platform is based on five elements to the hilt. If we manage to pass muster with these, success is bound to follow through.
Our Audience – they love fresh, family oriented content and don't want the hassle of subscription fee or redundant interruption.
Our Content – we promise to experiment with innovation, bring stellar concepts, and stories that deliver genuine moral implications and are family-oriented, with an unparalleled standard of production.
Our Creative Team – let's be honest; so far there is no actual welfare for the people who make up our creative industry, no retirement plans, no royalty payments etc. Our platform promises to pay royalty per view to every single individual that makes up our team including actors, directors, writers, cinematographers, makeup artists, art designers etc. for a period of ten years! This will be additional to the contract of payment.
Our Sponsors – we provide a video inventory and real time analytics to our advertisers based on a systemised, economical strategy. The advertising charges on our platform happen to be the lowest in the world.
Our Company – our platform is planned out so that it starts earning after 70% pay-outs from our net profit. How cool is that?
"A true Thespian will not be able to impart anything substantial without others who understand their craft and can support the Thespian in delivering it."
Synergyzer: What projects have you been involved in, in Malaysia that earned you the title of Dato'?
Dato' Sheikh: I have been associated with multiple projects in Malaysia, both governmental and nongovernmental. I used to be an honorary member of the Economic Planning Unit, an institution directly under the Malaysian Prime Minister's Office. In addition, I was appointed by two ministries as the Tourism and Cultural Ambassador of Malaysia for the GCC Region, for being assiduously involved in two mainstream travel campaigns – Visit Malaysia 2007 and Malaysia Truly Asia. Also, I was the Patron-in-Chief for various Malaysian NGO's and leagues.
It was due to these collaborations and services on my end, that I was honoured with the title of 'Darjah Indra Mahkota Pahang' that translates to 'Honourable Dato', by the late DYMM His Royal Highness Sultan Ahmed Shah Sultan of Pahang Darul Makmu; a cachet I'll always be grateful for.
Synergyzer: How would you define Mr. Mufe?
Dato' Sheikh: Mr. MUFE, our official mascot, is a 36-year-old gentleman inspired from the renowned Greek philosopher, Socrates. Now Socrates is legendary for his remarkable contributions to the field of ethics. The youth of his time genuinely looked up to him, followed by mankind till date. To say his work and teachings on knowledge, morality, virtue and politics has proved instrumental for the global society, is actually an understatement.
Having said all this, Mr. MUFE is here to be there for you at every step, your buddy, if you would. He is an advocate for the creative content community, a partner for local businesses, and also, a great storyteller!
Why do we call him Mr. MUFE? MUFE is an abbreviation of Malaysia United Film and Entertainment – the name of our company. Mr. MUFE exemplifies what we stand for, as an organisation.
My Lepak Buddy means My Hangout Buddy; someone everybody can spend time with, while simultaneously being a source of, and partner in, sheer entertainment.
Synergyzer: There already are a number of OTT platforms accessible to Pakistani viewers including YouTube, Netflix, Amazon Prime, iFlix etc. How does Mr. MUFE intend to be different?
Dato' Sheikh: The answer to this is threefold.
For starters, we are very careful of what we put on display. Most platforms amount to 95% foreign content that not only exhibit moral values incongruent to the Pakistani society; they have nothing productive to offer to the country's economy, nor the content industry and neither the creative communications industry. We, on the other hand, are strongly in favour of content that is family-oriented, suitable for ages 9 to 99, and promotes Pakistani values.
In addition to this, we do not charge a subscription fee on Pakistani content for Pakistani subscribers. The advertisement frequency is exceptionally well-curated with 45-second ads to be played only at the start of the video, befitting both the viewer in terms of interruption-free content as well as the advertiser in terms of placement.
Lastly, we offer 100% freshly produced content for our platform. We also happen to be the first ones in Asia to pay royalty to our creative community for their welfare – long term job opportunities, international exposure, quality productions, providing opportunities to the workforce to up-skill their craft, state of the art creative technology, long term sustainable monthly income, and the list goes on.
"To say that Pakistan is years behind when it comes to technology would be an understatement: Pakistan needs to be propelled 20 years forward."
Synergyzer: What expertise will you bring to the Pakistani industry?
Dato' Sheikh: This is the era of the Fourth Industrial Revolution across the globe. To say that Pakistan is years behind when it comes to technology would be an understatement: Pakistan needs to be propelled 20 years forward in terms of automation, big data management, IoT, cloud computing and other such technological facets.
Mr. MUFE being a pioneer in the OTT platforms category plans to bring new avenues of business, creating job opportunities for the technologically-skilled youth of this country. In addition, this will hopefully compel international tech organisations to take Pakistan into consideration when scheming to invest abroad.
Synergyzer: What is Mr. Mufe's earning model?
Dato' Sheikh: Advertising and sponsorships. And as I have highlighted earlier, our advertising charges happen to be the lowest in the world.
Synergyzer: Economically, how does Mr. MUFE intend to add value to the current industry?
Dato' Sheikh: A monumental share of foreign exchange leaves Pakistan, owing to foreign OTT portals. This can't be good for our economy. Mr. MUFE will be a FREE platform, engaging an estimated 220 million Pakistanis with a hundred percent fresh, locally produced, family-oriented content. The far-ranging genre option; encompassing feature films, teleplays, dramas, cooking shows, health and beauty programs, talk shows etc. is an added advantage!
As I have stated time and again, since every single piece that we air is made locally, work opportunities will surge mightily. This marks a brand new space for our producers, writers and directors to experiment with full liberty and force of passion, and come up with well-curated, morally uplifting, brilliant content.
Synergyzer: What is meant by 'real-time royalty payments per view'? Who do you intend to include in this?
Dato' Sheikh: We happen to be the first platform in the world that actually pays royalty to the industry workforce; be it producers, lead actors, actors in supporting roles, directors, cinematographers, musicians, and the list goes on. This continues for ten years, as long as there are viewers of the program in discussion. All royalties are to be paid in real time. For example, say someone tunes into a show, the ad that runs before the beginning of the show will generate an amount of revenue, and an automated system will pay the royalty directly to the individuals associated with it.
Why we felt the need to do this was because we believe that if the survival of any household is not at stake, the members will focus on thriving, solely. There's a number of examples in our very own media industry, where veterans, unparalleled in their art, who contributed so much to the community, are either missing in action, or living in appalling conditions. A number of them died in poverty or survived on charity. There is absolutely no way this industry will thrive in the long run, if our heroes are not given their due share of respect.
I would like to share something here that would back my statement – the first actor was called Thespian, meaning 'Teacher of Morality'. A true Thespian will not be able to impart anything substantial without others who understand their craft and can support a Thespian in delivering it.
We should, individually and collectively, set our sight on taking good care of our Thespians, which will in turn, help them inculcate the long lost, much needed virtues into our society; and this can only be effectuated if they are paid what they deserve.
"The advertisement frequency is exceptionally well-curated with 45-second ads to be played only at the start of the video, befitting both the viewer in terms of interruption-free content as well as the advertiser in terms of placement."
Synergyzer: Keeping all of these things in mind, how do you intend to make Mr. MUFE a profitable venture?
Dato' Sheikh: Our platform is a win-win for all five constituents that I have already talked about – our audience, our content, its creators, our advertisers, and ourselves! We strongly believe no project can thrive if ambitions are limited to an individual entity. Once we are dedicated to working together, the odds of failing diminish.
Synergyzer: When do we expect the platform to become live for viewers in Pakistan?
Dato' Sheikh: Currently, we are in the midst of producing premium shows in Pakistan. We expect to set the seal on the initial productions around the end of March, 2021. That's when we make Mr. MUFE live for viewers in Pakistan.
Synergyzer: What more can the Pakistani market expect from Malaya United Films & Entertainment?
Dato' Sheikh: I would say, "Let the Party Begin!" to that. We have just started, and there's a long way to go. The sole hero here is the Pakistani audience. We strongly urge them to support their industry by watching shows created & curated in their home country, while we promise to deliver quality entertainment.
Be Pakistani, Buy Pakistani, By Pakistani.