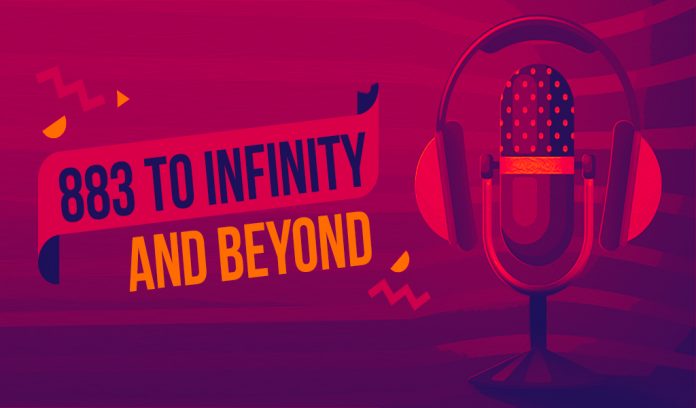 Don't do it.
That's what I heard, multiple times in a row, when I told some people that I was starting a podcast with a friend from across the border. I would've listened to them, too… were it not for the fact that I had heard this statement before.
They said the same thing when I told them that I was starting my own ad agency – Ishtehari – with only two years of on-the-job experience. That turned out to be not so bad, so I'm hoping this will work out for the best as well.
Before I proceed further, let me tell you about the strange creature known as Suveer Bajaj, who is my co-host on '883 to Infinity'. He is a driven, highly organized co-founder of Foxymoron (and now Zoo Media), part of India's most celebrated marketing and new media organizations. I sometimes suspect that either he's done mini-PHD on practically every topic under the sun, or that he is perhaps the world's most suave bullshitter. The man believes in 'having an Excel spreadsheet for every scenario' for crying out loud. He has an extra reserve of energy and enthusiasm on-cue and unleashes it on unsuspecting victims whenever he feels any conversation is flat-lining. In a nutshell, Suveer is everything I'm not.
But what's most interesting and polarizing about him is that he's an Indian.
Unfortunately, just being an Indian is already a pretty damning attribute in the eyes of Pakistanis like us. Same is the case across the border. We have a by-default hate and suspicion for people from our neighboring country, and the feeling is mutual.
"Every Wednesday, we dissect content, culture and creativity whilst taking on topics that matter to today's generation."
As fate would have it, Suveer and I had the chance of visiting each other's countries back in 2006 to 2008 and we were pleasantly surprised to discover that no, in fact, just being an Indian or just being a Pakistani doesn't necessarily make someone evil. From that eureka moment onwards, Suveer and I have been having conversations throughout the last decade and we have begun to realize just how systemic this bias is. More importantly, we began to celebrate our similarities and our differences; instead of just being afraid of them.
So when the lockdown happened and everyone started rethinking what to do with their newfound time, we had an idea. We were going to start a project together that was going to dispel this unfortunate and counterproductive mentality, so that even those Indians and Pakistanis who have not had a chance to visit each other's countries could begin to see the light, as we did.
And thus, "883 to Infinity" was born as a co-created podcast. By the way, the 883 in the title refers to the number of kilometers that lie between Bombay and Karachi, two cities with a historical link but a perception gap. While the distance is technically finite, the proverbial divide makes it appear infinite. This initiative aims to kickstart a conversation that the younger generation from the two countries can resonate with.
The podcast is neither an advertising-centric circle jerk nor another political shouting match, so it's a pretty well-differentiated offering as far as content goes. Every Wednesday, we dissect content, culture, and creativity whilst taking on topics that matter to today's generation. We often pair up interesting guests, such as Junaid Akram from Pakistan and Cyrus Broacha from India, or Chef Saadat from our side and Kunal Vijaykar from theirs, or even Junaid Khan (of Call the band) with Stu DaCosta (the composing brains behind Gully Boy's music). Other interesting people include couples with an India-Pakistan relationship, film directors that have worked on cross-border initiatives, academics and public figures. And every episode, the light-hearted but often enlightening conversation adds to our belief that yes, perhaps there is a chance to be more collaborative, rather than more divisive; especially in the context of millennials and younger demographics. We even have a co-created digital mural, with contributions from Pakistani and Indian illustrators, up on our Instagram page as living proof of how awesome things can be with just a win-win mindset. Just search "883 to Infinity" on Google, or YouTube, Facebook, Soundcloud, Apple Podcasts or wherever and have a listen. You might just get hooked.
Unfortunately, my crystal ball is out of battery, so I'm not sure if the haters will be right and producing this podcast is a mistake. Maybe it won't generate any traction, or maybe as super-busy agency founders we'll get bored of it, or maybe we'll get into trouble over it.
But as with everything else in life, it's important to take initiative. At least I'll be able to look back at this copy of Synergyzer and feel proud of what I attempted.
Listen to the podcast here.
ABOUT THE WRITER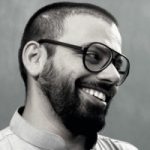 Umair Kazi is a Partner at Ishtehari. He can be reached at umair@ishtehari.com.