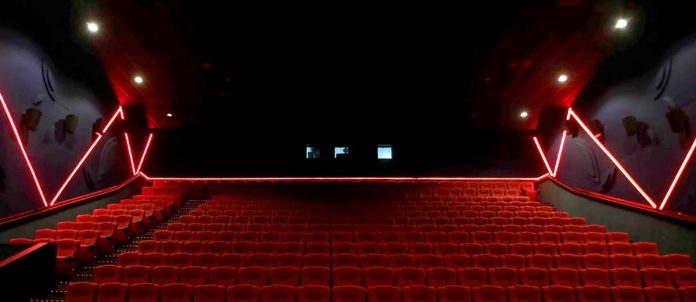 As originally published in Synergyzer Issue 5, 2017 – 'The Show Must Go On'
In the last four years, Nueplex Cinemas at The Place has emerged as the busiest cinema in the country, be it on a weekend or a weekday, a Pakistani film being screened or a foreign one; Nueplex has been concluding fiscal years as the most profitable cinema. Not only was it the first purpose-built cinema in Karachi in three decades, it also houses the largest screen in the country.
Jamil Baig, the man behind The Place, must be credited for providing the people from all over Karachi with a complete entertainment solution that has rides for kids, a food court for the rest and an international level cinema for all.
Four years back when you started The Place, were you expecting it to become the first-choice stopover for the entertainment-deprived Karachi-ites?
I had no idea about cinema business as I was associated with construction and real estate but yes, my experience as a businessperson helped me a great deal. I believe that experience isn't required when you venture into a business and that the best way to succeed is to engage the specialists in that industry. We did exactly that when we planned The Place and that's one of the reasons why people prefer our cinema to others.
Usually, people with a background in the film industry enter the cinema business but you had no connection with films or production. Why did you venture into this uncharted territory?
Whenever I went abroad with my family, we visited different malls that had cinemas and other facilities that entertained not all, but all. However, we didn't have any such facility in Pakistan and that's why we came up with The Place, the one-stop solution for the entire family. We selected DHA Phase 8 as the venue because it caters to a huge public from all over Karachi. We installed world-class rides to attract children, gave space to different brands and opened a food court that attracts youngsters and old people alike. Cinema remains our biggest attraction since it's our USP and we are thankful to the public for making it a success.
People must have advised you against going for such an expensive venture, considering the law and order situation in the city wasn't ideal at that time?
Yes, they did. Many came forward to offer their advice on going forward with the project because they believed that the return would be slow, which is true. However, had I not gone ahead, it would have deprived the audience of an excellent facility where they can visit day or night and go back home with a smile on their faces. It has become a must-visit place for those who visit Karachi from other cities. On my last trip to London, when I mentioned Nueplex Cinema to a cinema manager in London, he recognized it. In fact, people in my children's schools thank them for 'gifting' them Nueplex, which is nothing short of a compliment to me.
"If we are showing a Pakistani movie, we keep our share percentage with the distributor to 55-45 from the second week onwards, even if it enters the third week and beyond."
Please explain how the business of cinema works in Pakistan, especially in a cinema like yours where shows are nearly full most of the time.
Cinema business is different from other businesses as there are three stakeholders instead of two; we, the exhibitors buy movies from distributors (who buy it from producers) and run it in our cinemas. At Nueplex, we have a flexible set of rules: From what we earn through film tickets, we keep 50% in the first week and the rest goes to distributors, who pay producers based on their mutually agreed amount; the ratio is 55-45 percent the second week – 55% for us, 45% for distributors (and producers in turn). And if it is a Pakistani movie that we are showing, we keep the share percentage at just that should it enter the third week and beyond since ours is an industry trying to get established and it needs as much support as we can provide. Yet, we do change the ratio for a foreign film to 60-40, be it Hollywood or Bollywood, because they are already established industries.
And a fact that I am very proud of: Nueplex has proved to be a true game changer for the Pakistan film industry. Once local filmmakers started to realize the outstanding gross generated by our (Nueplex) cinemas, it led to a high influx of investment into the local film industry, since filmmakers became hopeful about the success of their films. This has resulted in an increase in the number of Pakistani films being produced and released every year. Hence, Nueplex being the highest grossing site for all Pakistani films has played a huge role in the revival of our film industry.
How do you feel about the substandard films produced in Pakistan; shouldn't there be a body to judge film quality and filter out the bad stuff?
Although it's a good sign that Pakistanis are making movies for cinema but yes, we need to have a committee comprising of passionate people who know about films. When a bad film is released, it hurts the audience's pocket more than it hurts the cinema; the next time that person would think twice before buying tickets of a Pakistani film and that's the bigger loss – losing the audience. There was a time when people would come and watch a Pakistani flick because of their love for the country but ever since our industry has entered into its current phase of revival, the audience selects good films only rather than watching every other Pakistani film being screened.
Producers complain about injustice to local films, as they believe that the 'other' films get better shows in cinemas. Is that true?
I would call it a baseless accusation since we allow shows to films based on their performances. In our country, only family-oriented films or comedies can do well as that's our culture. If someone makes a horror, art or superhero flick, it will not generate much audience because it doesn't cater to a sizeable crowd. People who experiment and fail accuse us of giving them fewer shows, but we do that because their shows didn't attract any audience at all. We only increase shows when the demand is high and cancel when there is no demand as then the cinema has to pay for the air conditioner, the projection, the lights et al when a show goes ahead. Such producers, who are not able to generate profitable ventures, blame us for their own face-saving, which again, is not the right way to do business because next time we will think twice about screening their films.
With Na Maloom Afraad 2 you ventured into production as Excellency Films. Why did you turn to production especially when things were going in your favor?
We turned to production not for our sake, but for the sake of Pakistani films; please realize that we don't make big budget films in Pakistan because the return isn't guaranteed since we do not have enough screens that will give us breakeven numbers, let alone profit. Usually, we make films that cost around Rs. 8 crore so that when the film crosses the Rs. 24-crore mark, it becomes a hit. However, it was about time that people started investing in our films so that we can compete with films from other markets. We ventured into production to give the makers a chance to think big and with the success of Na Maloom Afraad 2 that has given us the strength to do more.
"We have a cinema that operates 24 hours while India doesn't!"
Are you satisfied with the way films are being promoted in Pakistan?
Not at all, in fact, we need to learn a lot from countries that have embedded cinema in their culture. They market a film as if it is going to be the best film of all time while here we get to know of a film's release four days prior to the release date. That gives us very little time to schedule and provide the film the proper promotion it deserves. In Europe and other countries, they come up with innovative ways to promote movies such as in black taxis, buses, at other out-of-home avenues etc. while we don't have many avenues here.
Does a Hollywood film need such marketing? No. Even then they promote their films, which is why people eventually throng to cinemas, making even the most lackluster ventures profitable, while we believe that by appearing in morning shows only, we will do enough promotion. What our film promoters don't realize is that that is just one segment of marketing! We need to have comprehensive marketing plans that will compel people to leave their homes and watch our films in cinemas. I remember that when I was young, rickshaws and tongas in Lahore were used for film promotion and that's one of the reasons why cinemas stayed 'alive' in Lahore as this used to register the film well with people, and we used to find it interesting and closer to home.
What has been the biggest compliment that you have received regarding Nueplex Cinemas?
An Indian journalist contacted me a few months back asking how we keep the cinemas running for 24 hours because even in India, they don't operate like that. That is a huge compliment for me because, in India, they produce a lot more movies than we do, yet we have a cinema that operates 24 hours and they don't!
I told the scribe that Karachi never sleeps and you will find people on our roads, be it 10 pm or 4 am. We are diehard entertainment junkies who love to eat and watch films; two features of The Place…