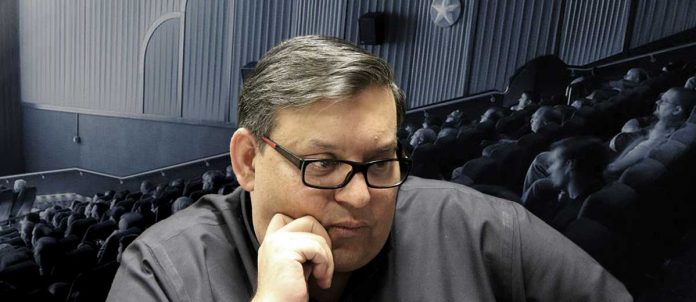 As originally published in Synergyzer Issue 5, 2017 – 'The Show Must Go On'
The Cinema Industry in Pakistan remains indebted to Nadeem Mandviwalla – the visionary filmmaker, film distributor, and Chief Executive at Mandviwalla Entertainment – who was the first one to realize that without multiplexes, there was no way forward and the opening of Atrium Cinemas proved it right. For the last 25 years, Mandviwalla Entertainment has been taking the cinema industry forward, be it by producing films, bringing Hollywood's best to Pakistan or being the lone voice of sanity in the chaotic business of films. Synergyzer talks to the man behind the multiplex revival and asks him about his successes, his failures and the way forward.
First of all, I would like to thank you for building Atrium Cinemas; our life wouldn't have been the same had it not been around. However, the count stopped after Centaurus and you now have just a handful of screens compared to the competition. Why?
My outlook is much different from that of others in the industry. In my opinion, most of the cinema development taking place right now will die out in about 10 years because of bigger plexes coming and taking over the smaller ones so I don't want to expand for the sake of expansion. I have also run 2 to 3 cinema sites and understand the numbers' game. What surprises me is the fact that people who have built cinemas are not creating profitable numbers at all! So why make new cinemas and incur losses? I am not challenging their reason, but I have my own reasons. However yes, when I do feel that some new venture is located in the right place to withstand a future of 20 years then surely we will go for a new such project.
There was a time when Nishat Cinema was considered the prime cinema in the city; how damaging has its destruction been to you?
Nishat was one of the best cinemas in the days of Single Screen Cinemas but today it would not have survived. It's not like the old times when people would head to Nishat Cinema for a film; now they look for convenience like valet parking and less traffic and Nishat had neither. With the current traffic situation, no one would have visited Nishat before 9 pm, had it still been around, and in the age of Multiplexes, it always would have been the last option.
You mean to say that Single Screen Cinemas has no future in Pakistan?
There aren't many Single Screen Cinemas left in Pakistan – the problem is much bigger in India where Multiplexes have taken over. Nowhere in the world is Single Screen Cinema considered a safe investment – even Bambino and Capri are still working because they don't have any other option. Given the chance today, they will sell the land without thinking twice as it will help them more.
Can you please compare the business of the two so that we can understand the difference?
Sure. When I was managing Nishat, we could never exceed selling tickets more than Rs. 5 to 6 crores while I believe Capri also has annual sales of about Rs. 7 to 8 crores. Atrium Cinemas started in the first year with a sale of Rs. 20 crores and now makes an average of Rs. 25 crores in a year which is more than that of the two Single Screen Cinemas combined. Atrium covers 1/4th area when compared to Capri/Nishat, has lesser number of seats, but wins because of the number of screens. So tell me, why put time and resources on a single screen setup when you can earn more through multiplexes? The numbers don't make much business sense!
"In Pakistan, we are in a developing stage and we can't experiment with pricing and other things. The best way to improve the scenario is to make more cinemas so that the ticket prices can come down and cinema would become a necessity versus a luxury for the audience."
You produced Very Good Duniya Very Bad Loag in the '90s and later made a comeback, again as a producer with Moor. Why did you not produce more movies, especially after you had turned Atrium into a world-class cinema?
I really want to make a good film and that's why I am working on a script with a friend of mine. Having a good script is a huge task; as important as casting the right actors. I don't get enough time to sit with the director/writer and you can blame me for that, but we want to show that with good content we can also make good films.
Has the arrival of new cinemas in the Clifton & DHA areas of Karachi affected Atrium in any way?
Yes, it has, but not as much as I was expecting. The crowd that visited Atrium for Hollywood films has shifted to the newer cinemas because of convenience, which is the order of the day when it comes to cinemas and moviegoers prioritize it higher than proximity. Cinema business has to run on convenience; a person will only go to another one unless your cinema is really bad.
When you were building Atrium, did you know that it will go on to become a landmark for Karachiites?
Well, I sort of had an idea because it was always going to be the first mall with a cinema, especially the 3D one. We had the opportunity of creating a standard of our own and I am glad that we were blessed to be able to do just that. Had it been a cinema of below-par standards, people would have rejected it but thankfully, they liked it.
Did you ever think of extending cinemas in Atrium Mall, considering the move can get you more business?
When we opened Atrium Cinemas, we were getting good business and yes, we did think of opening more screens; an idea that died down sooner than later. The structure of Atrium Mall doesn't allow us the scope of making more cinemas otherwise we would have made three on the second floor long time back. The engineer strictly told us not to think of adding screens as the mall wouldn't be able to handle it and we took his advice.
When Atrium Cinemas opened – especially the 3D one – people fell in love with it; how did you feel back then?
It felt great to venture into an unknown territory when others weren't even thinking about such a move. I am glad I was blessed to be the first one in the multiplex business and to introduce the revolutionary Digital Projection in Pakistan. Had it not been me, someone else would have opened such a cinema and Karachiites would have loved it.
Tell us something about your screen size and capacity of cinemas so that the readers can assess before making their next move.
At Atrium Cinemas, the screen size of A and B cinemas is 30 feet whereas D has the biggest screen of 42 feet. There are 154 seats in A, 176 in B and 316 in D which cater to all kinds of audience.
Here, I should mention that Nishat had a 52 feet screen, Capri's screen size is 57 feet while Nueplex has more than 50 feet large screens. Our cinema D is good enough for the audience – even A and B are compact but offer very good experience by my standards.
At Centaurus Mall, Islamabad; our cinemas have two big screens and two smaller ones. The smaller ones are 20 feet screens with less than 100 seats in each cinema, hence quite small in comparison. As long as we don't have a competitor in Islamabad, Centaurus Cinemas will continue doing well.
Why didn't you attempt making a cinema in Islamabad where the competition is non-existent?
Take Atrium and Centaurus as case studies. The amount of business Atrium does in Karachi is exactly the same as Centaurus' which is a huge thing. There is no bigger space than Centaurus in Islamabad that can accommodate 40,000 people in a day.
In India and the United Arab Emirates, they sell cinema tickets according to timings – the ticket is least priced in the morning and priced higher at night. Can't we adopt the same technique in Pakistan?
Whenever you compare different scenarios be it in cinema or any other field, compare yourself with someone of your own size. India has a huge film industry that is dependent on 3500 screens unlike us who hardly have 100. In Pakistan, we are in a developing stage and we can't experiment with pricing and other things. The best way to improve the scenario is to make more cinemas so that the ticket prices can come down and cinema would become a necessity versus a luxury for the audience. By the way, I assume that there is a pact between cinemas and the distributors in the USA according to which they can't decrease ticket prices at night; the discounts they offer are mostly in the daytime when they can do anything they want.
"Our film industry is very nascent and does not have the 'pull' effect YET on the audience to solely provide the number of films which are required by the cinemas."
How badly was Atrium effected during the 5-month self-imposed ban on Bollywood films?
My two cinemas Atrium and Centaurus incurred a downfall of more than Rs. 6 crores cash flow and you can imagine how bad it would have affected the rest. The indecisiveness of our government cost us that and the inability to release a good film in that period made things worse. Our film industry is very nascent and does not have the 'pull' effect YET on the audience to solely provide the number of films which are required by the cinemas. Except for India and America, every other country banks on foreign films; be it Germany, Australia or the United Kingdom – we are like these countries and the sooner we realize that, the better. If we stop films from other countries – be it Hollywood or Bollywood – it will isolate us; the government and more so the cinema industry, as everything is available on the internet.
How do we stop piracy from destroying the business of DVD shops and now cinemas?
It's not about stopping piracy; it's about regulating the distribution of films on all formats like DVD Shops, cable channels etc., so everyone in the business is protected by regulation and has the same policy for doing the business. Once all platforms are regulated like cinemas in Pakistan than automatically it will cut down 90% of piracy down to 10%.
And finally, tell us about the fabulous Atrium website …
Cinemas in the world do not have a call center but everyone has a fully operational website that can buy your tickets for you. We have already improved our website which is now fully operational. Right now, it is the most updated website in the region providing the opportunity of buying tickets online and a most updated COMING SOON section where you can see which films are coming in the near future.