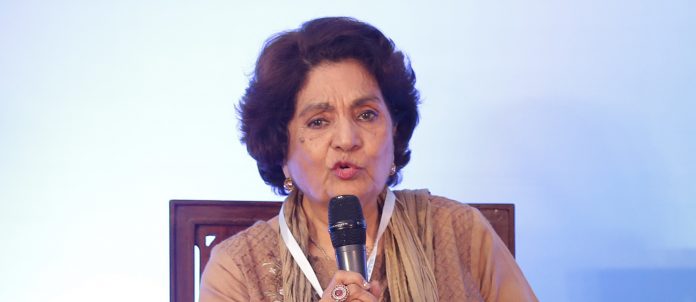 This interview was conducted in 2018.
For those who have grown up watching PTV dramas, Haseena Moin is a name they respect; from Shehzori in the 1970s to Jaane Anjaane in the 90s, Haseena Moin had delivered hit dramas that are still remembered for their uniqueness. She was the mastermind behind Ankahi, it was her pen that created Tanhayyan, she wrote Kiran Kahani at a time when PTV was not fond of airing original content while Dhoop Kinarey is still considered as one of the best TV plays of all times. Since the advent of private TV channels, Haseena Moin has written for numerous production houses but the plays haven't attained the cult status like her earlier creations. Does the audience prefer modern plays over the family dramas of Haseena Moin or does she miss the great directors of yesteryears, we asked Haseena Moin all these questions and she gladly answered them all, on the sidelines of See It Be It. 
Why don't we see you create magic for TV like she used to back in the day … has the advent of private productions dealt a huge blow to the drama industry in Pakistan?
I can't comment on the current drama scenario because I had stopped watching TV a couple of years back. The kind of stories that our writers come up with is not only unrealistic but also encourages the audience to do things that aren't considered a norm in our society. As for the audience, they are still literary sound and if shown something different that is both realistic and emotional, they will watch it and appreciate the effort.
You've created several outstanding characters in your serials but today, we don't find the same thing in TV dramas. Where have we gone wrong?
A TV drama and its characters only come to life when you aren't just doing characterization; you actually live it too. If you haven't done that, then those characters are just mere pieces of paper. So I've always tried to ensure that people remember the names of the characters in my serial even if they don't remember me. I mean, everyone remembers Kiran, Qabacha, Mamoon, and Tony from my dramas – these names are forever. Behroz Sabzwari still jokes with me that he has forever been labeled Qabacha and that he cannot be anything else. It's all about putting in the hard work.
Societal pressures on women have made it very difficult for them to get ahead, realize their full potential, and succeed. How can we overcome this hurdle?
When I started working for television, there were hardly any women doing the same. I've always been very sure of what I wanted to do so I put my best foot forward and I was successful. It was both hard work and luck. I kept on working hard and each serial that I did was better than the one before it. When you really try to do something with the best of intentions, God supports you in your plans.
Do you think people have stopped believing in strong women in our part if the world? How do you change a mindset like that?
With my work, I changed a lot of preconceived notions people had about working women during my time. It was only after I took a 10-year break due to an illness that things changed drastically. Female characters have been commercialized and turned into a commodity – basically, the portrayals that get high ratings are the ones that are most commonly shown. Currently, women are constantly being oppressed and victimized on TV so that the audience can sympathize with them. Subconsciously, however, we are being made to believe that these women will never be worth anything. Look at Hamsafar, for example. The main story was about the relationship between a woman and her daughter-in-law. The latter is constantly tormented and eventually, she returns to her husband in spite of what he has done to her. I feel these things can and should be changed but TV channels need to make that effort.
Can you tell us about some of your upcoming projects?
I recently wrote the script for a film based in Scotland. The movie is titled 'Sach' and it is being produced by Zulfiqar Ahmed – Sheikh. Another script is also in the pipeline for a Shoaib Mansoor film but I haven't created the plot for it yet. Then there is another serial with ISPR that is in the pipeline.
What did you think of SIBI? Do you think events like this will happen on a regular basis?
I really enjoyed being a part of SIBI and I don't think it's a one-off thing. I really liked the fact that women here spoke about everything in a light-hearted manner. The overall tone of the event was not somber and that's a good thing. These women proved we can make ourselves heard, succeed and get ahead in life. They are a testament to the fact that women are hardly weak; they can do anything if they put their minds to it.
Stay tuned to Synergyzer!