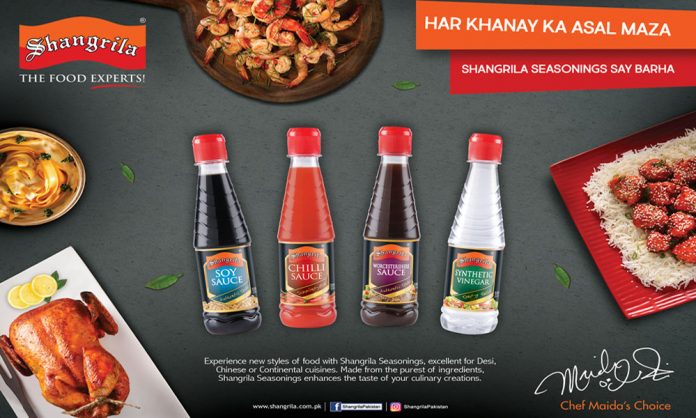 Based in Karachi, Shangrila Private Limited began its operations in 1988 with the launch of Shangrila Seasonings. With the successful launch of the Seasonings, soon Shangrila became the first local player, securing the lead position in the category. The seasonings range includes Soy Sauce, Chilli Sauce, Synthetic Vinegar, and Worcestershire Sauce. Later on, the company introduced Tomato Ketchup, Sauces, Pickles-in-oil, and Juices, garnering both, a local as well as an international consumer base.
THE CAMPAIGN
With the aim of rejuvenating and redefining Shangrila Seasonings, the range went through a packaging revamp to give the brand a contemporary and premium look.
For the promotions, Shangrila came up with a stop-motion food DVC that highlighted multiple usages of Shangrila Seasoning products that were not only limited to Chinese cuisine but can be included in Desi and other kinds of foods, also. It can be used to enhance the flavor of meat, fish and poultry dishes, as well as compliment snacks, soups, sauces and gravies.
Hence, the campaign's tagline, "Har khanay ka asl maza..Shangrila Seasonings se barha."
DIGITAL PROMOTIONS
The campaign was massively covered on various digital platforms, along with newspapers and magazines. To emphasize the maximum usage in other kinds of cuisines, Shangrila launched YouTube videos featuring Pakistani dishes, prepared by Chef Maida, their brand ambassador, using Shangrila Seasonings. Furthermore, on their Facebook page, they hosted numerous giveaways that helped in generating audience reach.
OFFLINE PROMOTIONS
The company initiated "Shangrila Cooking Icon" competition with Chef Maida as the judge. The competition took place in various women's colleges in Karachi, Lahore, and Faisalabad. Apart from that, Shangrila regularly encourage CSR activities and  sponsors various academic competitions such as, Dawn Spelling Bee, Baitussalam Olympiad Karachi and Pakistan Scrabble Team for Junior World Scrabble Championship which currently held in England.