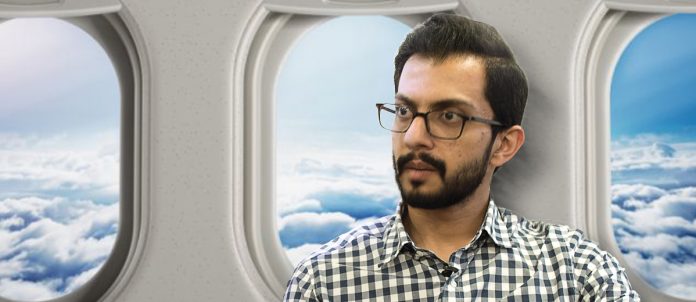 Shazil Mehkri, CEO, SastaTicket.pk, talks about the online travel marketplace for Pakistanis that is offering travel solutions to suit every pocket.
Synergyzer: Please give some details about SastaTicket.pk.
Shazil Mehkri: SastaTicket.pk is a one-stop shop for all travel related services. A leading consolidator of travel products, it provides reservation facility for domestic and international flights, domestic and international hotels, and holiday packages. We created Sastaticket.pk in June 2016 to empower the Pakistani traveler with instant bookings and comprehensive choices, aiming to deliver value by offering a range of travel products with the highest standard of service along with cutting edge technology.
Synergyzer: How are you able to offer the cheapest of deals through your website? 
Shazil: Backed by the second-largest travel management company in Pakistan, Quality Aviation, we have been working in the travel industry since 1995. This allowed us to build a strong repute amongst all the major airlines and enabled us to negotiate much better deals for our customers. It's our dedication, commitment, and vision that has allowed to position ourselves in such a way that we confidently offer the cheapest hotels and airline tickets in Pakistan. Furthermore, we also have a Best Price Guarantee, if you can find a price lower than ours, we'll match it!
Synergyzer: What are your partnership terms with airlines and accommodation estates?
Shazil: Like I said, we have been in the travel business since 1995, which has allowed for us to have a strong working relationship with all domestic and international airlines operating in Pakistan. Furthermore, we have agreements with over 300 domestic hotels and have access to over 200,000 international hotels. We literally went from hotel to hotel and negotiated the best terms and prices possible.
Synergyzer: What is Sastaticket.pk providing to partners differently than other travel related portals?
Shazil: While there are several things I could point out, what really sets us apart from our competition is our industry experience and our level of transparency. We have no hidden fees, no additional charges or markups and on top of that, we provide a "Best Price Guarantee".  We provide a one-stop solution for flights, domestic, international hotels, and packages.
Synergyzer: What is the business potential of tourism in Pakistan? What percentage business out of this is being generated through online travel businesses?
Shazil: Pakistan is conservatively a $1.5 billion travel market, and as per industry experts, online travel business share is only 5% of that total figure.
Synergyzer: How much growth in business has Sastaticket.pk experienced till now?
Shazil: We launched Sastaticket.pk a little over 6 months ago and the response we received organically was phenomenal. Six months into the business and I would say the customer traction is there and it's only a matter of time before we become the leading travel portal in Pakistan.
Synergyzer: On what basis do you provide ratings for hotels and guest houses?
Shazil: We have a hotel specialist team across the country that visits each property before it is listed on our website. Hotels and guest houses are rated initially by the concerned local authority, such as Pakistan Hotel Association. If our hotel specialist team's review of the property is not matching with the rating assigned by the concerned rating authority, we maintain the right to list the rating that we feel is correct. It is vital for us to ensure that our customers are fully aware of the property's standards, features, and amenities they are planning to book.
Furthermore, we are now introducing user generated reviews, as it is one of many ways for us to ensure transparency and it only helps us grow as a company. We encourage all of our customers to rate the hotel or guest house as per their experience so we can ensure that future customers are able to benefit from their feedback. This review system is also beneficial for pro-active hotel managers as they are able to take corrective measures to ensure that their review scores stay competitive. If a hotel is consistently in the red and has been receiving negative feedback and shows no signs of improvement, we delist them from our website.
Synergyzer: What are the top 5 business & leisure destinations that Pakistanis travel to?
Shazil: While it would be hard to draw comparison of the share of business and leisure destinations that Pakistanis travel to, the top 5 business destinations in Pakistan are your mainstream metropolitan cities such as Karachi, Lahore, Islamabad, Multan, and Peshawar. Top 5 leisure cities, and also my favorite, are Swat, Gilgit, Naran, Hunza Valley and Murree.  The top 5 international destinations are Dubai, Kuala Lumpur, Bangkok, London, and New York.
Synergyzer: Any interesting trends that you have seen in terms of traveling and hotel booking? 
Shazil: Traveling has become a major part of our popular culture. Pakistanis of all types; single, married, family, budget, high earners etc. are prioritizing travel over other expenses. This has resulted in the rebirth of domestic tourism and has resulted in growth of international tourism. Social media penetration has played a big role in this too.