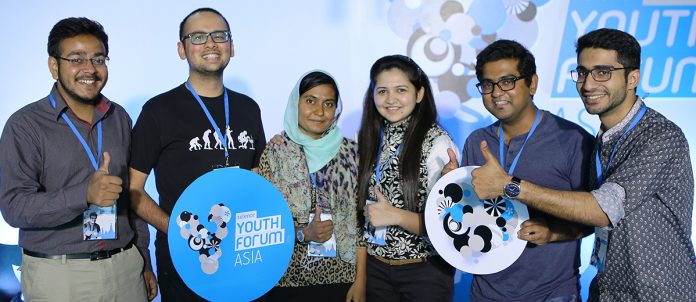 Irfan Wahab Khan, Incoming CEO, Telenor Pakistan talks to Synergyzer about Telenor's youth mentorship mechanism built around Telenor Youth Forum, djuice Apportunity and Telenor Velocity.
Majority of Pakistan's population is under the age of 30. Born into a digital age, these young minds have the ability to innovate and believe that the power of technology can create action and real change. Therefore, Telenor Pakistan has made this its objective to channelize the energies of the youth to contribute not only towards digital inclusion of Pakistanis but also to socio-economic development that information and communication technology can accelerate. Telenor Pakistan's vision is to empower societies and become the favorite digital lifestyle partner of its customers; ambitions which Telenor believes cannot be achieved without engaging Pakistani youth at the helm of this digitally transforming society. To engage and empower the youth, Telenor has set up three major initiatives that aim to showcase their capability and support create tangible solutions to societal problems.
TELENOR YOUTH FORUM
The Telenor Youth Forum (TYF) is one such initiative that works to channelize energies of the youth. TYF started as Telenor Youth Summit in 2013 in collaboration with the Nobel Peace Center (NPC), with the aim to engage leaders of tomorrow in meaningful and collaborative dialogue, inviting youth from Telenor Group's 13 markets in the Nordic region, Europe and Asia, to share their perspectives and ideas on using digital technology for positive social change. In 2015, the summit evolved into Telenor Youth Forum, with physical gatherings in Oslo and Bangkok, making it a year-long program.
The Telenor Youth Forum is a year-long commitment that begins in Oslo in December and is timed to coincide with the Nobel Peace Prize festivities. The young delegates work in teams on their assigned challenges, aiming to create engagement, awareness, understanding and ultimately peace. They meet again in May the following year, in Bangkok, to continue their journey. The culmination of their commitment to the program is the unveiling of a digital exhibition in collaboration with the Nobel Peace Center in autumn, the same year.
This year, the Oslo-based forum expanded to Asia for the first time, for a regionally-focused forum that is centered on solving some of the most pressing youth issues in Asia, including youth unemployment, dialogue and access, as well as less talked about topics such as mental health. The 28 participating delegates were alumni of the global Telenor Youth Forum from the past three years and represented Telenor's six markets in Asia: Bangladesh, India, Malaysia, Myanmar, Thailand and Pakistan. During the two day forum, the delegates were organized into teams and guided by world-class mentors and speakers from organizations such as the United Nations Development Programme, UNICEF Global Innovation Centre, and the Nobel Peace Center, who provided expert resources for strategy building, design planning and solution delivery.
The delegates were trained on design thinking and given an opportunity to learn, ideate and prototype solutions under the guidance of world-class mentors and professional networking in an international setting. They discussed solutions to some of the most daunting challenges facing Asia's youth. A Pakistani delegate from Lahore was part of the team that presented the idea of a solution for tackling youth unemployment, which was chosen as the top presentation at the Forum. The team proposed the development of an online portal to address both current joblessness and prevent future unemployment by helping young people make the right life decisions, explore occupations and take online learning courses. This winning team will be invited to Oslo, Norway, as featured speakers in this year's upcoming global Telenor Youth Forum.
The recruitment for TYF 2016 is underway, and interested candidates can visit telenor.com.pk/youthforum to learn about the application process.
TELENOR VELOCITY
Another initiative by Telenor to facilitate young entrepreneurs is Telenor Velocity. Launched in February 2016, the program focuses on empowering startups by providing support through Telenor's infrastructure and services. It is a 6-month program that covers all aspects necessary for startups to survive, compete, and scale. The shortlisted startups get the opportunity to benefit from Telenor's in-house expertise, physical and digital distribution channels, payment solutions, market intelligence, and access to customers through the telecom giant's online portals for accelerated growth and scalability.
Those startups with a minimum viable product (MVP), which is the initial version of a new product that allows a team to collect maximum validated learning about customers; some market traction and those  formerly graduated from any startup incubators in Pakistan, can apply for Telenor Velocity. The core idea is to help startups grow and scale (accelerate), hence the need for slightly mature startups.
The program puts a lot of emphasis on how a startup can leverage existing network technology and infrastructure to grow. Such as using Telenor's network for designing SMS marketing campaigns or deploying a product on the telecom operator's retail channel, Velocity looks for ideas which can build upon the existing strengths that Telenor Pakistan has to offer.
The company thrives on the access to wide ranging ideas coming from outside its eco system. Collaboration with startups gives it the opportunity to learn from their agility, entrepreneurial mindset and fresh perspectives on things. This way, the company is hoping to enable participants go big as part of a symbiotic relationship. Velocity currently has 5 startups on board for the first batch, fully integrated on various fronts with Telenor Pakistan and executing their growth strategies for 2016.
DJUICE APPORTUNITY
Telenor's third initiative, djuice Apportunity provides the tech-building youth of Pakistan a platform to showcase their mobile apps on a national and international level. Apportunity was an initiative launched by Telenor's sub-brand djuice which focuses on enabling the youth through highly technological platforms for a progressive Pakistan.
The program works to develop an eco-system with a focus on technology and youth-enablement by helping young app developers connect to the right stakeholders with an opportunity to receive mentorship and guidance, helping them to reach the right market for their mobile apps. Apportunity primarily focuses on the youth of Pakistan and start-ups, enabling them to fill existing market opportunities with their mobile applications. This not only helps the entrepreneurs but also substantially boosts the local app economy in Pakistan by providing enriched localized content catering to market needs. So far, the platform has promoted localized mobile applications in health, education, entertainment, governance and IoT (Internet of things).
Telenor allows winners the opportunity to feature their app on Appbox, the telecom company's online app store that hosts both Android and iOs apps. On an average, Telenor Appbox receives 0.5+ million unique customers and 0.25+ million downloads per month. The apps featured there have direct operator billing enabled, which means that buyers can pay through their mobile phone balance without using a credit card, which ensures high penetration for the apps. Savaree by Qasim Zafar is an example of an app that got featured on the Appbox. Moreover, the winners of the Apportunity contest get to compete globally at international forums where they not only pitch their mobile apps and business ideas to potential investors, but also receive effective mentorship and guidance from the best mentors in the global industry.