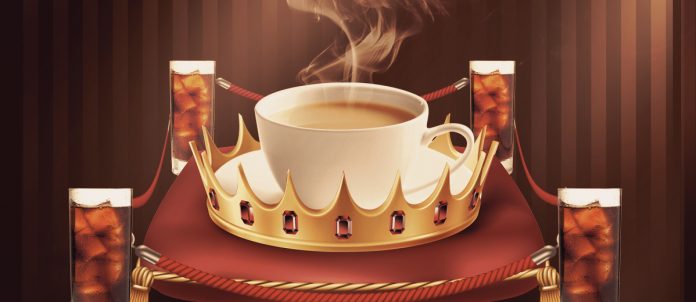 As originally published in Synergyzer Issue 2 – Annual 2017 – 'Abracadabra'
A sore point for tea marketing companies was always this: The youth did not drink tea the way their elders did. Even the owner of a famous local tea company confessed to me that his children did not drink tea. Several efforts were made by multinational and local tea companies to woo the youth. Zoheb and Nazia composing a song over a cup of tea, Ali Haider and Hadiqa crooning at a concert with a hot cup of tea in hand (miraculously not spilling a drop)… such campaigns did not really work well for the brands in question. In an effort to attract the youth, tea companies experimented with several formats; teabags making hot tea easily accessible, iced tea in an effort to enter the cold beverages forte, positioning green tea for health, opening tea café's such as Teavana internationally (post Tazo acquisition by Starbucks to do to tea what it did with Coffee) and Chai Khana locally; to make it hip and cool to have tea and so on.
On the other hand, the sister hot beverage Coffee gained a hip reputation largely due to brands like Starbucks and mainstream efforts of Maxwell House and Nescafe. Although more green coffee is produced globally than tea — 8.5 million metric tons of coffee versus 4.7 million metric tons of tea in 2011, according to the Food and Agriculture Organization — it takes only about two grams of tea to make a cup, compared with 10 grams of coffee. As a result, as British geographer David Grigg wrote, "Worldwide three cups of tea are drunk for every one of coffee." Coffee predominates in the Americas and in continental Europe, while tea is preferred in most of Asia and the former Soviet Union.
Both tea and coffee are the world favorite pick me up drink in the morning. Millions of people around the world start (and often continue) their days with a hot, stimulating beverage. There is something about the warmth of a hot beverage (and the caffeine I suspect) that makes it the choice of mornings. And yet, we now find cola and coffee brands trying to woo tea drinkers in Pakistan to quit tea and join their respective brand wagons.
Chai versus…
Recently in an ad by a coffee brand in Pakistan, it challenged the young to adopt coffee as the wake me up beverage instead of tea. Interestingly, all the reasons put forward as an argument to do so had to do with technological advancements – be it friend request methods, mediums for listening to music and watching a film. Perhaps they did so as the target audience would be able to relate to these examples well. Conversely, a tea brand in Pakistan recently used the internet versus human connectivity as a means to demonstrate that tea connects emotionally, hence appealing to the core of what tea represents to Pakistan.
Colas were not to be left behind in luring the morning crowd to replace hot with cold beverage. In the US, a very ambitious effort was made by a cola company by creating a special breakfast variant of its famous cola brand called A.M. (with product modifications such as increased caffeine and lower carbonation). The effort failed as even the most die-hard of its consumers could not bring themselves to replace a hot beverage with a cola in the morning.
A recent in your face effort in Pakistan is seen with a series of tactical commercials that diss tea using the famous "Zalima" song to lure tea drinkers. The first ad targets the "afternoon tea moment" – thankfully the breakfast was left wisely alone this time. In it, one can see a man enjoying a cool drink in the summer whilst the lady is all composed and ready to drink her afternoon tea (the time on the clock at the beginning of the ad makes sure we know what moment is being targeted). Of course, the charm of the boy, the cold beverage and the background Zalima track is too much to resist for the damsel and she pushes her teacup aside and advances boldly towards the cola.
In a follow-up to its "afternoon tea moment ad", the same cola brand targeted another "tea moment during wedding/dholki" – this time not even sparing the grandmother from its spell. Again, the Zalima score seems to be the license used to make foray into these traditional tea drinking moments. Something makes me believe they are not done yet – there are still some notable tea moments left to target. Not to be left behind, tea lovers primarily through social media have responded with their own messages – mostly humorous retorts using the word Zalima, such as "Wo Zalima hi hai jo Chai na Pilaey".
What's In It for Tea?
Whether the cola brand attracts the youth to abandon its tea drinking habits is yet to be seen, but there are certain cultural sensitivities which are being pushed in the two ads mentioned above. In the first one, the girl in an uncontrollable urge takes the bottle of cola from the guy (whom she presumably does not know personally based on her initial reaction) and drinks from the same bottle he was drinking from earlier. The move is highly suggestive and would probably offend some (not to mention the obvious hygiene issues at play).
In the second ad, the young groom addresses a much older lady, presumably the grandmother as "Zalima". Most grandmothers in our culture would take offense to a young man referring to them in such a way, but of course the lady in question in the ad joins the fun and drinks the cola abandoning the tea (and since it's a Regular cola version and not Diet, one can assume she represents the lucky few in her age group who have successfully avoided diabetes in their lives).
Cultural insensitivities aside, what does the cola brand targeting tea habits and moments hope to achieve with these latest series of tactical commercials? Do they think they can grow sales, change the tea drinking culture, re-position tea as a boring beverage or for the old at heart? Probably all of the above. The way these marketing companies approach their potential market is not by competing in their respective categories. So a cola company will not just look at other cola beverages as its competition – they will look at the Share of Throat and all alternative beverages that compete with it for this share.
"Tea is the archetype beverage of Pakistan; served in sickness, health, celebrations or mourning."
I recall a famous incident that happened with a friend who worked for a cola company's Vietnam business. Sales were great and their global head came for a visit. Fishing for compliments, the friend, who was in sales asked the global head if he was impressed with the achievements. The reply from his head stunned my friend. "Son, the day our cola poured out of the taps in Vietnam instead of water is the day I will be impressed". It is this passion and drive which compels these marketing companies to go after all competing Share of Throat beverages, and tea being one of the leading ones, is a logical target.
Habitually, what is it about tea that attracts us in Pakistan – be it young or old? It is the archetype beverage of Pakistan; served in sickness, health, celebrations or mourning. It celebrates the way we are and the way we live. It binds the tribe into one regardless of gender, religion, class or creed. A first question when someone visits our homes is always, "Chai ya thanda?" – an insight picked up well by the same cola brand in India with the actor Amir Khan using thanda as a reference to the brand in question.
Old versus New
The larger debate one could argue is the abandoning of old habits and adopting new ones. Detergents versus Laundry Soaps (a local detergent brand has many ads on this theme and is very successful), Special Toilet Cleaner versus Tezab (Fahad Mustafa educating us on this regularly), Chocolate versus Traditional Sweets (Kuch Meetha Ho Jaye), Anti-Bacterial Soap versus Ordinary Soap (superheroes to the rescue), Packaged Potato Chips virtually replacing the old bakery ones, Pampers replacing traditional Cloth Nappies, Mobile e-wallet versus Traditional Modes of Sending Money, International and Local Modern Trade versus Traditional Kiryani and Mom & Pop stores, Online shopping vs. Traditional Retail and so on.
Where technological advancements have made it easier to accomplish previously difficult tasks such as communicating through mobile phones versus snail mail or sending money digitally, new habits are forcibly acquired due to necessity. Departure from well-entrenched habits deep-rooted in cultural, historical & geographical nuances are harder to achieve.
Tea is such a habit – in rural villages it is not just a beverage but a complete meal. I have seen some poor households having the strained remains of loose tea with bread as a form of gravy. Such is the bond it enjoys with consumers in the heartland and breaking this bond will take a lot more than some cute tactical commercials.