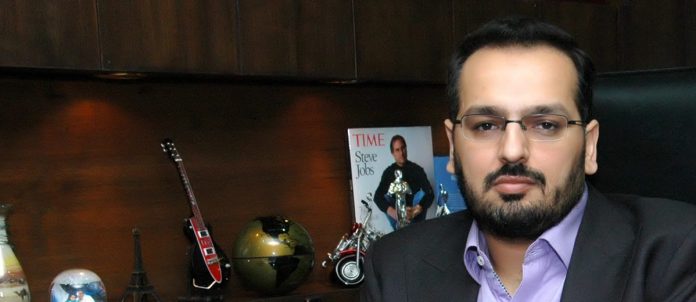 Mohammad Jerjees Seja, CEO – ARY Digital Network talks about films and creativity in our TV industry.
Synergyzer: Please give an overview about ARY Group.
Jerjees Seja: ARY Network is part of the ARY Group, started by Haji Abdul Razak Yaqoob (who recently passed away), which is into Gold Jewelry, Construction and Telecommunications. The ARY Network was launched in 2000 by Mohammad Iqbal the chairman of ARY Network from London which at that time were the official sponsors for Miss Universe for ARY Gold. Initially it was developed keeping in view the viewers of United Kingdom. Afterwards, the network shifted its offices from London to Dubai and later on, entirely to Pakistan. Currently, we have eight television channels, namely, ARY Digital, ARY News, ARY Musik, ARY QTV, ARY Zauq (USA), Nickelodean Pakistan, HBO Pakistan and the recently launched, ARY Zindagi. Mr. Salman iqbal, Founder and President of ARY Network has taken the network to global heights through his vision and dedication for which we all are a part of.
Synergyzer: Give some brief details about your career.
Jerjees: My career spans over 15 years in the media industry. I started from Interflow Communications then moved to Orient Advertising's Media division, Evernew Group, where I brought in Carat, the international media planning & buying specialist and digital and non-traditional media solutions provider, and became the Chief Operating Officer of Evernew Concepts and Evernew Entertainment.
In 2005, I joined ARY Network as its Executive Director and went on further to assume the role of Chief Operating Officer. Currently, I am the Chief Executive Officer of the ARY TV network.
Synergyzer: Tell us about The Platform and ARY Film Awards.
Jerjees: In the business of media, innovation is of pertinent importance. At ARY, we seek to do just that. ARY along with Nadeem Mandviwalla, Managing Director of Mandviwalla Entertainment launched The Platform, an initiative that educates and facilitates young directors in promoting and showcasing their cinematic productions. We realized that our young filmmakers are highly educated and skilled in their field, but do not have the exposure on how they could portray their work to the masses. With the introduction of The Platform, we made information and resources available for such filmmakers who were making independent art or documentary films, and they fast tracked themselves and are now producing films for the commercial cinema. We launched and promoted the movie Josh and Lamha (Seedlings) and Later ARY Films launched Mein Hoon Shahid Afridi, Zinda Bhaag and Waar.
Also, we introduced Pakistani movies to the global viewers by taking Waar to UK and the Middle East while Mein Hoon Shahid Afridi was shown in the Middle East, where surprisingly, both these movies did exceptionally well. The global audience agrees that Pakistan is capable of producing superb quality content. Bollywood trade analyst and film critics expressed their astonishment to see Waar receiving such a phenomenal response from the UK audience and generating approximately GBP 350,000 in revenue.
Keeping in view such accomplishments of our filmmakers, we decided to give the due recognition to our local directors, producers, actors etc. through the ARY Film Awards, the way we see the best of Bollywood being acknowledged at IIFA or Filmfare Awards. We acknowledged the new breed of performers and actors in Pakistan whose performances are par excellence and celebrated the birth of new cinema in the country, while making sure that our silver screen legends are remembered for their contributions. ARY Film Awards will be broadcast internationally through our network.
Synergyzer: Our film industry shows a lot of promise with more than 30 commercial movies under-production. Do our filmmakers have the resources available now that were lacking before?
Jerjees: Currently, the market is small and the dynamics are rapidly changing. Previously, when someone wanted to make a movie, they did not have the basic understanding of the business model in effect. Now, most of our filmmakers have the comprehension of the industry dynamics and the business model. We also played our part through The Platform in helping a number of filmmakers understand these things.
Also, the fact that a number of cinema multiplexes are under construction leading to an increasing number of film screens are a highly encouraging sign for our filmmakers and the industry in general.
Synergyzer: The image Pakistan has throughout the world is mainly due to the way our media projects it.What is your opinion on this?
Jerjees: Media reflects the image of society. What ever is going around will be shown by the media. Bomb blasts, kidnappings, killings and other negative incidents are taking place every day and are to be reported. It is the responsibility of the media to report these incidents with their due importance. At times, they get a little overboard which needs to be controlled and brought into a code of conduct.
Synergyzer: Pakistani dramas are well appreciated around the world wherever there are people who understand the Urdu language. Is ARY promoting Pakistani dramas in regions where people do not understand the Urdu language?
Jerjees: Yes. Recently, we have started exploring these possibilities and some dramas from Pakistan were dubbed in Arabic and broadcast in major Gulf markets. We receive requests from different countries for our dramas and more such ventures are in the pipeline. This is a growing trend and such collaborations put our content in front of a global audience.As our channels are beaming all over we can cater to these requirements on our own as well.
Synergyzer: Currently, the earning model of every channel is based on advertising, which is said to conflict with content quality. What is your take on that?
Jerjees: The real issue lies with the policies which govern the media industry. Globally, subscribers buy channel bouquets, which are a set of TV channels offered by TV cable service providers. Subscribers pay the cable services and the money is distributed amongst them and TV channels according to a proper formula but unfortunately, the existing policies do not allow the same as the cable operators themselves are being victimized of similar policies. On the other hand, in Pakistan, the government charges Rs. 35 from each household in the electricity bill as TV license fee which is only given to PTV while the cable operators keep the money they charge subscribers. Until proper policies and profit sharing formulae are drafted, the only thriving business model will be based on advertising.
Synergyzer: Does foreign content affect viewership of local content?
Jerjees: Our dramas are strong and we have been fighting against all the foreign content and holding on to the boat for quite some time. Again wrong policies by the government has led to a new competition in the market and now we are forced to fulfill these wants of our viewers. We have to understand that these projects are produced with huge budgets while the Pakistani plays are produced with ¼ or even lesser budgets so obviously there will be some difference in the quality. But eventually our dramas are closest to our reality and will eventually be more relevant for the masses. Trends will keep on changing and we need to adopt and improve with time for betterment.