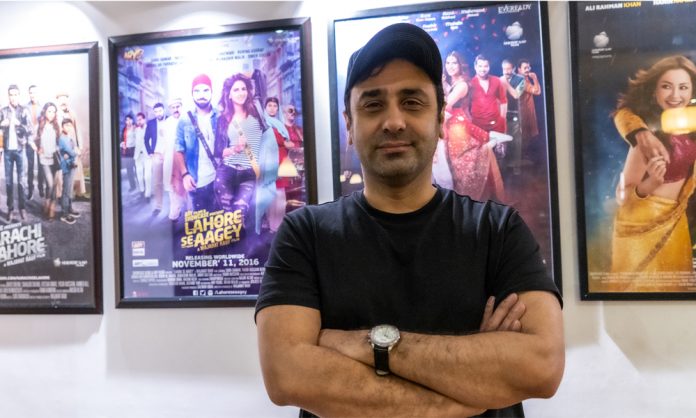 The CEO for Showcase Production and Showcase Films, talks about the diversity that family-oriented content has across the world, Pakistan's limited approach to it as well as why Netflix is not keen on taking original content from Pakistan. 
Synergyzer: Your production houses, Showcase Productions and Showcase Films, produced films such as Karachi Sey Lahore, Lahore Sey Aagey, Chhalawa and the unreleased Parde Mein Rehne Do, then the web series Enaaya and Ruswai for an international platform, and several dramas. What is the business viability for cinematic, foreign digital, and television productions?
Wajahat Rauf: All platforms have their own challenges and benefits. Television is fairly risk-free since projects are pre-sold on the basis of script etc. We don't complete a project and then sell it around. On the other hand, there are issues of financial recovery because even though the buying channel is lined up before production starts, our payments start trickling in three or four months after the show airs. It's a very discouraging formula.
Streaming services such as Netflix and Amazon Prime are supposed to be premium, which is why people pay to watch their content. They have their own development budgets, meaning that they pay you to produce for them, and these budgets are very large, which makes it easier to manage storytelling and scale of production. However, since web hasn't taken off in Pakistan yet, the opposite is true for us generally. The few platforms that do exist don't have the budgets, so whatever they produce is on a very small scale.
Film is undoubtedly the riskiest medium in Pakistan. There are only 130 screens. Some have closed down. Strikes, electricity issues, some political thing or the other, general uncertainty, now COVID-19; and a film you've worked on for a year — and spent crores on can sink. I've seen films put up on Friday, and by Monday they've disappeared. The share ratios are also very unfair, because even though producers make 100% of the investment, they come in last, after distributors and exhibitors, when divvying up the revenue.
Synergyzer: What about the creative aspect?
Wajahat: With services such as Netflix, Zee5, Eros Now etc., they green light the idea — which can be ours or their own — and finance the production. In terms of films, we have more creative liberty there because there's no approval committee saying, 'This is not according to the brief. We don't accept it.'
Yet in Pakistan's television industry, even though every last rupee invested is our own, the buying channel has the upper hand. Ultimately, we have to cater to the buyers, which are the TV channels. Because of that we're stuck in a system where we repeat, in the same old way, the same four story formulas that increasingly have no relevance to the changing world. Fresh, Squid Game-type ideas are brought by new blood, but because we have to finance out of our own pocket, new people are not able to enter the business. The people making content now are the same ones making the same kind of shows 20 years ago.
With digital streaming platforms though there's a possibility that someone will ultimately rebel. They'll say, 'I'm going to put all my money into this risk and God willing; it'll be the new big thing.' It happened with films. In the early 2000's, there were zero Pakistani films; people no longer wanted to watch a man in a fake moustache single-handedly beat up 500 goons. And then we saw movies like Na Maloom Afraad, Punjab Nahin Jaoungi, JPNA, Karachi se Lahore etc. that were although formulaic, had a different vibe to it. So you can see that people do want to throw away the old formula, bit by bit.
"Our government needs to hire a PR agency to build a positive image of Pakistan internationally".
Synergyzer: Why is there no Pakistani content being produced exclusively for Netflix?
Wajahat: From what I have gathered, they don't have a strategy for Pakistan because of a low subscriber base. So the closest office is India and as you know, we are not at the best of terms right now.
Synergyzer: What could be keeping Netflix from doing so?
Wajahat: One of the many reasons is that Pakistan has terrible PR. Foreign film industries have been collaborating with India for decades, investing in Indian films and India invests in theirs. Pakistan — barring one or two names — is not known for its art or artists.
In 2016, Maleeha Lodhi invited us to a four-day film festival at the United Nations. Many people couldn't believe Pakistanis were making good, modern films, that we weren't trapped in a world of camels and burkas like depicted in the famous show Homeland. Our government needs to get more involved in this way, bring our filmmakers into the light, and maybe hire a PR agency to build a positive image of Pakistan internationally.
Synergyzer: Why can't we find an independent way out?
Wajahat: We can create our own streaming service — at par with Hotstar and Eros Now, at least, if not Netflix — for a fraction of what we invest in drama and news channels, but nobody is bothered.
Synergyzer: Returning to films, do you factor in the provincial audience when developing a concept?
Wajahat: I've never thought like that, although considering that 70% of screens are in Punjab, it seems understandable one would tend to make more Punjab-centric films. Really, we should just do what comes organically to us. For instance, I understand comedy. Everything I've written since I was a child is comedy-based, so that's what I do.
Synergyzer: What makes a movie click with the audience?
Wajahat: No one can actually tell you that. But the stats at least for our audiences indicate that people love big entertainers. Although some great movies that were not entertainers or commercial films have been released that have received critical acclaim but didn't do good at the box office.
Synergyzer: Is it correct that a film can be made for the same cost as one TVC? Wajahat: A TVC can cost up to five to six crores. Some even more. For the same cost you can make a film which, unlike a TVC, is a multiple-selling product. First it plays in cinemas. Then a TV channel will buy satellite rights to air it a few times. Later, another channel will buy the rights. When it has been completely juiced, then it goes on a digital platform.
Synergyzer: Do you get paid every time a channel airs your film?
Wajahat: A channel deal is usually for unlimited airings within a time period. After that the contract is over and you can sell to another network.
Synergyzer: There's an international audience as well.
Wajahat: Just recently someone in Malaysia wanted digital rights for Chhalawa. Pakistani movies have long done quite well in the GCC countries and they're surprisingly growing in popularity in the UK.
Synergyzer: How has your creative thought process evolved in terms of producing and scripting; for the big screen, for streaming platforms, and for television? Wajahat: We started with comedy, since it comes naturally to me. But now I'm coming out of that zone. Raqs-i-Bismil was a serious play, intense and challenging and got great reviews and views. So this has been evolution, too, branching out from comedy to serious subjects. People like it when I do serious stuff, at least for TV. I've also just finished a web-series for Eros Now with Bushra Ansari, Farhan Saeed and Hania Aamir which is again an intense dramatic political thriller.
Synergyzer: How do writers approach you with scripts?
Wajahat: Our television industry has great writers. And channels try to stick with them. But every now and then, a new writer would emerge with fresh ideas. I usually ask them to send their one-liner or synopsis and we take it from there.
Synergyzer: How did COVID-19 affect productions?
Wajahat: We had to stop in March 2020 when the government enforced the lockdown. Work on the film stopped and in the meantime I did some TV commercials and a web-series. In August, we picked up production of TV dramas, following strict SOP's and then resumed our film in February of 2021. Mashallah we have completed it now and it is ready for release.