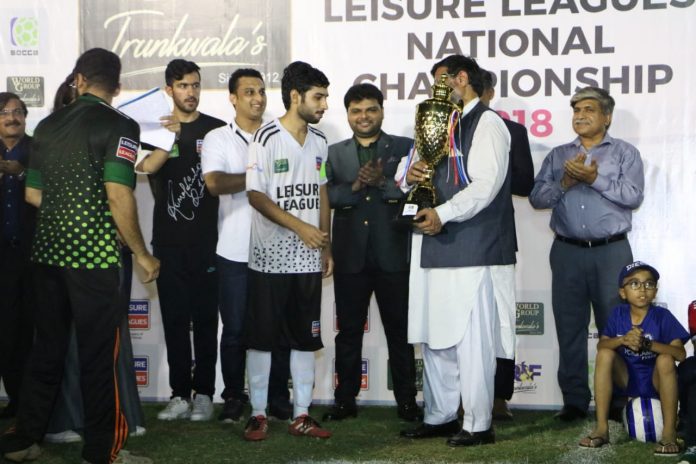 While International cricket glory returned to Pakistan after 8 years, a much needed area of interest has been lying dormant – Football. Thanks to Leisure Leagues, Pakistan will once again make its mark on international Football after almost 2 decades. Leisure Leagues, a global company under the World Group owned by the Trunkwala family, is dedicated towards the promotion of football in Pakistan. This is the team that brought Ronaldinho and friends to Pakistan last year, creating a spark that has rekindled football passion nationwide. Continuing their legacy of delivering nothing less than the best, Leisure Leagues successfully conducted Pakistan's largest football league across 8 different cities. With over 1000+ teams participating with 10,000+ players, leisure leagues has successfully created a homegrown ecosystem at grass-root level for harnessing the best football talent in Pakistan.
The awe-inspiring Leisure Leagues tournament that kicked off last year ended on 30th June 2018 at the national finals (KHI). A seven-a-side football tournament, featuring 8 diverse finalists out of 1000+ participant teams, the tournament is nothing short of an achievement in itself. The finalists included Sharof Football Club from Quetta, FC Thunderbolt from Hyderabad, Shaheed Football Club, ICAW-FC from Lahore, Shinwari FC from Peshawar, Shaikhi Seven FC from Mardan, Red Devils from Islamabad & Khyber Muslim.
After exhibiting extraordinary talent and hosting a series of fury filled & aggressive football action on the ground, ICAW-FC (LHR) appeared victorious, earning the prestigious title of LEISURE LEAGUE CHAMPIONS. Now all set to represent Pakistan in a 32 team world cup in Lisbon, ICAW FC is now charged with the mammoth task of redefining Pakistan's image as a force in football. Claiming a spectacular win on penalties against Peshawar's Shinwari at Baloch Mujahid Stadium, Karachi, ICAW FC is taking expectations to a new height. The real challenge begins now, with a much greater and significant responsibility for ICAW-FC (LHR) that is gearing up for being Pakistan's face in a six-a-side- upcoming world cup.
Leisure Leagues has been an amazing platform for Pakistan's football talent, and a great source of exposure for all the team's players including the proficient Aamir Iqbal Gondal (player of the tournament), Abdul Hanan Javed, Afaq Ahmed (Captain), Haider Ali, Muhammad Waleed,  Saad Ali Khan, Umer Javed, Zabiullah Warriach (Keeper) & Zaid Mehmood, who all delivered a dazzling performance. Adding fuel to furor, PTV sports also aired the entire finals live on national television.
"Our victory is the result of the thousands praying for us at home. Many of the teams in the competition had better talent than us, and we believe that ALL football talent in Pakistan deserves international exposure. We look forward to representing Pakistan, not only abroad, but we also look forward to seeing international teams come and play us on our beloved home soil."  – Captain Afaq Ahmed, ICAW-FC.
Other than being an astounding game on the field, it is a moment of great honor for the entire Pakistani nation, that thanks to Leisure Leagues we will soon be seen cheering for Pakistan with an unmatched and majestic enthusiasm in For ISF world Cup (Portugal) in September!
Leisure Leagues is a company of the World Group, which is owned by The Trunkwala Family. It is the largest global organizer of 5, 6 and 7-a-side football events. Leisure Leagues has considerably large footprints, having organized leagues in Wales, England, Scotland and Northern Ireland and has also operated in United States. At the epilogue of this new beginning, the Trunkwala family and the Leisure Leagues team both appreciated participants and fellow Pakistanis alike, ushering a new era of football in Pakistan with hope and praise.
"All of the teams performed well in the tournament and I must congratulate them all. And I wish Lahore's ICAW best of luck for the ISF World Cup. I hope they perform well there as well,"  – Munir Trunkwala.
"We will continue to hold events such as this national championship in future as well with an inspiration to serve the country. I congratulate ICAW and best of luck to them for the World Cup," – Anas Trunkwala.
"We have brought something truly unique to the football-loving youth of Pakistan and it's great to see them respond in such enthusiastic fashion. Our job is to give them a platform – provide them with grounds that are of an international standard, provide them with footballs of the highest qualities as well as trained referees, while also having complete first-aid kits at hand in case an injury takes place. Our expectation is that our coming generations will use this platform to fulfill our nation's dreams – we all look forward to the day when Pakistani Talent garnered via Leisure Leagues – dressed in green – will bring International Football glory back to Pakistan." Ishaq Shah –CEO Leisure Leagues Pakistan.