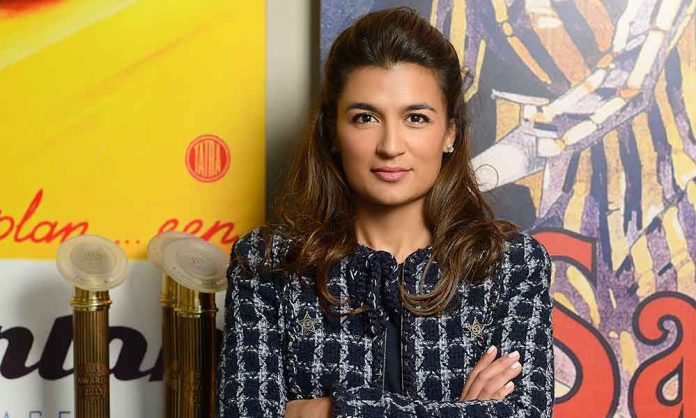 SANNA MALIK: What prompted you to start RED Communication Arts?
SABENE SAIGOL: RED was started with a very clear vision, to be a full-service advertising agency that would fill the gap that existed in the market – the creativity gap. Back in 1996, it wasn't just an opportunity that presented itself, rather it was also the drive to bring global practices of disruptive creative work to Pakistan that further ignited my interest in this field. Since then, what a journey it has been!
SANNA MALIK: RED Publicis was recently awarded the Best Companies Award at the Marketing 2.0 Conference, while you were presented with the Outstanding Leadership Award. What, in your opinion, stood out about how you are leading RED that got you the award and made RED standout amongst 12 Pakistani companies also competing in the same category?
SABENE SAIGOL: The Marketing 2.0 Conference spotlights the latest innovations and breakthroughs in the marketing and advertising industry. RED Communication Arts has held a strong belief in disruptive and innovative creative solutions for over 26 years. My efforts as a strategic leader have always encouraged my team to turn this belief into RED's mantra that has set us apart. Making quick decisions, nurturing empathy for team and leading by example have led us on a journey that we are proud of.
SANNA MALIK: Human resource development is a major area that Pakistan's creative communications industry needs to attend to. What do you think is required to be done in this area at an industry level?
SABENE SAIGOL: Absolutely! It is pivotal to look at the deeper concerns that this industry faces, human resource wise. Having a standardized criterion and a set structure of selection of resources will aid in bringing fresh talent to the industry who are well-aware of the expectations. I am proud to say that RED has always encouraged training young energetic talent through its Management Trainee Program. It's okay if they make a shift within the industry; at the end of the day, they are adding value to the advertising acumen of the whole field or returning to RED.
Moreover, there are fantastic candidates who dedicate their time and effort unconditionally to their work. What matters is that as an industry, their efforts should be recognized and their talents be fostered with care so that their motivation to work does not fluctuate.
SANNA MALIK: How has RED worked at training and developing their employees, considering that people here in Pakistan learn just enough to be able to perform on-the-job, and may not always be inclined to put in effort in their long-term or future-oriented personal development?
SABENE SAIGOL: A lot of learning in the field of advertising comes with experience. But what matters is to nurture a culture of constant learning and growth. RED Communication Arts has always encouraged to break the silos and help all resources to adapt to this culture. Be it about collaboration, experimenting with new media or striking partnerships, RED has always focused on evolution of skills.
The key is to be open to innovation and show a path of growth within the structure of an agency. Recently, RED has worked very diligently in investing brain power towards digital first ideas and campaigns. This has in return worked out for us by pushing the team out of their comfort zones and providing them with new challenges that excite them towards positive evolution of not only skill but also the hierarchy.
Read More: Getting Better with Age — Murree Brewery
SANNA MALIK: How has the affiliation with Publicis helped RED Communication Arts? Has it helped in terms of training and development of employees?
SABENE SAIGOL: Global exposure has evolved the industry a lot! Affiliating with Publicis Groupe has opened doors to exposure and learnings that have helped pave the path to creating more relevant work. We receive updates and connect often on many global brands and case studies that help us get a broader insight into doing work that's not just creative, but offers creativity that proves to be successful in different markets.
SANNA MALIK: How has your agency safeguarded itself from a lack of industry mechanism for payment default issues from clients, lack of structure in the industry etc.? Also, internationally, advertising associations help creative help agencies grow and become independent. What challenges did you come across while trying to get registered with PAA and what in your opinion are some of the areas the association needs to work on?
SABENE SAIGOL: All agencies in Pakistan, can truly benefit from a larger collective by setting up a benchmark for credible industry mechanisms. In my opinion, Lahore shouldn't be marginalized like it has been in the past specially when the work and billings have shown exponential growth. RED is one of Pakistan's top agencies and does more business than the majority of Karachi agencies. However, the industry is still Karachi focused – including advertising events and associations. Industry organizations should avidly look at opportunities that can add value, especially through human resource development.
Moreover, more women are coming in positions of leadership and doing phenomenal work. They should be deemed equal to their male counterparts in credibility, professional integrity and strategic thinking.