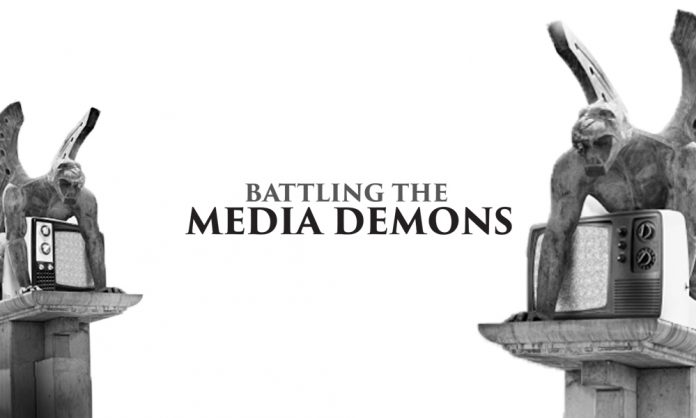 As originally published in Synergyzer Annual 2019
PART 1
THE BIG PICTURE: ENDING ABUSE OF TAXPAYER MONEY
The current Government came into power with the agenda of eliminating corruption. In line with the mandate of reducing corruption, Information Minister Fawad Chaudhry in his address to the nation, highlighted issues within the media industry that had ensued from the media policies of the previous government. He emphasized on how the government had allowed private TV channels to charge the government multiple times higher than what they charged corporate clients. This allowed private TV channels to become the Government's PR tool in exchange for the channels earning abnormally high, the payments for which were coming from taxpayers' money.
Secondly, he also mentioned that the survival of the electronic media industry depends on the media organizations being at par with the constantly updating global technological challenges and international regulations.
The information minister, hence, announced some immediate measures the government is taking to deal with the problems within the media industry:
Suspension of government advertising and regularization of advertising rates: The Government has released its version of air-time rates; reducing the over-priced rates by around 70% on average. This measure is linked to the Government's mandate of not funding private businesses with taxpayer money.
Forming Pakistan Media Regulatory Authority (PMRA) consisting of,
Pakistan Electronic Media Regulatory Authority (PEMRA) – regulatory body for electronic media
Press Council of Pakistan (PCP) – regulatory body for press media
Pakistan Telecommunication Authority (PTA) –regulatory body for telecommunication industry.
Since news, entertainment, and social media is already converging to cellphones, there is no necessity of monitoring them through three different organizations. Hence, with the formation of PMRA there will be one body that keeps a check on all avenues while also coordinating with international bodies.
He advised channel owners to modify their business models according to the evolution of media due to technology and high-speed internet. He stated that the current dynamics of the industry are such that when the international regulations starts affecting our industry, local media regulations will weaken. For instance, when WhatsApp started being used, it eliminated the SMS bundle services of local telecommunication services providers.
Aside from the immediate actions, the Government also brought into pipeline some long term plans. Observing the increasing influence of social media on local population and the increasing availability of high-speed internet, the Government is considering regulating social media platforms. According to the minister, it will not be possible without collaboration with global social media giants like, Facebook, Instagram, Google etc.
According to Fawad Chaudhry's statement, more than the suspension of government advertisement, it was the business models that were ruining media organizations' businesses. Hence, he stressed on adopting OTT (Over the Top) platforms that are emerging across the globe. In the electronic media context, OTT content platforms are used for delivering TV and film content through the internet, without requiring users to subscribe to traditional cable or satellite pay services. Therefore, if Pakistani businesses failed to stay abreast, they will lose more of their market to international players.
Furthermore, to align the industry with modern media practices, the Government has decided to launch a media university that will have TV, radio and print academies under its aegis. The main focus will be on technological and creative media education with an aim of producing talent that is at par with international standards. The Information Minister has also advised students to pursue relevant degrees, so that they can be a part of the fast-paced digital world.
Hence, the focus of the Government will be on modernizing the regulatory body and aligning it with international regulations. But now, it is the local industry that has to put its act together and form a strong representative body which can advise and guide the Government, in securing the industry stakeholders' interests.
As of right now, the media organizations are facing a downturn, consequently, laying off a huge number of employees. While the reasons leading to this have been discussed in the sections that follow, this situation has been compounded by the TV channel's inability to cope with challenges posed by the government's decision not to advertise on private TV channels as well as the declining economy and increase in US Dollar rate.
PART 2
HOW THE MEDIA INDUSTRY LANDED IN A FIX
Until 1997, there were more than 50+ advertising agencies competing in the industry.
In 1997, Pak Mediacom (now Starcom Mediavest Pakistan) was incorporated as the first media house that would focus entirely at Media Planning and Buying. In 1999, the Mindshare franchise (now a part of GroupM Pakistan) was also established in Pakistan. While Pak Mediacom signed P&G Pakistan, Unilever Pakistan was taken on board by Mindshare as part of their global alignment.
This was the time around the year 2000 and after, when more and more new TV channels were emerging in the Pakistani media market. Consequently, local advertising agencies started expanding their services towards media planning and buying.
Due to its association with WPP, Mindshare Pakistan introduced efficient management systems and procedures, advanced planning tools, access to resource portals, and training workshops for their staff; which helped them establish a forte over other advertising agency-led media planning and buying houses, even the ones who had affiliations with international groups. Later on, it also expanded its portfolio and took on other major advertisers like PepsiCo. Then, when the need for clients grew they launched other media agencies in order to sign conflicting clients, for example, Nestle. Hence, their client list has kept on growing.
Likewise, the other major player Starcom, which is affiliated with Publicis Group, has been successful in capturing the market based on access to international tools and by implementing business models that can be termed ingenious. Alongside P&G Pakistan, they have a number of MNC's and local brands on board. At present, a major part of their revenue is coming from the Lahore market with Coca-Cola Pakistan as a major client.
GroupM and Starcom both introduced a number of industry firsts such as convincing TV channels to expand transmission slots in order to provide multiple viewing slots throughout the day, especially for women, consequently creating new advertising slots. They also introduced the practice of Bulk Discounts, against bigger client investments and favorable payment terms leading to an anticipated higher revenue for TV channels.
Soon, this business model started being followed throughout the industry. Consequently, the whole media industry capitalized on the ensuing benefits as much as each player's scope and capacity allowed. Amidst all this, the media industry enjoyed a decade long boom period yet missed out on predicting the future, where these business models were allowed to prevail within the media industry without any regulations or checks and balances. Hence, the industry started experiencing the negative consequences of approaches like giving bulk discounts and low commission that had yielded benefits earlier.
The situation further deteriorated due to the continuous and still prevailing absence of any regulatory body. According to conservative estimates, GroupM owns approximately 47% of the advertising pie share, while Starcom is at approximately 27%. This leaves the other 40 plus agencies to share 26% of the entire pie.
This situation can only be made better if all stakeholders sit together and work towards the standardization of rates, so that it becomes fair play for all.
PART 3
AN ATTEMPT AT SORTING OUT THE SITUATION
Who are the Stake holders?
Advertisers
Media Owners i.e. TV channels
Media Planning and Buying Agencies and Communication Groups
Support industry including TV transmission monitoring agencies, communication research agencies, TV audience measurement providers etc.
What are the Industry Challenges?
Industry became buyer-driven, leading to polarization of the media planning and buying function.
Digital media and its impact on TV.
CHALLENGE 1: INDUSTRY BECOMING BUYER-DRIVEN LEADING TO POLARIZATION
WHAT CREATED THIS CHALLENGE?
As part of their franchise and affiliation alignments, GroupM and Starcom both have MNC clients, which has helped them gain a larger market share. They contribute 76% of the total ADEX which has made TV channels become entirely dependent on their clients. Due to being market leaders, they were in a position to implement practices beneficial to them, which in totality have ended up affecting the industry adversely.
Due to their market share, GroupM and Starcom are able to bargain for better – or very less – rates for their clients, which has led to the industry becoming extremely polarized in terms of supply and demand. In fact, GroupM even has a clause in all their contracts with TV channels that states it will get the 'best' rates for its clients. As a result, TV channels say that they are unable to give better rates to any other agency and both the major agencies influence rates as well as discounts set by TV channels.
The entire focus of media planning and buying agencies in our industry is tilted towards 'buying-only' tactics for the last five years, with the industry becoming extremely price centric and the demand tilted towards purchasing TV advertising airtime at the lowest rates. Due to this, currently most TV channel owners are unable to sustain their businesses.
Initially it was the TV channels' policy of giving low rates to the bigger media agencies. Also, it was their weakness and lack of business prowess that has resulted in the current polarization, which has reduced the universe of their buyers (media agencies) from more than forty to only two, while selling TV airtime at their buyers' terms.
To ensure that business remains intact, TV channels became more and more reliant on Government advertising amounting to 20-25% of their revenue. With the Government suspending their ad spend, certain TV channels are now in a fix.
The following chart shows the shrinkage of TV ADEX. Here we consider the share of GroupM and Starcom, and the percentage of discount they avail over all other agencies. As their discount percentages are unknown, following is a generalized discount scenario, taking weighted average between ADEX share and discount on airtime minutes.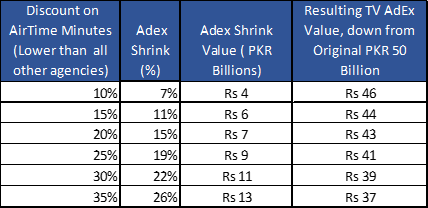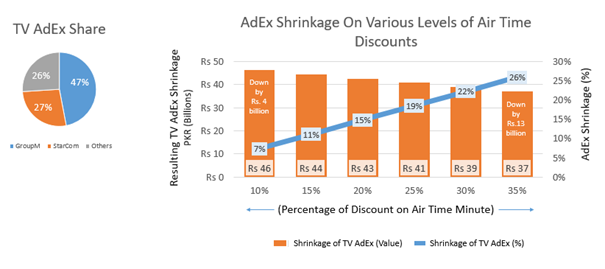 PROBABLE SOLUTIONS
a. Rate Standardization
A strong solution is the standardization of media rates, which can be done in two ways:
Method 1: Standardization of rates for all media agencies.
Method 2: Standardization of rates for advertisers as per their spend bucket.
The first proposition can be substantiated with the example of Pakistani print media. Dawn and Jang newspapers, the two leading market share holders, kept their rates standardized for all advertisers irrespective of their size and did not bow to the pressure of agencies. This helped in retaining the size of the medium, creating equal opportunities for all buyers.
To implement the second methodology the industry will have to allocate rates according to spend categories. For instance if an advertiser has more than Rs. 1 billion ad spend, say which is highest in the television media industry, they will be assigned, say rate A, according to which they will pay a certain per minute airtime rate which can be less than the rest of the advertisers due to their being the highest spenders. Likewise, advertisers with ad spend between Rs. 0.8 billion and Rs. 1 billion, are assigned rate B.
While these methodologies are implemented, balancing clauses should be introduced that ensure that benefits are not tilted towards any one side while the other is at the losing end, safeguarding the interests of advertisers, agencies and media alike.
b. Introducing Other Streams of Revenue
Media owners as well as media agencies need to revamp their business models or they will get irrelevant. For example, if TV channel owners' introduce a subscription based business model through Direct to Home (DTH) connections then they will have an additional stream of revenue just like print.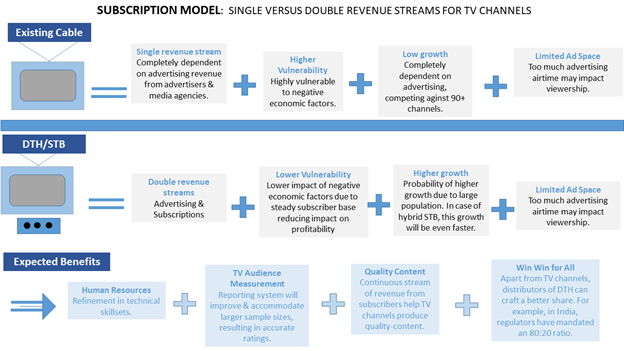 c. Balancing Buying Efficiencies against other Services
There should be mechanisms through which the weight given to buying efficiencies can be balanced against other services offered by media agencies. This may include tools for delivery of comparatively more relevant media KPI's as well as ROI substantiation, instead of the cheapest-rates-only approach. These will not only reduce pressures on TV channels for reducing rates but will help TV channels get out of crisis, while also helping agencies focus on services more critical for brand health. Also planning systems and related procedures can be used to ensure that brands get seamless services from their respective agencies.
In this connection, some advertisers have realized that price centric media practices are not very impactful. Hence, now they have begun looking for relevant KPI's which can help attain their marketing objectives. When carrying out strategic media planning, the macro-level objective needs to be kept in mind. They look for strategic and tactical assistance from their media agencies; and gauge the impact of advertising on various levels of the brand funnel based on targeted marketing objectives. This not only helps the campaign retain focus, but optimizes advertiser investment as well. These services may include the usage of more advanced tools, like Consumer Multimedia Index or Brand Health Trackers for segmenting and profiling target audience, and to gauge the health of the brand, aligning media investment against set targets.  A number of local and multinational research agencies offer these products and media agencies can take the initiative of incorporating them in their service structure.
As a result of this approach, agencies will improve the skillsets of their employees while support industries like media monitoring, communication research etc. will start growing again, the size of advertising expenditure (ADEX) for TV channels may grow due to improved business.
d. Formation of a Strong Regulatory Body
It is important that the media industry has a strong regulatory body that can safeguard interests of all stakeholders: Advice the government on its policies, regulate international practices in the local market and protect industry stakeholders from the effects of any kind of monopoly, ultimately alleviating the polarization in the industry. This can be ensured if the regulatory body has representation of all direct and indirect stakeholders including that of existing organizations, for instance PBA, PAA, APNS, PEMRA as well as CCP (Competition Commission of Pakistan) etc., who can help keep the regulatory body on track.
Furthermore, it is important that the jurisdiction of the regulatory body is not limited to television only. It should have command over all communication channels like Print, Radio, Digital, Out-of-Home (OOH), Cinema, Public Relations etc.
CHALLENGE 2: DIGITAL MEDIA AND ITS IMPACT ON TV
WHAT IS CREATING THIS CHALLENGE?
The dynamism of digitalization has changed media consumption around the world. The local industry has also begun to see digital transformation within its domain, but the focus has to be much stronger, otherwise there is a high probability that the local players will become irrelevant.
Consequently, due to the transforming digital landscape where international players see the potential in the Pakistani market, there is an increasing flight of capital from the country. Google, an international player, occupies the higher share of approximately 60% in the digital market. Even in the case of PSL, the digital streaming rights are outsourced to an affiliate of InfoTech, an international vendor. Additionally, Netflix, a Video On demand (VOD) platform can be subscribed to in Pakistan. As per industry practitioners, Netflix has around 100,000 subscribers in Pakistan and it charges USD 11 per month which translates into USD 13.2 million per annum (PKR 1.8 billion) moving out of the country.
The multiple aspects of digitalization include capabilities for transformation and its corresponding roadmaps, monitoring the digital medium in order to predict the role of all stakeholders, and foreseeing the operations of international giants and coordinating with the Government to regulate and safeguard the interests of the local industry. The industry stakeholders will not be able to manage this increasing intervention of international players who are gaining control since there is a lack of local representation and regulation. Moreover, international players can offer comparatively lower rates due to their size. Therefore, the local industry needs protection and guidance in dealing with these challenges.
PROBABLE SOLUTIONS
The local industry has to modify not only television, but also local digital communication channels since they are becoming more and more interconnected. Digital transformation has to be regulated in such a way that it favors our local industry more than the international players.
Following are some solutions that may counter the challenges ensuing from digital transformation:
The regulatory framework needs to factor in the advancement of technology in all future issued policies.
Establishment of local Data Management Platforms (DMP) should be encouraged. Such platforms provide programmed advertising through which brands can map their audiences on the basis of behaviors, interests, commerce and other available data. Hence, we should also be encouraging establishment of local DMP's which will boost the effectiveness of digital media and enable the local market to go for programmatic advertising that is more efficient and transparent alongside ensuring reduced flight of capital.
Content production should be encouraged since international VOD platforms like Netflix, are big opportunities. It's an opportunity for production houses as well since they can sell their content to Netflix creating an additional stream of revenue.
In order to justify optimal media mix, an industry wide establishment survey should be conducted at regular intervals to gauge the penetration and impact of each medium i.e. TV, Radio, Print and Digital; in a holistic manner. These benchmark studies will help advertisers and agencies to allocate appropriate budgets for each medium.
Local digital media owners need to devise strategies to create collaborations between digital and TV media owners using a single platform.
The idea behind the discussion in this article is to map out solutions to challenges that the media industry is facing, which are becoming a source of its regression rather than delivering critically thought out opportunities. It is important that the solutions are strategically applied so that we do not end up retrogressing to the catch-up mode over and over again.
The views and opinions expressed in the article are not necessarily those of the publication.