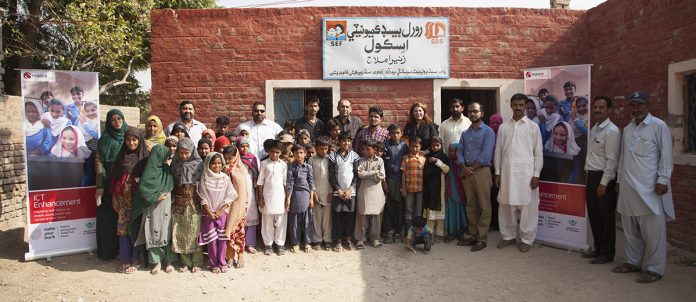 A conversation with Omar Manzur, Head of Corporate Communications, Mobilink, about Mobilink's CSR initiative.
Synergyzer: Explain the 'Make Your Mark' initiative.
Omar: 'Make Your Mark' is the brainchild of our parent group, VimpelCom. Launched in December 2014 with the aim to provide young people with technology tools, support and mentoring, and in some cases access to basic education, to help them tackle the growing number of challenges at an individual, community and national level.
We recognize the challenges that today's young people face.  We believe the vast resources at our disposal make us responsible for facilitating the youth to help them shape a better future for themselves. 'Make Your Mark' is a key element of VimpelCom's corporate responsibility strategy, reinforced across multiple business units, with the objective of 'Helping young people shape their future'.
"Our 'ICT Enhancement Program' wants to push the marginalized youth to get on an even keel with the privileged classes."
Synergyzer: Is the Group's initiative carried forward by all its brands and Business Units in every country?
Omar: Yes. For example, to make digital education more popular and accessible for young people in geographically isolated and remote areas, Beeline Russia, a BU of VimpelCom, partnered with the Coursera project with an aim to translate online courses from more than 100 universities into Russian This way they have covered a wide variety of fields of knowledge from natural sciences to humanities, and are inspiring young people to make the most of modern technology. In Bangladesh a contest called 'Grandmaster' was launched by Banglalink for students, to come up with innovative telecommunications service ideas. The winners, from Chittagong University, created an app for booking bus tickets, often difficult in Bangladesh. In Ukraine, Kyivstar, a BU of VimpelCom, connected 270 schools and orphanages to free high-speed internet.
These are just some of the initiatives, which are part of the 'Make Your Mark' program, and have been implemented by the BUs independently in the countries they operate.
Synergyzer: How does Mobilink carry forward the group's vision in Pakistan? Please highlight projects you have launched under the MYM program locally.
Omar: The 'Make Your Mark' program has three parts.
Quality Education
Provision of education to young people who have little access to quality education in a bid to improve their life chances. An example of local implementation is our award-winning SMS based literacy project called Mobilink mLiteracy.
Supporting Digital Entrepreneurism
The second core element is supporting young entrepreneurs in bringing new digital businesses to life by leveraging mobile technology to drive growth in the economy. Our partnership with the LUMS Center for Entrepreneurship to facilitate young entrepreneurs with the necessary resources and guidance to shape their ideas into productive ventures is one such local example.
ICT (Information and Communication Technology) Enhancement Program
The third core element is inspiring young people to use their energy, creativity and business ideas to address society's challenges, creating 'services for society' (in the areas of healthcare, education, financial services and agriculture) while shaping a more sustainable future. A local initiative is the 'ICT Enhancement Program', through which we continuously assist schools in marginalized communities to impart ICT based education to students.
 "Mobilink partnered with Pakistan Centre for Philanthropy (PCP) to provide six state-of-the-art ICT labs to its partner schools."
Synergyzer: Please give us a brief about the mLiteracy program and how you plan to expand it further? 
Omar: Developed to educate rural women, our mLiteracy program helps teachers offer a basic literacy curriculum using SMS  with free connectivity for teachers and learners. The program's project facilitators organize classes in small learning centers in villages, often in the houses of local elders, and learners' responses are logged to monitor their progress.
The project started with 250 female learners in rural Punjab, and by the end of 2013, it had embraced 5,000 women across the country. Early in the project, the proportion of students graded as 'A' for their literacy skills increased from 28% to 60% after being enrolled for six months. The project has expanded enabling rural women to better manage domestic finances, and to raise subjects such as religious tolerance and equal opportunity. The program has noticeably reduced gender bias to mobile use, and participants have reported a heightened sense of security from having access to this means of communication.
In early 2014, the Mobilink Foundation secured a grant of $286,000 from the Private Infrastructure Development Group (PIDG), to extend the scope and scale of the literacy program in 2015. Following the grant, VimpelCom handed over a similar amount to Mobilink Foundation, helping us to enroll an additional 3,900 rural women in 100 new learning centers in five districts, namely, Haripur, Mansehra, Charasadda, Mardan and Nowshera of Khyber Pakhtunkhwa.
At the 5th annual Ethical Corporation Responsible Business Awards, the mLiteracy program won in the category of the 'Most effective international community investment.'
Synergyzer: Please tell us how exactly have you facilitated LUMS Center of Entrepreneurship to provide mentorship and sustenance to startups?
Omar: Mobilink Foundation provided support to LCE through financial and non-financial means to help them in their pursuit of supporting the enhancement of the entrepreneurial eco-system in Pakistan.
Mobilink assisted LCE with the initial scouting of these entrepreneurs; how feasible their idea is? How big a role does mobile play in its implementation? How will it impact the society? Etc. Such research was done on each paper LCE received before we made the final decision.
Our role includes business mentoring and support. We help strengthen both, the startup and the founding team's entrepreneurial skills.
Synergyzer: How has Mobilink empowered marginalized youth through the ICT Enhancement Program as part of the 3rd MYM initiative? 
Omar: We understand there are equity issues related to the uses of ICT in education. There is a real danger that such an approach regarding ICT based education will further marginalize groups already excluded from existing educational practices and environments. Our 'ICT Enhancement Program' wants to push the marginalized youth to get on an even keel with the privileged classes, so they too can thrive in the fast evolving digital economy. Our approach is simple; the best technology is the one you already have, know how to use, and can afford. Which is obviously the cell phone, and the PC. For this purpose, Mobilink partnered with Pakistan Centre for Philanthropy (PCP) to provide six state-of-the-art ICT labs to its partner schools. The program will reach out to almost 3500 deserving students of primary and secondary schools operating in rural and peri-urban areas every six months.
At Mobilink, we have come to understand that the 'digital divide', which was once primarily thought of in terms of access to technology, and increasingly as a function of access to reliable power, is also about the skills and abilities of people to benefit from access to technology. The underlying risk is that exclusion from digital advances may extend into exclusion from social and economic opportunities, leaving millions of Pakistanis effectively locked out of the next phase of global growth and development.
Synergyzer: Do you expect the digital startup landscape to grow in the near future with access to high speed internet in the country? How will you facilitate such initiatives? 
Omar: The internet is the most significant invention in human history. It has the capacity to change everything — the way we work, the way we learn and play. What's more, it is doing so at an unrivalled pace as opposed to other disruptive technologies of the 20th century i.e. electricity, telephone, and automobiles. We are and will continue to be enablers during these times; ensuring the products and services we offer exceed demands, help consumers in lowering costs dramatically across their supply and demand chains, take customer service into a different league, enter new markets, create additional revenue streams and redefine business relationships.
On the support front, we will continue gaining a more detailed understanding of the needs of digital entrepreneurs to identify the practical support required, and creating the right environment for innovation to flourish through provision of the fastest and the largest 3G network in over 200 cities of Pakistan. We will also enter into creative partnerships with other players in the 'ecosystem', i.e. LCE.
Synergyzer: Please explain how you plan to take your MYM program to the next level.
Omar: 'Make Your Mark' will gather momentum and scale through 2016 as we double our efforts and resources under its theme. Our aim now is ensuring a greater number of lives are impacted in the coming years. We are continuously scaling up our SMS based literacy program with the establishment of 100 learning centers in KPK being just the beginning. Our goal is to spread SMS based learning across the country to enable women fight inequality and poverty.
Mobilink will also continue to impart ICT based education to marginalized youth in the shape of similar ICT based donations to schools, and mobilization of our volunteer employees to build staff capacity. For supporting the startup environment in the country, we will ensure facilitation of young leaders through partnerships with incubators like LCE. We also plan on launching 'Mobilink Make Your Mark mEntrepreneurism Award' – a digital business and app development competition for young people aged 16 to 32 years.
Synergyzer: Mobilink talks about digitization and its benefits for the end user, please provide us an insight on its benefits for the society as a whole.
Omar: Success for the society in a digital environment will demand sustained effort from many parties, and while we don't pretend to have all the answers, we are determined to play our part. With digitization of Pakistan, our vision is to curate a nation where everyone has the opportunity to benefit from the digital age on more equal terms.
Ultimately it is the society which will reap the rewards. From microfinance to mobile communications, eHealthcare to mobile banking, smart cities to government services are delivered over the web; all these components will play a role. But arguably the most important factor in ensuring society comes out on top is education, a space where technology will open up new possibilities and capabilities every day.       
Synergyzer: Do you think there is scope for businesses to bridge the divide with the community in Pakistan?
Omar: In the past, organizations mainly concentrated on the economic results of their decisions. But today they realize that it is imperative to take into account the moral and social consequences of these economic decisions.  In a recent report, multinationals invested billions of rupees in Pakistan during fiscal year 2014-15 under Corporate Social Responsibility. These companies invested primarily in education, health, community development, environment, disaster relief and infrastructure development. If we look around in Pakistan, we find hospitals, educational and welfare institutions being run by various corporations. Sialkot Chamber of Commerce and Industry is one prime example of an entity doing everything possible to ensure the uplift of society to create more growth avenues for local economy. They have so far undertaken development and enhancement of Sialkot International Airport, Sialkot dry port, roads and infrastructure projects, Business and Commerce Centre etc., such CSR initiatives, which in return will directly benefit Sialkot as a whole. So there has been immense improvement in this field over the years, but still a lot needs to be done.
Synergyzer: Tell us about the Mobilink Torchbearers. What role do they play in Mobilink Foundation's CSR Efforts?
Omar: Our Corporate Responsibility goes beyond philanthropy and donations and we take into full account the impact that Mobilink creates on all stakeholders and on the environment when making decisions. But our greatest asset in this endeavor is neither our financial standing nor our utilization of tech. It is our employee base, which supports our initiatives and puts in countless hours to volunteer for our causes. The Mobilink Foundation Torchbearers clock an average of 4 to 5 dedicated hours per person per month during official working hours.
Our CSR program's foundation is built on the spirit of volunteerism. Our brand value dictates bringing people together, and so does volunteerism at Mobilink. Almost all our CSR initiatives involve our C-level executives, working under a team leader. We bring people close this way.