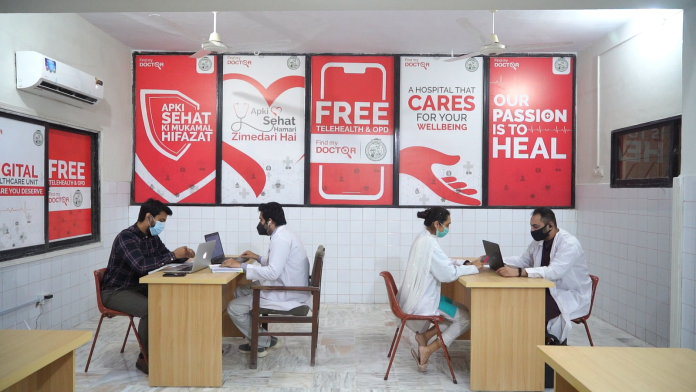 Access to healthcare is a basic human right; however, in Pakistan, it has had a history of challenges. Being a low-income country, it has a poor healthcare infrastructure, a shortage of healthcare professionals and a lack of accessibility and affordability to services. About 3% of the country's GDP is spent on healthcare (way below the recommendation of the World Health Organization of at least 6%).
Although Pakistan is trying hard to sustain its progress toward Millennium Development Goals, it has a long way to go in terms of allocating enough public money to achieve UHC. Since the healthcare system is unable to provide essential and basic services to the people, nearly 70% of the country's population relies on the private sector. The number of private hospitals, clinics and diagnostic labs has increased in the country, along with stand-alone clinics which provide major out-patient care.
More recently, following the pandemic, telemedical consultation has brought about an improvement as well. With the rise in internet penetration in the country, it is now becoming easier for patients in remote areas of Pakistan to access doctors and specialists for their treatment. Teleconsultation is effectively catering to patients' needs with greater convenience and lower cost and also cutting down on their transportation costs.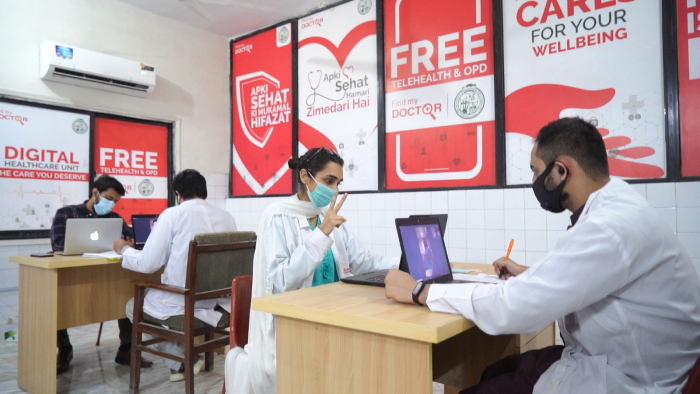 But it is not rural areas alone; teleconsultation is proving effective in major cities as well by easing the burden of understaffed healthcare facilities, as many patients receive good medical care from within their homes. One platform in Pakistan offering such services is Find my DOCTOR, which has recently partnered with Karachi Municipal Corporation (KMC) to establish the country's first digital hospital at Sarfaraz Rafiqi Shaheed Hospital – the second largest hospital in Karachi after Abbasi Shaheed Hospital under the KMC).
Talking about the collaboration, Saad Siddiqui, CEO, Find my DOCTOR, says, "We pitched the idea to KMC about offering free teleconsultations in Karachi, to which they suggested running OPD in one of their hospitals, which was in a dilapidated state, and where doctors though listed, seldom visited."
After having visited the hospital, the Find my DOCTOR team decided to also use the hospital as a complete data centre. "We will offer free OPD 24/7 online in the areas across the city but we will also collect the data such as how many patients are suffering from which disease, prevalent diseases in the area, medicines in demand etc. This data will be beneficial for the government," he says.
Saad Siddiqui, who established Find My Doctor in 2016 – prompted by his mother's demise due to the negligence of her doctors – says when he started off, the platform only dealt with booking patients with doctors who had their own clinics and the doctors had to pay a nominal fee to be a part of the panel and the patients had to pay as well to avail the services. But after 2017, once they raised investment, they changed the business model completely.
"We started focusing on healthcare services at home. The first one was the launch of an at-home testing service at home, in partnership with Essa Labs. Once launched, we started getting orders from areas like Korangi, Landhi, Sohrab Goth etc., as well. The second was the doctor-at-home service, following which we started getting orders from throughout Karachi – Defence, Clifton, Tariq Road etc. – where we charged Rs 1,000 for consultations from patients," he says.
Today, the platform has 186 doctors on board from across Pakistan in Karachi, Lahore, Islamabad, Hyderabad, Peshawar, Multan and Rawalpindi, who are daily providing home consultations and teleconsultations. Siddiqui says all these doctors are young practitioners working in the emergency departments of various hospitals and have about two to three years' of experience. To be part of our panel, all doctors have to go through a test and once they clear that, there is a viva exam, which is taken by Find my DOCTOR's head of doctors, Dr. Haresh Kumar. "Also, when a doctor is onboarded, he is supposed to bring along a certificate from the hospital he is working in for verification; then only they are accepted on the platform. Also, the platforms give their doctors the convenience of taking orders only from the areas where they live. "If one doctor resides in Gulshan-e-Iqbal, he will only get consultation orders from people residing in that area," he says.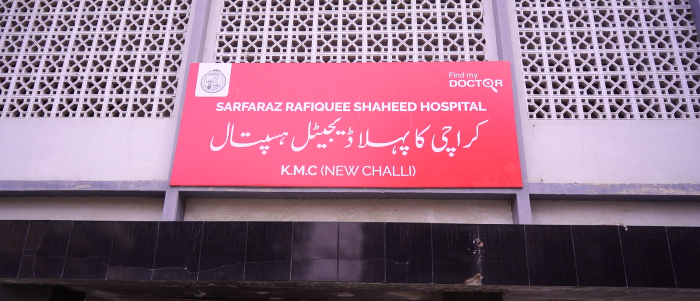 The patients are given free consultations, which is the first step. Once the doctor recommends a test or gives a prescription, Find my DOCTOR conducts that test or delivers the medicine prescribed to the patient (step two) for which they charge. Siddiqui says that is how their business model has been balanced out.
For any new patients interested in getting on board, Find my DOCTOR, all they have to do is send a message on their WhatsApp number, give their details and the language they prefer, and the profile will be shared right away with the doctor, who will then call the patient shortly.
Siddiqui says in the month of November 2022 alone, their consultations crossed the 28,000 mark. This, he says, is because of the credibility they have earned over the years. "People have a problem downloading the app. It is a psychological thing. Also, people trust only the doctors they have had a good experience with; they won't change their trusted doctors easily. This is why it is a challenge to build trust in this category. Once they try our services and are satisfied with it, only then do they move towards the app."
The platform has over 13 labs on board across Pakistan. Moreover, now hospitals such as NMC, Kutiyana Memon Hospital and Darul Sehat Hospital have also outsourced their home sample collections to the platform. "We're like foodpanda for them," remarks Siddiqui.
Find my DOCTOR's plans ahead, including selling health insurance to their patients. "We raised investment for the second time worth $250,000 at a $5 million valuation. We're raising investment again, but now the goal is to make health insurance affordable."
For this, their target market is overseas Pakistanis whose parents are still residing in the country. For such customers, the insurance they are offering is worth $400, which will give the parents 25% pre-existing coverage in the first year. In the second year, when the patient enrolls again, he/she will get 100% pre-existing coverage. Also, the last enrolment age for their insurance is 80 years, "contrary to other health policies that cover an individual till 60 years only."
Since $400 worth of an insurance product is expensive for the local market, Siddiqui says this is precisely the reason why they are marketing it to overseas Pakistanis initially. "This is the only way to cover the hospital cost. Once we have enough money in the kitty, we will launch products for the local market."
So far, Find my DOCTOR has sold around 270 policies in three months across Pakistan. Also, they have recently signed a deal with two banks: Dubai Islamic Bank and Faysal Islamic. "The benefit of this is that if you buy our insurance policy using Faysal Bank's Noor card, you have the convenience of paying for your policy in 12 months ($400 in 12 instalments).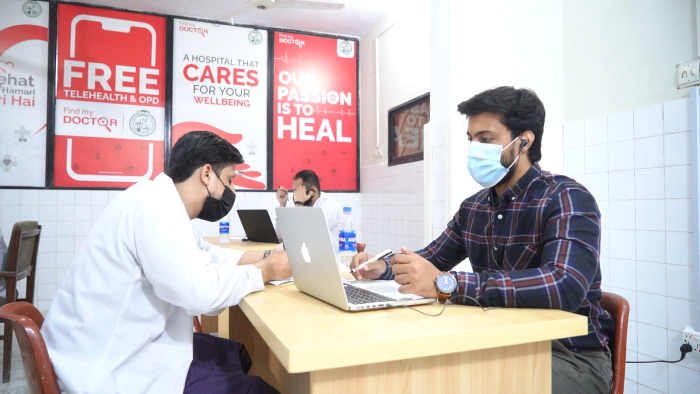 The platform has sold around 270 policies in 3 months, and they say the sales are picking up not just in Karachi but across Pakistan. "So on one side, we have the KMC where we are offering affordability via free teleconsultations and data extraction, lab tests and delivering medicines, and on the other, we have insurance, which is our cash now."
Coming to challenges, Siddiqui says there is a lot to be desired from the Pakistani healthcare market. Though there are a lot of players that have entered the market and are offering teleconsultation, especially after Covid-19, "but I do not think they will survive because they are only depending on teleconsultations and charging Rs 100/200 for it per patient. How long will they do it? Teleconsultation alone will never be sustainable." For him, platforms that he truly finds competitive are Sehat Kahani, Oladoc and Marham.
Though they have been marketing on digital and OOH, Siddiqui believes word of mouth has been the best means of marketing for their service, and this has led them to gain enough business from within the city. "We generate 87% of our business from Karachi. This is why we say we are Karachi-centric. Today the city's population is around 250 crore; it is like I am living in a mini country. If I only tap people living here, I think I will be successful."
Moreover, he says in a business such as his, customer service is extremely important. "I make it a point to randomly call 10 patients every month and get their feedback and suggestions. This is how I build bonds, and this is how I have survived this far. "
Their plans also include launching into the Far East and MENA region as well as north Africa and countries that export labour to other countries and replicate the same model there.
Giving his final word, Siddiqui says, "We are here to stay, we have been here since 2016, and we're going strong. Please use our platform and tell your loved ones about it as well. Karachi is the only city that offers teleconsultations to anyone who has a smartphone for free. Try us."