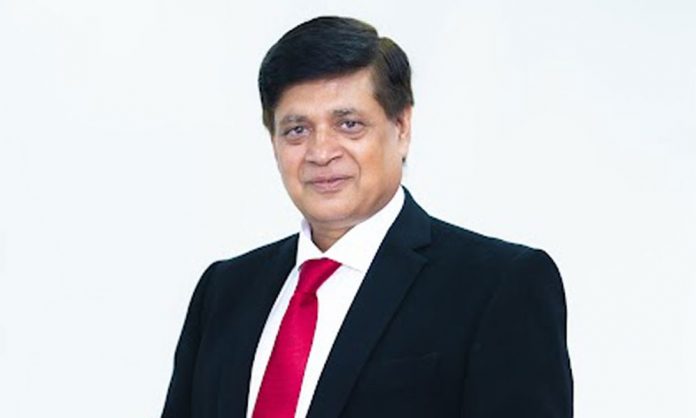 ANUSHA ZAHID: How has Mobilink Microfinance Bank Limited (MMBL) evolved over the past 10 years?
GHAZANFAR AZZAM: The microfinance sector has witnessed phenomenal growth in the past few years, primarily because a major proportion of Pakistan's population consists of middle or low-income strata with no access to formal financial solutions. On the other hand, technological advancements have led to evolving market needs for accessible and affordable financial services for the unbanked. MMBL, over the past decade, has been committed to fostering financial inclusion through various offerings. The Bank has introduced multiple innovative and customized digital and financial initiatives, such as digital onboarding of customers, self-service banking through the DOST App (available on both iOS & Android), Website Internet Banking, the Women Inspirational Network (WIN) program, and the Humqadam program to provide employment opportunities to the differently-abled, etc.
While addressing the challenge of having more people financially included, MMBL also contributed a publication, '9 Point Agenda for Financial Inclusion' that focuses on facilitating access to financial capital to all segments of the society, especially women, Small and Medium Enterprises (SMEs), and farmers. The policy document comprises recommendations for various stakeholders such as financial institutions and regulators that can support the vision of making Pakistan financially inclusive.
ANUSHA ZAHID: Who is your target audience? And how has it changed over the last decade?
GHAZANFAR AZZAM: MMBL strives to include the 100 million unserved and underserved individuals under the umbrella of financial inclusion.
As of today, the Bank has over 40 million registered customers, including 15 million monthly active digital wallets. This number is steadily increasing every day, maintaining our position as the largest digital bank in Pakistan.
Our target audiences are farmers, low-income households, women, differently-abled individuals, small businesses, and anyone and everyone who needs small loans to diversify and expand their businesses, even in the remotest parts of the country. With the ever-growing rate of mobile phone penetration in the country, it is more evident than ever that people crave, above all else, the convenience and swift access that comes with digitized financial services.
ANUSHA ZAHID: In your opinion how important has been the role of Fintech in speeding up financial inclusion in the country?
GHAZANFAR AZZAM: Without a doubt, microfinance institutions and Fintechs have played a key role in speeding up financial inclusion. Fintechs have not only revolutionized the banking sector in Pakistan, but they have paved the way for introducing new and innovative digital financial solutions aimed at improving user experience and expanding outreach. With the help of affordable and accessible financial services, Fintechs facilitate middle and low-income households to enhance their financial condition and improve their overall standard of living. It is safe to say that Fintechs are proving to be a game-changer for promoting financial inclusion. Furthermore, with the digitalization of the global financial industry kicked into high gear during the pandemic, we introduced customised and innovative digital financial solutions to ensure that we provide our customers with the best possible services.
ANUSHA ZAHID: What is MMBL's competitive advantage?
GHAZANFAR AZZAM: Women constitute over 49.9% of Pakistan's total population, and the country cannot flourish without their active participation in the economy. Therefore, including women in the financial ecosystem is the need of the hour, and MMBL is dedicated to uplifting women and women-owned businesses through easily accessible and exclusive digital financial solutions, tailor-made for them.
More than 20% of MMBL's borrowers comprise women, and our target is to increase this percentage to 25% in the coming years to ensure inclusive and balanced growth.
ANUSHA ZAHID: How do you reach out to rural clients?
GHAZANFAR AZZAM: With 105 physical branches and a widespread network of over 180,000 branchless banking agents, MMBL has expanded its footprint across the country. Moreover, we have recently introduced digital onboarding of customers, digital payments and processing of loan applications made accessible via our DOST app, which helps us reach our target market even in far-flung areas. Our self-service banking channels, phone, and WhatsApp helplines are available 24/7 to assist customers on the go.
ANUSHA ZAHID: Have you introduced any new banking products on your 10th anniversary?
GHAZANFAR AZZAM: In our 10th year of operations, we have introduced digital onboarding of customers, DOST Code (a USSD service), DOST Muhafiz (an e-health insurance service), and an array of other products and services, all with the same aspiration to financially include more and more people in the coming days across the country. We are constantly partnering with like-minded organizations to broaden the horizon of our services and maximize outreach across the country so that millions can benefit through value-added services and features. Our recent collaboration with Digit will let MMBL customers buy subsidized feature/smartphones with DOST app pre-installed to start banking right away.
ANUSHA ZAHID: MMBL has retained a 'positive outlook' as per PACRA within the microfinance industry. What do you think are some of the factors behind this success?
GHAZANFAR AZZAM: MMBL is the only microfinance bank in Pakistan – and one of only two in both the microfinance and commercial industry – to consecutively secure a "Positive Outlook" credit rating from Pakistan Credit Rating Agency (PACRA) for two years. A critical factor behind MMBL's success is the digitalization and diversification of its products and services portfolio and our customer-centric approach, enabling us to lead the digital banking sphere.
ANUSHA ZAHID: How do you gauge the success of MMBL?
GHAZANFAR AZZAM: Serving over 40 million customers, including 15 million-plus monthly active mobile wallets, MMBL is continuously striving to promote financial inclusion, to empower all, especially SMEs and women. In 2021, we trained 500+ women entrepreneurs nationwide on financial literacy and business fundamentals. In addition, MMBL's Bint-e-Hawwa is a unique offering aimed at financially empowering women from all fields and backgrounds. Within a year of the product launch, the Bint-e-Hawwa deposits and saving accounts recorded over Rs183 Million, while over Rs3.5 million was disbursed. Such numbers are very encouraging, and they challenge us every day to cater to this segment even more in the coming years.
Moreover, the quarterly reports issued by the Pakistan Microfinance Network (PMN), the national association for retail institutions in the microfinance industry, have also highlighted some of our key indicators as a market leader in digital banking.
ANUSHA ZAHID: How have your marketing strategies evolved? Which mediums did you use earlier, and which ones are you utilizing now to market your products?
GHAZANFAR AZZAM: Customer outreach is one of the oldest, simplest, and most effective marketing strategies, which helps educate the masses and create awareness about our diverse product portfolio. Other than the traditional marketing media mix, which includes television, radio, newspapers, etc., we are also capitalizing on the power of social media and digital technologies to reach our target market.
ANUSHA ZAHID : What would you say the major challenge is when it comes to marketing microfinance products? How has it changed with time?
GHAZANFAR AZZAM: The main challenge of marketing microfinance products is the lack of financial awareness and consumer trust. Financial literacy plays a critical role in creating awareness and educating the masses on being truly empowered. It helps reduce any misconceptions about financial products or services and the safety of their hard-earned money. This factor has improved over time as our target audience is more informed via social media and other communication channels, where best banking practices and safety alerts are shared continuously to enable them to use more and more financial products and services without any fears and doubts.
ANUSHA ZAHID: What are some of the opportunities for the microfinance sector in Pakistan and could you give a few suggestions that could help the sector realize its potential?
GHAZANFAR AZZAM: Opportunities are specific to regions and depend on the stage of development of the microfinance sector in the area. The most crucial challenge is to overcome barriers that hinder our goal of delivering accessible financial services to Pakistan's unbanked population. Lack of access to financing creates an opportunity in itself. Our goal is to provide premium financial solutions coupled with value-added services to the marginalized segments of society and fill the market gaps that have existed for decades.
ANUSHA ZAHID: What are MMBL's growth plans for the next five years?
GHAZANFAR AZZAM: The future holds a lot of potential for microfinance as business and technology continue to evolve. Given the prospects, we have set ourselves ambitious targets of expanding our customer base and banking portfolio, using the power of digitalization in all key business operations.
We will continue with our efforts to enable and empower communities, including individual borrowers, women, and SMEs (operating in agriculture, farming, retail, and technology services, etc.) with the introduction of more and more customized digital financial products and services. We will continue to build partnerships to bundle value-added services in our overall goal of promoting financial inclusion for all. Lastly, we will continue to invest in and develop our incredible MMBL family in expanding their skill sets to adapt to the changing business requirements to help scale our operations effectively and efficiently.