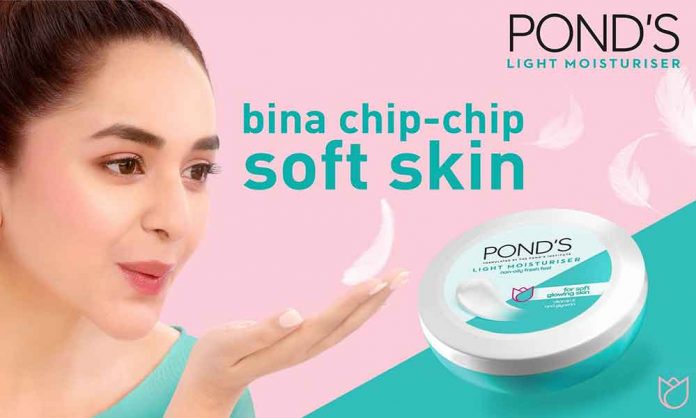 One of the household names in the skincare industry of Pakistan and one of the oldest serving brands in the skincare and moisturizing category across the globe, POND'S recently launched 'POND'S Light Moisturiser' a non-sticky formula infused with vitamin E and glycerin, which gives users a non-oily yet hydrated skin throughout the year – "bina chip chip soft skin". 
Talking about the new launch, Ramsha Kazmi, Brand Lead, POND'S (Unilever), the brand has a solid growth trajectory and is now the leading brand in the hand and body category, as well as face cleaning sub-category and has an eight percent share in the skincare category. However, she adds that 70% of the skincare category in Pakistan constitutes face creams which are more focused towards 'brightening' – this is the biggest demand space today. 
Following a re-evaluation of the demand space conducted in Pakistan, Kazmi says there are spaces outside of 'brightening' that are attractive and growing. According to her, hydration is globally the biggest demand space in face creams, growing across markets, and is the number two demand space in South Asia and in Pakistan. Hence, there is an opportunity for POND's to grow in this category. "POND'S has a heritage and equity in moisturization, with its lotion and cold cream legacy, thus POND'S aims to lead the light moisturization and hydration trends in Pakistan," she says.
The target market for the recently introduced POND'S Light Moisturiser is younger women as they tend to prefer lighter sensory formulae which can be easily used throughout the year. The product is launched in one SKU, a 75g tub, priced at Rs. 320. The packaging colors and format have taken cues from moisturization and hydration to incorporate shades of teal and blue. 
The competition for this product is all lightweight formulations in the market such as Nivea Soft. 
Kazmi says the product has been garnering positive product feedback as an all-season daily moisturizer, by driving the relevance of its non-oily, light sensory formula. The brand has an integrated marketing plan to reach consumers at all relevant touchpoints. "This launch aims to tap into the fast-growing-all-year-round moisturization segment. This has been incorporated in our TVC which brings POND'S Light Moisturiser to every household in Pakistan," she adds. 
The campaign for the new product took off with the new POND'S girl (Yumna Zaidi) in playful communication. The launch was also marketed on digital, OOH, and in stores all across the country. 
Going forward, Kazmi says POND'S product philosophy will imbibe not just the functional promise but also complement the emotional engagement the brand wants to have with its audience through the venture into this new demand space. 
"POND'S aim to bring disruption in mass moisturization through a completing proposition, based on strong relevant consumer insights as well as trendy innovations and formats," says Kazmi.