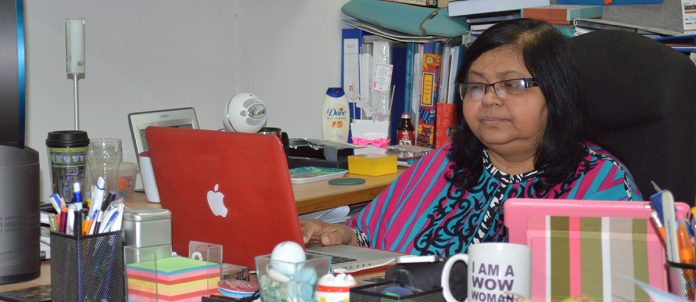 Jehan Ara, President,(P@SHA) – Pakistan Software Houses Association
Synergyzer: Tell us about PASHA-Pakistan Software Houses Association for IT & ITES and its main objectives. How does the PASHA ICT award initiative help our IT industry?
Jehan Ara: Registered under the Ministry of Commerce, PASHA is a private sector organization that operates with a multi-faceted mandate; first, to work alongside the government to ensure policies are conducive for the growth of the IT sector, second, to organize training programs for skill development of local human capital and third to promote these individuals and their ideas on the local and international platform via various marketing programs – such as the ICT awards.
The PASHA ICT award platform aims to promote and acknowledge Pakistani entrepreneurs, who are working in different capacities for the betterment of the IT sector in Pakistan. This is an encouraging initiative for the youth to continue their efforts in using technology to find efficient solutions in improving IT standards. The start to this journey was full of challenges and drawbacks, but our constant commitment and rich pool of talent has turned this venture in to an 11 year success story.
Our credentials speak for themselves as we have participated in several regional award competitions such as the Asia Pacific ICT awards – APICTA, and this year we aim even higher as we are set to host the Asia Pacific ICT awards that will have 17 countries battling out for different awards in the IT sector. This event will be big a big boost for Pakistan, especially our local IT industry, and is an immense opportunity to promote our local talent.
Synergyzer: Tell us about the PASHA Fund Program
Jehan Ara: The PASHA fund program is a platform supported by Google Pakistan that provides monetary and technical support to talented Pakistani youth in their pursuit to design innovative IT solutions. The program aims to unconditionally support the individuals to generate and execute technology products and services that can have a productive and positive impact on our economy.
Google Pakistan initially granted $250,000 for to the PASHA Fund Program to sponsor ground-breaking technological projects that would not have been possible otherwise due to capital constraints of the participants. One of the success stories made possible through this program was the introduction of an Urdu website; www.urdustudio.com, that gives access to Urdu novels and poetry in audio format for downloadable purposes on all mp3 players. This idea that was well received by the masses and even recognized by Amazon.com, offered a benchmark of success for Google Pakistan to further grant 12 more fund packages for future product plans.
Synergyzer: Provincial growth in the IT sector varies in Pakistan, with Punjab leading the industry. What in your opinion are its causes, and what is PASHA's role in bridging this gap?
Jehan Ara: Since our initiation with PASHA, Sindh was well ahead in comparison to the rest of the provinces. However, recently Punjab has gotten ahead in terms of IT product innovation; major reason is Punjab's superior IT education setup and financial support. Moreover, the Punjab IT board is very active with its IT initiatives within the province; such as the setup of e-governance and initiation of incubation centers to encourage new enterprises within the province. Also, they are training the youth to become entrepreneurs rather than mere employees; this paradigm shift is obvious and has contributed to Punjab's economical progress. Sindh and KPK have realized this advancement and are gradually adopting the idea of supporting the youth for the progress of their province and more importantly that of Pakistan.
We at PASHA are constantly working with the government of Sindh and the Ministry of Commerce in developing IT policies that are beneficial for the progress and prosperity of the IT sector and all involved stakeholders. Moreover, via the PASHA Fund Program, we are constantly providing talented individuals monetary support and technical expertise to design and execute IT solutions.
Synergyzer: Tell us about Women on the Web. How does the initiative aim to provide women a platform through which they can grow their businesses?
Jehan Ara: Women on the Web, a project in collaboration with Google Business Group and partnered with SMEDA, is a community driven project that aims to support current women who require support to run their online businesses. The project assists current business women in acquiring local and international markets for their products/services as well as new graduates who are looking for monetary or technical support to start their online business. This program truly empowers Pakistani women of today and tomorrow by helping them start and expand their online business for the benefit of the individual as well the economy.
The Women on the Web project was launched in Islamabad and Google Business Group will soon be launching a web page that will give access to training programs that will equip women with the expertise to grow their online businessES and draw a bigger market share.
Synergyzer: What challenges does the Pakistani IT sector face in the export market? How difficult is it to attract foreign investment due to security concerns?
Jehan Ara: Yes, we face a number of challenges and each time we have to have a different strategy to not only sell the product but to also rebrand Pakistan.
Before getting into business, investors have a number of reservations on the security and business continuity due to instability, but we have promised to let no hazard natural or man-made effect business continuity. We take the responsibility onto ourselves to not let disasters be an excuse for our commitment. We have had earthquakes and strikes; the Software Technology Park is right besides Marriott where the bombing took place, but we haven't let any of these incidents become an excuse for us. We equipped ourselves for the best and the worst, never letting our business suffer. I believe it was for this commitment that businesses have continued on and aren't hesitant anymore.
There have been times where convincing a new client seemed a hard chore, but our track record spoke for itself and once they got onboard, they were comfortable continuing business with us. We ensured our human resource was well equipped, attended conferences and event to promise a sustainable growth. We projected a positive image of Pakistan, one of hard workers, believers of deadlines and headstrong in delivering.
Synergyzer: In which regions have you interacted with people to promote Pakistan's IT sector?
Jehan Ara: We have religiously engaged more with Asia Pacific due to being a part of two regional associations. However, our primary market has always been the US, while we have also engaged with UK, Europe, Australia, Africa and Middle East.
Middle East, Bangladesh and Africa have a large export market as new technology is being implemented there for different industries like finance, telecom and infrastructure and most of our products have huge applicability and are easily implemented.
Most of the exports usually take place in US, UK, the Far East, Middle East and Africa. But of course businesses keep changing due to the economic conditions of the exporting economy; during the financial crisis in the US, business was impacted, however, new business opportunities cropped up elsewhere. It all depends on how well we choose to utilize market knowledge and information to seize opportunities during different periods.
Synergyzer: Despite conflicts between India and Pakistan, PASHA made efforts to create synergy between the two countries, especially within the IT sectors. What were the problems that you faced? How were you able to overcome them?
Jehan Ara: The business between India and Pakistan is close to zero, I have been visiting India for the past ten years, made great friends, but the only reservation companies on both sides have is of ease to travel, issuance of visas and transfer of money. This problem persists due to the ongoing political rift between both these nations which is ongoing. When nations work on a project, it is imperative that mobility be easy for the stakeholders involved.
Yet, companies on both sides of the border have been working together in other markets like Middle East, Africa and US for the ease of transfer of resource and talent, ease of rises & funds tranfer; including native Indian companies with subsidiaries elsewhere.
India known for its IT power houses is currently running out of resources and is getting exponentially expensive due to hike in employee salaries, this has in turn raised demand for Pakistani individuals that are equally talented and relatively cheaper to hire.
Synergyzer: What is the current situation of investment in Pakistan?
Jehan Ara: Have you ever wondered why multinationals are still operating in the country despite the economic situation? It is because regardless of the unrest they manage to make huge profits. Firstly, we have a huge pool of talent, secondly sectors like IT are continuously growing and the stock exchange continues to move stealthily upward regardless of the dire situation. It is vital for all of us to understand, as soon as we address our national issues like infrastructure, security, telecom, public transport, stringent economic policies, our investment returns will be even greater and Pakistan will climb the economic ladder at a much rapid pace.
Synergyzer: What measures are needed to be taken to promote Pakistan's IT sector in the international arena?
Jehan Ara: The most important challenge facing the Pakistan IT industry is the lack of knowledge of technology and its benefits to the economy. Additionally, there is also a lack of interest as most stakeholders consider IT a second tier industry as compared to other bigger giants such as textile, sport goods and agriculture.
To successfully promote the IT sector on the international front we require support from legal authorities such as the Ministry of IT and National ICT to provide us with the resources to compete internationally and make Pakistan proud. We need such support from our local organizations. Whether it is IT, music, culture, food or business, we need to work together to show what Pakistanis are made of, their talent, their determination and their ingenuity; to change perceptions in our respective fields and change the tonality of our news.