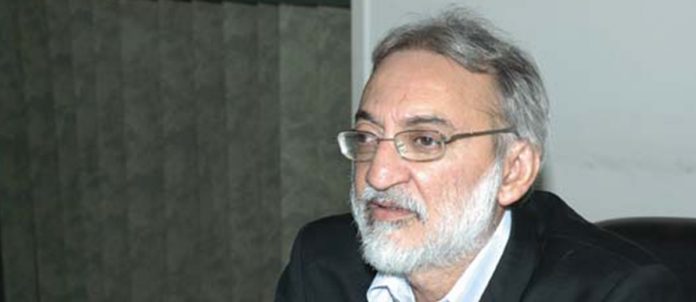 Taher Khan, Chairman, Interflow Group highlights the wonderful opportunity for trade and investment that Pakistan presents to the world.
Synergyzer: You are an institution for our media industry and you have changed its dynamics. Let us start with some background on the media brands that you have brought into Pakistan.
Taher Khan: Our first affiliation was with Ogilvy and Mather (O&M) on a 50:50 partnership with Interflow Communications. About fifteen years ago, we established Mindshare as an equity partner which now operates under GroupM Pakistan. In 2005, we established O&M as another equity partner operating as a separate agency. Currently, we are in talks with WPP, the world's largest communication services group, to extend our association with other brands from the British multinational advertising and Public Relations company.
Our focus is on equity partnerships now, rather than affiliations, meaning the brands will partner with Interflow Group and will be incorporated as businesses on their own.
Synergyzer: How did you convince media giants like Ogilvy and Mather (O&M) and GroupM to start operations in Pakistan keeping in view the current scenario of the country?
Taher Khan: WPP chairman, Martin Sorrell, has great confidence in Pakistan alongside Asian markets like China, India, Singapore, Indonesia and Bangladesh due to the potential for growth our market has for advertising which is greatly underutilized at the moment. Also, since developed nations like Europe are stagnating and North America has come under economic pressures, international concerns are looking for developing markets.
We have a huge market comprising of a fairly large middle-class and a young population. Hence, despite all the natural and man-made disasters, MNC in Pakistan, including P&G, Nestle and Pepsi are registering double digit growth and are planning to invest further. Also, there is a lot of ease for doing business in Pakistan, as compared to other emerging economies. The country has pro-business policies and although there are a few initial bottlenecks for companies looking to establish themselves, conducting operations here is usually profitable.
Due to these factors, WPP firmly believes that our economy is poised for growth and given a little bit of direction, bound to boom.
Synergyzer: The image Pakistan has throughout the world is mainly due to the way our media projects it. What would be your take on that?
Taher Khan: It is not our local media that projects a negative image around the world, rather the international media which carries its own prejudices and biases. They usually show the extremist side of our country which is practiced by a minority. The majority of Pakistanis are warm, hospitable, resilient, hardworking and with strong societal values.
The Chairman of O&M, Miles Young once said to me, "Pakistan is Pakistan's best kept secret." What he meant was that Pakistanis should be putting in efforts on promoting all the wonderful culture and talent that the country has to offer which the world is unaware of.
Synergyzer: If you were to brand Pakistan, what will be your selling point?
Taher Khan: In March this year, as part of the Pakistan Business Council, we met senior government officials and suggested that we should promote Pakistan as a great investment opportunity. You see, in the past few months a number of pro-business policies have been implemented by the current government and it is the perfect time to tell the world about the opportunities that the country has to offer. Hence, we should be trying to attract investments in the sectors of energy, infrastructure, education, consumer goods etc. and as I mentioned earlier, the services sector.
Synergyzer: Please elaborate on the factors that will help attract trade and investors to Pakistan.
Taher Khan: We are the sixth most populous country, our middle class amounts to anywhere from 15 to 16 million people and we have a majorly young population with growing purchasing power. Any consumer goods manufacturing company will find a huge market here with untapped potential that will continue to grow in the coming decades. Also, we have national resources, a big pool of talented people and a geostrategic location. Most importantly, as I mentioned earlier, the MNCs that are in Pakistan like Nestle, Unilever, Pepsi etc. have been doing well so there is no reason why any other such company won't.
Synergyzer: Do you think Pakistan should be branded for the tourism potential that it has?
Taher Khan: No, at this point, more than tourism it is trade that we should attract. We should promote tourism once the issue of militancy has been tackled in the country.
Synergyzer: In your opinion, what should we focus on to elevate the economical and social infrastructure of the country?
Taher Khan: Three E's: Education, Energy and Extremism; and in that order. Education has to be prioritized because investment in education brings about the highest and the quickest returns, with a remarkable rise in overall productivity and leads to solving interconnected issues related to poverty, militancy being one such issue in our case.
Synergyzer: What measures should we take as individuals and as a society to be able to project ourselves as a nation of promise?
Taher Khan: Individually, we should try to be better human beings and set examples for our younger generation instilling concrete values and a strong civic sense in them. I think it boils down to the principles laid down by Quaid-e-Azam Muhammad Ali Jinnah; unity, faith and discipline; which will guide us to success.
As a nation, we often tend to be short-sighted and impatient, wanting immediate results. These things combined have inculcated an air of indiscipline. The fact that we have a very young population is a huge opportunity and a big risk at the same time. If we are not able to meet the expectations of our youngsters, we may have a majorly disgruntled and despondent population, which will lead to a bleak future. We should be able to create an air of optimism and teach people to look at the glass as half full. We have achieved much since independence and instead of lamenting what we do not have; we should set our eyes on the future and work towards it.