COVID-19  not only increased viewership over linear TV, but also changed viewership numbers for YouTube in Pakistan.
In order to see the growth size of YouTube channels in Pakistan we have taken into consideration numbers related to:
Subscribers
Uploaded videos
Video views
Average number of views per uploaded video
In terms of subscribers, channels which produce Pakistani dramas and soaps topped the list taking the first three positions;  followed by religious and news channels.
Out of the top 100 channels including in this report; 30% most subscribed channels telecast Pakistani dramas and soaps, 18% host news and religious programs, while 8% air Turkish dramas.
Top 10 Pakistani YouTube Channels with Highest Number of Subscribers
Top slots are taken by entertainment channels followed by a mix of news and religious channels.
Average number of subscribers for top entertainment channels: 18 million
Average number of subscribes for news channels: 7 million
Out of the Top 10 Subscribed Channels, 3 show Religious content.
Coke Studio is the only Music channel in the Top Subscribers list.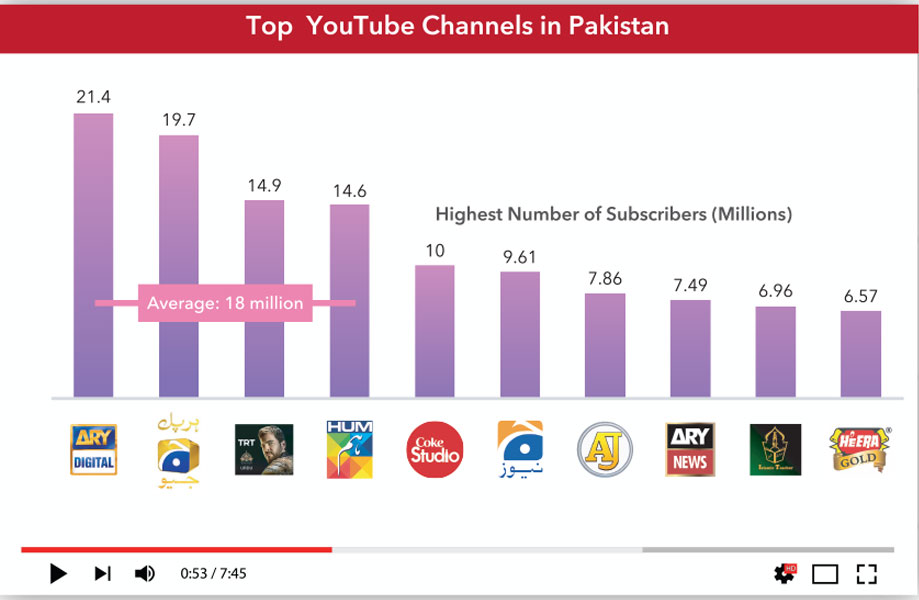 Entertainment channels have higher video views, which also translate into higher number of subscribers.