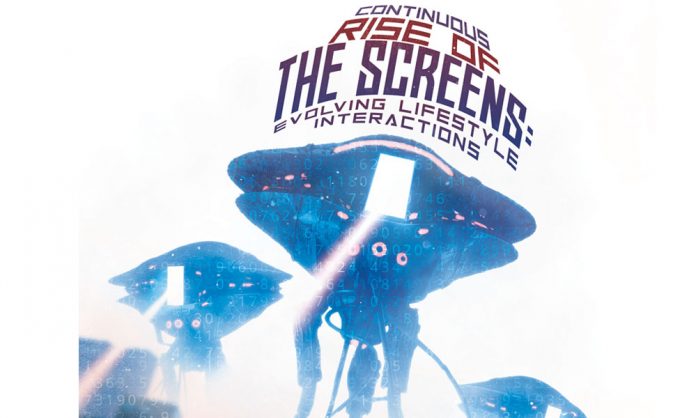 With the advent of COVID-19, humanity has been challenged to levels that are unprecedented. The dominance of screens in our lives is a major reminder of how we have embraced isolation and physical distancing in a fast-changing external environment. This article is a testimonial of how human perseverance leads technological solutions through screens that are around us. This article continues to explore the evolving role of screens, with reference to the one written by Ali Raza Merchant, published in Synergyzer Annual 2016.
 We have witnessed changes, influences and new perspectives in the last two years. What is more interesting is the way we have embraced new ways of living, working, interacting and interfacing. It sometimes boggles me how humans continue to show resilience in situations that we hadn't dreamt of in our wildest imaginations. The significant changes that have happened around us are testimony that we as a race our more determined to survive and succeed in adversity versus our earlier generations.
As we open our discussion on the above premise and the renewed ability to conquer pandemics like COVID-19, we must admit that the role of technology has been a savior. I was pondering on this as I read one of my articles that I wrote in 2016 titled "Evolving Media Landscapes: Disruption Through Screens".  As I read through the details, I realized that since 2016, the role of screens has become more dominant in our lives. Screens are what have kept us sane and connected in a world that has gone totally topsy turvy. I can't imagine how we had survived this physical isolation and distancing had there been no technology to support the multiple screen world in which we live.
From a North American perspective (which I believe is not much different to elsewhere in the world now), I find that our interdependence on the multiple screens at home acts like windows to the external world. I clearly remember that in the worst lockdown phase in Canada, which lasted for 6 months or so, our main go–to for work, socializing, shopping, entertainment etc., were our devices – phones, tablets, laptops and TV's. As I look back and view how seamlessly working from home became a possibility, I am in awe of how technology enabled us to do so without many hiccups. The use of Webex, Zoom and many other similar platforms enabled us to have meetings and interactions that many of us were not doing more of otherwise. Despite the initial learning curve and minor tech issues, we championed the new ways of video & audio conferencing. Our laptop screens became our new work environment, and we learned new rules of engagement. All said and done, we can tick this box with confidence that we don't not need to be physically present in the same room to have meetings or work together.
"I noticed a major change in my personal behavior in ordering coffee on the Mobile app and collecting it from the drive-through window."
We all know how the pandemic cut us off from socializing and meeting family and friends for the longest time. In Canada, we were legally limited to a maximum of 4 people visiting the family indoors and 9 outdoors. It was difficult for larger families to interact, which also resulted in regular Zoom calls for chatting and sharing updates. I also noticed that screens saved the day for families who were geographically distanced and were unable to visit each other due to travel and quarantine restrictions. In those days, WhatsApp & other social media groups were the most active as they helped in keeping us sane. Most people in North America felt extremely lonely and this was one of the ways that kept friends and families connected. It is just amazing how we kept going one day at a time, with the help of screens, which allowed us to feel human and connected.
On a personal level I felt at ease in using my phone in most of my day-to-day affairs. The initial thrust of support was from all major banks that ensured customers were comfortable using online solutions through their apps and websites. Major large and medium-sized retailers also jumped the bandwagon and worked diligently on online shopping and delivery solutions to keep customers connected. The largest and quickest growth was observed in specialized delivery websites and apps that offered food and grocery delivery solutions with great tracking options. This helped Uber Eats, Doordash, Skip the Dishes and Instacart et al to connect restaurants to keep themselves alive, where dine-in was completely closed for a very long time. All these apps came up with regular promotions with discounts on food orders and delivery charges to keep customers connected. I also noticed a major change in my personal behavior in ordering coffee on the Mobile app and collecting it from the drive-through window. Many fast-food restaurants and coffee shops have focused on developing mobile apps and are continuously offering promotions to entice customers to re-order. With the support of data analytics, I regularly observe new promotions specifically offered to individual customers to keep them engaged with brands. An example is that of McDonald's, who have been aggressively promoting through their phone app and offering e-coupons. I also noticed new self-ordering kiosks inside McDonald's restaurants (another screen!) which make it simpler for customers to place orders – via the screen – and get their receipts; then pick up the orders from the delivery counter when their food is ready.
I have also noticed a new trend post COVID-19, where screens have been put to good use. The concept of Telehealth (health consultations via video) is on the rise. This technology was already in use in remote areas where nurses and other paramedic staff were with patients sitting by their side, and interacting with doctors in other geographical locations. However, with heavy workload on doctors and nursing practitioners, this option is getting traction among certain clinics to encourage efficiency from specialist doctors. This works well in countries where patient databases are accessible online and records and related permissions can also be sought online. Since privacy is a serious concern with patient records, the use of technology is a great way to grow this business.
"What amazes me is how we have allowed ourselves to adapt to the quick changes forced upon by the new normal. Perhaps humanity needed a strong push like a pandemic to look around and speed up our acceptance for technology that is perhaps for the better."
From the point of view of entertainment, it has never been a better time to have so many options available on your TV, tablet or phone. During this home bound phase, I noticed a huge increase in content availability on all major platforms like Netflix, Amazon Prime, HBO, Disney, Apple TV etc. On Netflix, particularly, there is a major thrust of foreign content including Italian, German, French, Turkish, Scandinavian, Korean etc., which is now offered in English sound-dubbing – much better than reading subtitles. There are new initiatives being taken by online entertainment networks to develop content on stories that are relatable to post-COVID-19 lifestyle changes. I have also noticed local TV networks heavily promoting their own versions of Netflix, which offer online content of different networks. An example of this is Crave TV Canada which has 2.94 million users (as per September 2021). Now that cinemas have opened, new subscription-based business models are being offered by Cineplex, the largest film exhibitor in Canada. Their new subscription service called CINECLUB offers a membership for $9.99 a month which includes one movie ticket every month + additional tickets for a guest and yourself at the same discounted price + 20% off the concession stand. I believe, in the USA even more subscription models are being tested and it's not too further away that we will see cinema as a more frequent spot for people to entertain themselves.
As we conclude the discussion, it is important to reflect on the significant number of developments that have happened due to the pandemic. What amazes me is how we have allowed ourselves to adapt to the quick changes forced upon by the new normal. Perhaps humanity needed a strong push like a pandemic to look around and speed up our acceptance for technology that is perhaps for the better. Though we have seen the significance of screens in our lives, there is still more to go with new emerging technologies such as VR (Virtual Reality) and AR (Augmented Reality). So, let's brace for the next generation of screens waiting to amaze us.